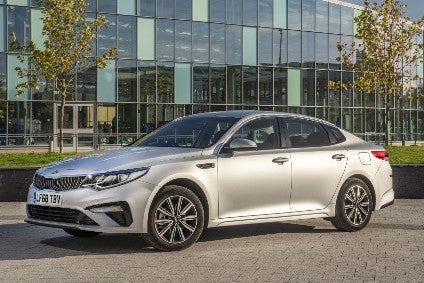 Some say non-premium makes tend not to be successful in Europe's D segment. Tell that to Volkswagen and Skoda: even with the WLTP crash, Passat sales were down by just 3.3% in Germany last year, while the Octavia and Superb sell in significant volume. To a lesser extent, Kia quietly chips away in this size class, the Optima having a far stronger following than the parent company's rival i40.
Is the Optima's decent, if not stand-out sales volume across Europe enough for KMC in Seoul to approve the successor model being sent here? Yes. And no. The word from inside the company is that Kia Motors Europe will offer an estate only. That's understandable when you look at demand for the current body styles, plus of course, the weighting of the Swedish, British and German markets in favour of wagons. That applies to all brands, and in particular the regional number one and the D segment's best seller: look at the image Volkswagen has chosen for the cover page of its Passat facelift media pack.
Northern Europe – where big estates still sell well
Germans, Brits, Scandinavians plus to a lesser extent than was once the case, the Dutch – these are the people who buy the majority of station wagons sold worldwide. And they all like the Passat. Some of them have developed a taste for the Optima too, and while the overall volume isn't high, KME's national sales companies price this model at anything but bargain bin levels. The PHEV derivatives in particular are positioned firmly in the premium category. The Optima, as a range, could well be handily profitable at a Europe-wide level.
UK sales in 2018 reached a total of 2,921 cars, of which the majority were estates (2,405). The remainder wasn't only the sedan (365) as PHEV versions of the four-door (58) and estate (93) are broken out separately by Kia Motors UK. The Germans like Kia too, although not nearly as much as the British, deliveries numbering 65,797 and 95,764 respectively. Only 1,434 Optimas were sold there in 2018 though. The Swedes though, are especially fond of this car and Kia in general. More about that in a moment.
Four-door no more in Europe?
The saloon being a rare beast in Britain and throughout the greater European region, it now appears that this will be the last generation to be available here. Kia Motors America has apparently had a major influence on the length and looks of the forthcoming JL3 sedan. South Korea (48,503) is another country where the K5 (local name) sedan is popular so there will be some influence from KMC's home market sales company too. How about Dongfeng Yueda Kia? The K5 might be made in the PRC but last year, just 14,537 were sold there. Still, DYK reported a major sales boost in January so it will be interesting to see how the car did once deliveries by model are announced.
KMA and DYK will be right now working with KMC, tweaking the next model as it undergoes late-cycle development, as KME pushes for the estate to have all the features which Europeans want. In a body which should not only look quite different to the four-door car but be unlikely to cross the 5m mark (the current one is 4,855 long) even if the sedan grows closer to that sort of length. That's the theory at least.
JL3: coming in 2019 or 2020?
The yet to be revealed next generation sedan should be not only longer but wider too, with market launches possible later this year in South Korea, North America and China. It will however be 2020 before we see the SW version of JL3. You can also guarantee that while diesel will still be offered, the majority of engine options will become petrol in Europe.
Optimas for EU and EFTA countries are manufactured at KMC's Hwasung plant in Asan Bay, the Korean factory also being where the Sorento for this part of the world is built. The K5/Optima is something of a global big deal for Kia, with production also taking place in the USA (West Point, Georgia) and, as mentioned earlier, in China (Yancheng, Jiangsu). Even as sales of mid-sized sedans turned down last year, deliveries stayed above five figures, KMA delivering 101,603 Optimas compared to 107,493 in CY2017. And in January, sales went up.
Sweden – Optima's best European market
In 2018, Kia Motors Sweden saw deliveries of the Optima shoot up by 31 per cent. That was in a market which went into a downward spiral of the same percentage during the second half of the year (tax changes and WLTP). The brand took third place in 2018 and the Sportswagon was the main reason why 3,447 Optimas were sold.
If the Swedes are more than happy to keep snapping up this only four-year old model, with the country now the car's best EU market, then KME is surely happy enough to let the existing shape car remain on sale for a while yet.
Facelifted in 2018 and new engines for WLTP
Knowing that the model is nonetheless now in the final phase of its life cycle, it came as a welcome surprise to discover at first hand how relatively undated the JF series Optima is. It still looks good, the facelifted model having been announced only a year ago, which was also when powertrains were updated.
A manual gearbox in this class of car is becoming increasingly rare so that is welcome too, and Hyundai Motor Group's new Euro 6d-Temp 1,598cc CRDi is a strong engine. Normally automatic transmission is a personal preference with high-torque front-wheel drive diesels. In this case though, KMC and KME's engineers have masterfully tamed any annoying pull through the steering wheel. Nor was there much in the way of slippage on the snowy lanes and other mushy byways which were everywhere during my days with the Optima. Four-wheel drive would have been the preference but it isn't available.
Six speeds or seven?
Kia Motors UK sells the saloon in trim levels called '2' or '3'. It's only with the second one that a buyer can specify automatic transmission. Rather than having a torque converter, this gearbox has dual clutches (and seven ratios). Performance suffers a little in comparison with the six-speed manual, in that zero to 62mph takes 10.6 seconds. The 7DCT needs 11.2, although the 121mph top speed is a mere one mile an hour less. CO2 is either 117 or 118g/km: the manual is slightly worse in 3 trim but the same 117 applies to the 2 manual and 3 auto. There isn't much in it when it comes to consumption either. The 2 manual returned 43mpg for me with the official Average mpg being 62.8 or 64.2.
Sensibility sans serenity
Strongpoints are interior space, with the boot having a VDA-rated capacity of 510l, and the general ease and sense of wellbeing from the moment anyone sits in the car. Aside from the hideous dinging should you dare to fire the ignition or even accessories before clipping the seatbelt into the buckle. I wish Kia would get rid of that. If it's a legal requirement in some countries, fine. Here, mercifully it's not. Software adjustment please.
The gear ratios are well spaced, first not being too low and you can take off in second should that be a safer option. Having 320Nm developed at only 2,000-2,500rpm greatly helps when there is a slippery driveway to exit or junctions to exit from standstill: never does the car even suggest that it might stall even at just above idle speeds. Power, at 100kW (136PS or 134bhp), is perfectly fine. Not too little, not too much.
Fabric and faux
Kia specifies fabric upholstery for the 2 version of this car. Some people want the look and feel of leather in a car, and that's fair enough. Interestingly, in the 3 model grade, the main seat material remains cloth and it is joined by inserts made from vinyl rather than culled cow. Now we just need to get manufacturers to see that offering an alternative to leather trim on steering wheels and in other parts of cars is good for business. An increasing number of people worldwide quietly lead cruelty-free lives. The car industry in general makes it nearly impossible for them to spend money on a new car. Which is clearly insane and it surprises some of us that shareholders of publicly listed OEMs are not demanding the availability of 'vegan vehicles': certain brands could likely even get away with charging more money for such packages.
Summary
The Optima might seem to some to be a model which Kia need not make available in Britain. Failing to have a car in the D segment could cause some fleet operators to rule out the brand when looking at multi-model deals so for that reason alone, it pays its way.
Priced at between GBP22,260 and GBP26,265 (saloon), this model also represents strong value when taking into account Kia's usual high standard spec levels and the decent resale values which are helped greatly by the brand's seven-year warranty. Even though most people will keep defaulting to a Passat or a Superb in this size class, the Kia alternative is more than worthy of consideration.
The Optima saloon is diesel-only in Britain but the Sportswagon offers two petrol engine alternatives: 175kW/238PS 2.0 T-GDi (GBP33,350) and PHEV (GBP34,995-39,560).