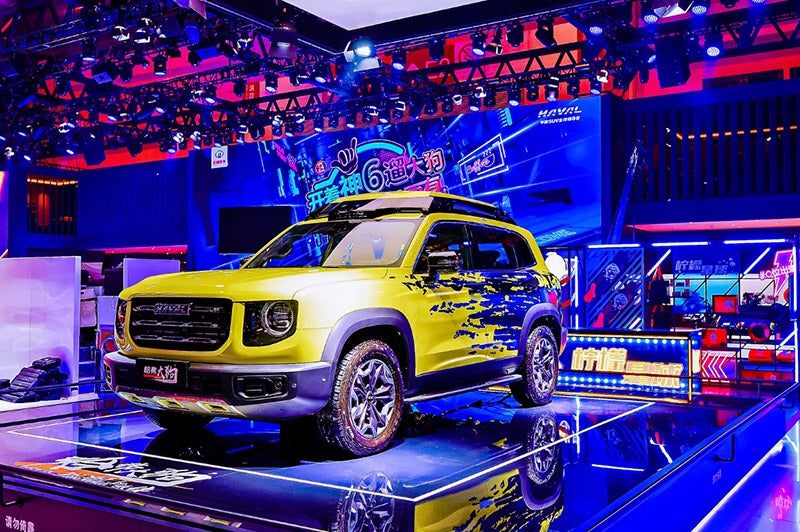 In July 2021, China's Great Wall Motor (GWM) laid out the strategy that will carry it to 2025. The most notable announcement was the fact that the company is targeting annual sales of 4 million vehicles by 2025.
This would represent a significant improvement in the company's sales in a very short space of time, considering it sold around 1.1 million vehicles in 2020. In fact, if Great Wall can nearly quadruple its annual sales by 2025, that would put it on a similar level to manufacturers including Ford, Honda and Hyundai – marques that already have a strong global presence across a number of key markets.
According to Great Wall's ambitious plan, 80% of those models sold in 2025 – around 3.2 million vehicles – will be 'new energy vehicles'. This designation can apply to plug-in hybrid and fuel-cell electric vehicles in addition to purely battery electric vehicles but, in Great Wall's case, the majority of those new models are expected to be the latter. In addition, of those 4 million vehicles planned to be built in 2025, Great Wall has said that around 1 million are intended for export markets. This, too, represents a significant increase from 2020's sales figures that saw fewer than 100,000 models exported.
To facilitate all those new sales, Great Wall will need to drastically expand its production network to build up enough capacity. GlobalData figures show that Great Wall's production stood at 624,000 units in 2012, and had expanded to 1.11 million by 2019 – representing a compound annual growth rate (CAGR) of 8.6%. With 2020's production falling marginally to 1.1 million, partly as a result of the COVID-19 pandemic, if Great Wall is to achieve its stated aim to build at least 4 million units in 2025, the company must accelerate its production at a CAGR of 29.5% – far faster than its previous rate of expansion.
Also, the prior growth rate was achieved when the Chinese market was in a rapid expansion phase, with the market now maturing – and its limits tempered by the rise of car sharing – such a growth rate looks even more unlikely especially if Great Wall is looking solely at the organic route for growth.
GlobalData estimates that, if Great Wall is aiming to reach 4 million units per year by 2025, that would necessitate increasing its maximum production capacity to 5 million. That means adding 2.8 million more units of capacity than it has at the moment, or the equivalent of seven new plants.
To further bolster its production network, Great Wall will also look beyond China. It is in the process of building out its production base in Thailand, established in the Rayong factory the company purchased from General Motors in 2020. In addition, GWM had planned to purchase a facility in India, also from General Motors, however an April 2020 decision by the Indian government to more closely scrutinize investments from China has slowed this process significantly. Great Wall has now reallocated a portion of the Indian investment to Brazil, and has finalized the purchase a former Daimler factory there.
In a presentation to support the new business plan, Great Wall's CEO Jack Wei stated that "[t]he only way for Chinese auto brands to surpass our competitors in the real sense is to magnify their own advantages in a quick manner in the next three to five years to lead in the field of new energy and intelligence". Wei also included a sage observation that "the opportunity for Chinese automobile brands knocks only once".
This drive to move quickly feels somewhat at odds with the traditionally conservative auto industry approach to invest carefully and spend years on R&D before launching a new product. However, it may be just the kind of shot in the arm Great Wall needs if it is to meet its ambitious targets. The pace of innovation and the short development times implied by GWM's plan feel more akin to strategies in the smartphone industry where updated models are launched every year without fail.
Another element of Great Wall's expansion is the solidification of its brand strategy, which had previously been a little confused. The group will now pursue a strategy built around up to six separate brands:
GWM Pickup – pickup truck brand selling the P-Series/Poer pickup
Haval – SUV focused brand, lineup currently includes the Haval H6, which is the highest-selling SUV in China
WEY – luxury SUV brand, positioned above Haval, likely to see electrification of lineup soon
ORA – compact EV maker, currently builds the Adora and Hao Mao city-focused hatchbacks
TANK – off-road focused brand, currently makes the TANK 300 that echoes the Jeep Wrangler and Ford Bronco
Shalong – new brand focused on 'smart EVs' launching in 2022
This all leads to the question: is Great Wall's plan realistic? On the one hand, you have an automaker, which few international buyers have heard of, stating it will sell nearly as many cars as Ford in just four years' time. In addition, the 4-million-unit goal calls for a rate of acceleration GWM has yet to demonstrate in the real world. On the other hand, the company has shown that it can build vehicles that regularly feature in China's top 10 best sellers lists and, as the recent success of certain EV startups shows, bold strategies can turn into successful long-term operations with a little luck and plenty of capital on hand. Nevertheless, GWM's target seems more like a stretch goal or a call to arms, than a realistic objective.