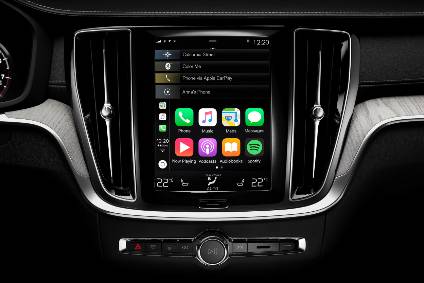 The third-generation Volvo V60 was launched two years ago in its natural habitat – the driveway of a family home in Stockholm – drawing attention to the carmaker's pedigree in family estates. Continuing just-auto/AIC's review of interior design and technology trends, we take a closer look inside this spacious and safe mid-size model.
Inside story
Inside the no-nonsense, business-like lounge of the V60, the instrument cluster springs to life as you enter, displaying all the usual and critical driver information. Built-in light sensors control the brightness of the display that adjusts to exterior lighting conditions. Positioned on a central satin chrome stack of the uncomplicated dash is a single rotary jewel-like knob beneath a large feature-packed nine-inch portrait-oriented infotainment touchscreen.
Although new cars with minimalist cockpits are becoming increasingly common not just on Volvos but across the board, some of us still prefer to adjust the HVAC using old-fashioned dials while keeping our eyes on the road. You can use voice control to adjust the fan speed though and certain other features, however.
The touchscreen is flanked by a pair of vertical chrome air vents. These have a silver central section – for directing the flow of air – that appears to 'float' in the middle of the vent. This is adjusted via a diamond-cut rotary control knob, which is also seen in Volvo's 40 and 90 series cars.
We have often found that the steering wheel controls on Volvo models are particularly intuitive. The V60 is no exception. The left-hand spoke offers control of driving-function related systems such as speed limiter, adaptive cruise control and so on. The right-hand spoke accesses all the crisp infotainment features, including audio, phone and navigation. The twist-and-go engine start mounted on the tunnel console was a joy to use.
The heated and powered snug black Nappa leather front seats, panoramic roof and plush interior trim add to the car's dark and moody ambience. Premium features include rearview camera, front and rear parking sensors, heated steering wheel and a 14-speaker Bowers and Wilkins surround sound system.
In the back, the V60 comes with two-stage integrated child booster cushions that pop-up from the seat base. The heated rear seats can be flipped forward, providing 1,441 litres of load space. The tapered, panoramic roofline flowing to the powered tailgate, however, reduces headroom for tall rear-seat passengers.
While the sloping roofline distinguishes this estate from others, it further compromises the boot space somewhat with squashed sides and roof. The broad front grille – with prominent chrome logo and subtle creases – and the carmaker's hallmark vertical rear lighting cluster mark this car out as unmistakeably Volvo, day or night.
Storage-wise, the V60 has plenty of sizeable fuzzy felt-lined cubbies with two cup holders in the front and rear. We also like the attention to detail. For example, the storage bins are fitted with soft close lids and the sides of the centre console are lined with carpet so you won't graze your knuckles as you buckle up your seat belt.
Connectivity
Incorporated across the Volvo range is its so-called Sensus Connect. This cloud-based service allows the driver to find and pay for parking from the car, find a restaurant, stream favourite music and a few more things besides. The driver can also have text messages read out loud without removing their hands from the wheel. Also falling under the auspices of Sensus Connect is Volvo On Call that allows drivers to communicate directly with their car via a smartphone application to lock, unlock, check fuel levels, locate and check mileage on the car. It also enables the motorist to download trip information for the past 100 days, useful for business users claiming fuel expenses. The Sensus Connect infotainment system is compatible with Apple CarPlay, Android Auto and 4G standard.
As part of Volvo's Sensus technology, In-car delivery is a new service that allows online orders to be delivered directly to the boot of any Volvo. Using the carmaker's On Call service, In-car delivery allows single-time access for depositing items such as groceries or dry-cleaning in the boot of a parked car. It essentially turns a car into a preferred delivery address. You can also send a destination directly to the car's sat-nav so it's all ready to go when you get into the car.
Last year, Volvo Car UK let it be known that it was boosting its in-car connectivity offering by fitting a data Sim card as standard to all its new models. The feature has since been introduced on all 2020 model year cars and can be retrofitted to any that have already been delivered to customers. The SIM card creates an onboard WiFi hotspot that can be used by a maximum of eight devices.
In a first for the segment, customers can access the V60 via Volvo Cars' flat-fee subscription service Care by Volvo. It also allows you to access to V40, S60 XC40, XC60, S90, V90 and XC90 models. As the terms available are 2 or 3 years, the service sounds more like a lease than a subscription but there is an option to extend the contract and include insurance as part of the subscription deal.
Advanced driver assistance systems
As we would expect from safety-loving Volvo, the V60 comes loaded with high-tech semi-autonomous and connected car features most of which are displayed and controlled on an intuitive and responsive touchscreen.
The V60 includes advanced driver support systems used on the 90 Series and XC60. ADAS technologies include City Safety with Autobrake technology that uses automatic braking and detection systems to assist the driver in avoiding potential collisions. This system is notable as it is currently the only one of its kind to recognise pedestrians, cyclists and large animals. Both the S60 sedan and V60 estate have received a five-star rating in the 2018 EuroNCAP safety tests, with very good category scores throughout. But there again, we would expect nothing less from Volvo.
The Pilot Assist system – which supports the driver with steering, acceleration and braking on well-marked roads up to 130km/h – has been upgraded with improved cornering performance. The V60 also includes run-off road mitigation and oncoming lane mitigation. The latter automatically provides steering assistance if you unwittingly drift out of your lane, guiding you back into your lane and out of the path of any oncoming vehicles.
On the road
Five versions of the V60 are available: entry-level Momentum Plus, R-Design Plus, Cross Country Plus, Inscription Plus and Polestar Engineered. The slick silver Cross Country Plus that we took out and about last week featured charcoal protective bodywork elements, giving it a certain ruggedness and je ne sais quoi. It shares the automaker's Scalable Product Architecture platform, safety technology and infotainment system with the latest S60 as well as the 90 Series cars and XC60.
The V60 comes with two plug-in hybrid powertrain options: the T6 Twin Engine AWD petrol plug-in hybrid that generates a combined 340hp or T8 Twin Engine AWD petrol plug-in hybrid that delivers 390hp. The regular petrol choice offers T5 or T6 powertrains. Drivers who prefer diesel can select D3 or D4 engines.
Seated with the family for long and winding journeys in the D4 estate felt quite comfortable surrounded by a commanding cockpit. Its uncomplicated, clean and classy cabin swathed with soft-touch trim and plush leather seats make this a snug place to sit for a few hours. On balance, the latest generation V60 remains a solid, safe and sensible family choice, bristling with appealing spec. Although it doesn't yet drive itself, the Pilot Assist goes some way to support this aim.