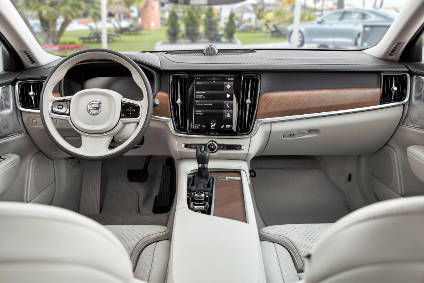 Continuing just-auto's review of interior design and technology trends, we take a closer look at the Volvo S90. Its minimalist cockpit, swish interior and smooth, punchy powertrain make it a strong challenger in the large executive saloon market.
The S90 we borrowed came in the form of a D4 entry-level engine with Momentum specification. Regardless of the spec, all S90s feature Volvo's Sensus touch screen to control the sat-nav, media, and a host of advanced driver assistance systems (ADAS). Other welcome additions at this time of year included heated seats, steering wheel and windscreen. There is no shortage of strong contenders for the S90. Its rivals include the Mercedes-Benz E-Class, Jaguar XF, BMW 5 Series, Audi A6, and Lexus GS.
Seating developed with Johnson Controls
As with the XC90 and XC60, the interior of the S90 feels just as classy. The powered leather front seats have that same prominent stitching. The S90's rear seating has also been a focus for innovation thanks to input from Johnson Controls (now Adient). In addition to the seat covers and upholstery for all of the Volvo S90's seats, the supplier developed the rear seat bench. "The design of the rear seats is closely based on the driver seat, and is in no way inferior in terms of comfort. Since all of the stages of development and integration were in our hands, we were able to create a holistic seating experience, not only through the high quality of the seats, but the optimal use of interior space," said Tony Malila, vice president and general manager, customer group Volvo, at Johnson Controls Automotive Seating. "In a vehicle's interior, space is the greatest luxury," said Malila. "Volvo Cars recognised this and consciously applied it to the Volvo S90. While the front seats offer the highest degree of comfort, they take up relatively little space, primarily due to their extremely slim backrests. This allowed for plenty of legroom for the rear passengers. Our aim in designing and integrating the rear seat bench was to support Volvo's approach in this area."
Fewer buttons, larger touch screen
The net result of all this interior and acoustical development makes the S90 a calm place to sit. Although the cockpit area closely resembles the XC90, there are a number of details that distinguish the two. For instance, the new dashboard dash integrates new air blades that stand vertically on each side of the Sensus touch screen.
While touch screens offer space-saving possibilities, designers are faced with the problem of distracting the driver's attention too much. A continuing focus of R&D is therefore on more intuitive, safer and simple control options for motorists, including the integration of haptic feedback into touch-sensitive surfaces. This enables the driver to sense directly whether or not they have actually activated a 'touch element' after touching it.
Given that driver distraction is a major cause of accidents on today's busy roads, Volvo Cars has carried out a lot of research in recent years aimed at developing the least distracting driver control interface available. As everyone knows, it is important to keep your eyes on the road. With Volvo's approach, all critical information is presented via the head-up display or in the driver display area directly behind the leather-wrapped steering wheel. Non-critical information is delivered via the centre touch screen display. Volvo call this the 'now and whenever' approach, reflecting the importance of the information that is displayed in each area.
Sitting centre stage of the S90 dashboard – flanked by the vertical vents – is a portrait nine-inch touch screen, itself helping to create a minimalist cockpit area. As the tablet-style screen is based on infrared technology, it provides an almost reflection-free surface and can react when the driver is wearing gloves. While Volvo says the screen size also allows for the larger virtual buttons, we would still prefer to see a few more actual buttons and knobs to operate things like the HVAC. This touch screen enables the logical operation of navigation, media, phone and messaging, allowing the driver to swipe from one page to the next. Two other pages display nitty-gritty details like car settings and entertainment applications. Certain ADAS and connectivity functions can also be operated from the steering wheel.
Audio system developed by Harman
The S90 is fitted with a Bowers & Wilkins features 18 speakers and an air-ventilated subwoofer built into the chassis. It also features tweeter-on-top technology for the first time in a car, delivering a more open, spacious sound.
In explaining Harman's 'house of brands' that includes Bang & Olufsen, B&O Play together with JBL, Mark Levinson, Infinity, Harman Kardon and its licence agreement with Bowers & Wilkins, Michael Mauser, EVP and president of Harman's lifestyle audio division, told just-auto: "This all means we had a lot of OEM partners showing audio systems at the most recent Paris motor show, including Audi, BMW, Lexus, Maserati and smart. This year we've had quite a few launches too, so at Geneva there was the Maserati Levante with a choice between a Harman Kardon or Bowers & Wilkins system, the Audi Q2 featuring Bang & Olufsen sound, and both the Volvo V90 and S90 that have a Bowers & Wilkins system similar to that in the XC90, which has been really well-received."
While the automotive audio market is dominated by some well-known brands, smaller technology firms are attracting interest from Volvo. We recently caught up with Greg Turnidge, CEO of Blueprint Acoustics (Bluacs) who explained how a niche Australian company is developing audio solutions for next generation vehicle platforms. More specifically, Bluacs has developed and now supplying its so-called Fresh Air Speaker (FAS) technology for the S90.
"Automotive manufacturers are deploying increasingly complex electronic media, communications and entertainment systems in their vehicles," explained Turnidge. "This has resulted in an ever-growing competition between products for space, weight and power with quite significant implications for car audio systems. Low-frequency sound, think bass, is an essential part of any quality sound system and it is particularly challenged in this competition for space, weight and power. Despite the rise of premium sound systems, sub-woofers in particular, due to their space requirements, are usually optional products and they are often placed in the vehicle's rear parcel shelf/boot areas. That's not ideal because you want that space for luggage or increasingly energy storage.
"Bluacs' Fresh Air Speaker (FAS) technology resolves this space and placement issue by using the vehicle's outer cabin boundary as an infinite baffle, thereby overcoming the trade-off between speaker box size and sound level or power needed. The result is a loud and clean low-frequency sound in the vehicle cabin, all from a small, lighter weight and less power-demanding speakers with a minimum of sound distortion. The last part might surprise you but it's a really important advantage as it means our subwoofers can be placed in unusual places in the vehicle and still deliver the desired quality sound output. For example, in the wheel-well or cowl box."
Driver assistance systems
Given the carmaker's vision that no one will be seriously injured or killed in a new Volvo by 2020, the S90 comes brimming with a suite of driver assistance technologies fitted as standard. Its so-called IntelliSafe Assist technologies include adaptive cruise control, distance alert and Pilot Assist, a functionality that provides gentle steering input in the event of lane drifting on motorways.
Next year, the XC90 will be equipped with Volvo's Pilot Assist II. When activated, acceleration, braking and steering are assisted in order to help the driver follow the traffic flow along a well-marked highway. The driver can, of course, override the system at any time by using either the brake pedal, accelerator pedal or steering wheel. The automaker says this addition is made possible thanks to the modular approach to car building enabled by its new scalable product architecture (SPA) platform. Pilot Assist II is another significant step along the way to fully autonomous driving. Other notable features of the S90 are a standard run-off-road mitigation system and optional headlight beams that turn as your steer round corners.
In-car delivery service makes S90 a post box
As part of Volvo's Sensus technology, In-car delivery is a new service that allows online orders to be delivered directly to the boot of any Volvo. Using the carmaker's On Call service, In-car delivery allows single-time access to anyone to leave things like groceries or dry-cleaning in the boot of a parked car. It essentially turns a car into a preferred delivery address. This service is currently available in Sweden although there are plans to roll it out to other markets soon.
On the road
Our front-wheel drive D4 model came with a 2.0-litre four-cylinder diesel engine mated to an eight-speed automatic gearbox. A test route that took in town and country felt smooth, quiet and refined with more than enough power in Dynamic mode to overtake with gusto when required. We clocked up 387 miles, returning an average 39 mpg although we would expect slightly higher averages over a longer, less aggressive test run (but not as high as the carmaker's 64mpg claim).
Although a long car – stretching to almost 5 metres – the S90 has loads of boot space (500-litres, to be precise) and bags of leg and head room for back seat passengers. While a five-seater, any adult sitting centre back will endure a less comfortable ride given the high transmission tunnel.
Down the road
While the flagship S90 felt both stylish and classy, Volvo has recently unveiled an upgraded version thereby pushing the boundaries of luxury trim. Initially for the Chinese market, one of the notable features of its S90 Excellence is a 'lounge console' that replaces the front passenger seat. It is designed to meet the work and play needs of those being chauffeur driven. Other interior features of this long-wheelbase model – effectively a limousine – include foldout work tables, a fridge, heated and cooled cup holder, an adjustable footrest, a rear seat touch screen and even a couple of handmade crystal champagne glasses from Swedish glassmaker, Orrefors. The latter and other Scandinavian cues are slightly ironic given the S90 manufacture is being moved from Sweden to China. Earlier this month, Geely-owned Volvo Cars said it will make its S90-series cars based on its SPA at its plant in Daqing, Heilongjiang province, in northern China.
See also:
&