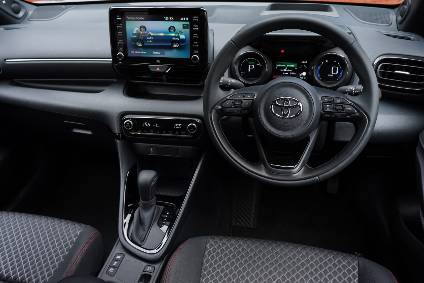 The Yaris has become Toyota's most important model in Europe, steadily increasing both its sales volume and market share. Last year, the latest and fourth generation Yaris recorded around 224,000 sales and took 7.6 per cent of the B-segment market, making it the carmaker's best-selling model in Europe. Continuing just-auto/AIC's review of interior design and technology trends, we step aboard this popular supermini to take a closer look.
Trim-wise, the Yaris is available in a range of four versions: the entry-level Icon, rising to the Design, Dynamic and top-drawer Excel. Toyota also offers a Launch Edition spec with lots of extra goodies. Our Excel incorporated a number of creature comfort features, including automatic wipers and headlights, auto-dimming rearview mirror, head-up display, eight-speaker JBL sound system, acoustic windscreen and panoramic roof.
Inside story
The interior reflects a 'less is more' arrangement with displays and controls organised to ensure the driver can focus on the road and keep informed of key vehicle data without too much distraction.
The top half of the cabin is swathed in soft-touch materials and interior design detail to provide an upmarket ambience and je ne sais quoi. The bottom half (down at leg and knee height) has the usual scratchy yet durable plastics. The dash itself is wrapped in black soft-touch material with detailing, contrasting the upholstery materials and polished chrome trim accents.
Standing proud of the dash, positioned centre stage is a slick, eight-inch tablet-inspired colour touchscreen that delivers a welcome (and silent) sequence on start-up.
Interior details include a larger area of soft-touch padding across the dash; soft felt inserts in the door panels; a wider front console; a lower hood for the driver's instrument binnacle; and a smaller, more tactile steering wheel.
The increase in the car's width has allowed for more space (an extra 20mm) between the driver and front passenger, and for a wider front console to be designed.
In terms of the driving position, the seat has been moved 60mm rearwards; the hip point lowered by 21mm and the steering wheel angled six degrees more vertical. The wheel's reach adjustment has been extended so that it can be brought 77mm closer to the driver. The steering wheel is smaller with more buttons.
All the usual vehicle information is displayed on the touchscreen – such as trip information, fuel economy and journey time. It allows synchronisation with your smartphone and other personal multimedia devices: wifi, bluetooth, HDMI, and MirrorLink – which 'mirrors' the screen of a connected device, allowing operation through the touchscreen.
Useful connected services can also be reached using the MyT Toyota app. Features include information about Toyota, and an eco-driving app. MyT also logs driving data, incluing information about mileage, speed and acceleration. It can also provide reminders, for example, when the car's service is due and eCall to automatically alert the emergency services to the car's location in the event of serious impact.
A ten-inch colour head-up display projects key information onto the base of the windscreen. Data includes vehicle speed, safety warnings, navigation support and multimedia information. The Yaris is fitted with an ambient blue cabin lighting in the footwells, door panels and centre console.
Audio system
Audio-wise, certain versions of the Yaris can be equipped with an eight-speaker JBL Premium Sound System. The speakers have been specifically tuned to the acoustics of the cabin. The system uses Clari-Fi technology, developed by Harman, which supplements in real-time frequencies that are lost in compressed audio files, such as MP3 and streaming audio files. This restores the sound quality and stereo mix as closely as possible to the original recording.
Acoustic windscreen
Noise reduction inside cars and consequently improvement of acoustic control has long since been a focus of automakers. Yet the vehicle's glazed surface is continuously increasing making it a significant path for noise penetration inside the car. An acoustic windscreen, however, can lower sound levels entering the cabin by as much as five decibels using a specially designed acoustic insert between two polyvinyl butyral (PVB) films. This sandwich is then inserted between both sheets of the windscreen's glass.
Since the first vehicle appeared in Europe with an acoustic windscreen – the Renault Clio II – the number of vehicles being fitted with acoustic glazing is gradually increasing. Next up is the Yaris with an acoustic windscreen comprising an outer layer of 2.1 mm safety glass, a 0.7 mm middle layer of noise-reducing acoustic PVB, and a 1.8 mm inner layer of safety glass, for a total thickness of 4.6 mm.
Advanced driver assistance systems
The second generation Yaris was the first B-segment model to gain a five-star rating in Euro NCAP's safety testing programme, while the third generation introduced hybrid electric power to the small car market for the first time and made advances in safety with the standard provision of Toyota Safety Sense active safety and driver assistance systems.
All versions of Yaris are equipped with Toyota Safety Sense, a suite of active safety technologies designed to help prevent or mitigate collisions. These include a pre-collision system, adaptive cruise control, lane departure alert, lane trace assist, automatic high beam and road sign assist.
The functionality of the pre-collision system has been increased so that it can detect pedestrians by day and night and cyclists in daytime driving. The model also offers segment-first intersection turn assistance to recognise collision risks with oncoming traffic and pedestrians when making a turn at a junction, and it is the first Toyota to be equipped with centre airbags. These help prevent driver and passenger colliding with each other in a side impact.
On balance, the Yaris cabin is typically Toyota – practical and comfortable but lacking panache. Its climate controls are, mercifully, separate from the touchscreen. It is built at Toyota Motor Manufacturing France's Onnaing plant, near Valenciennes. The 1.5-litre hybrid engine and the hybrid transmission are manufactured by Toyota Motor Manufacturing Poland. Its rivals include the Peugeot 208, VW Polo and Ford Fiesta.