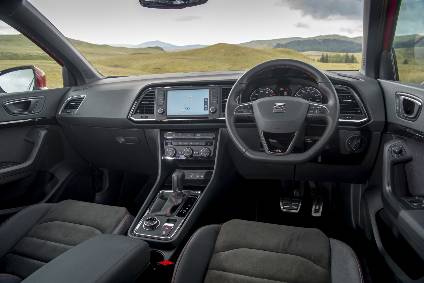 Arriving late to the party, Seat's compact SUV marks the third pillar of the brand, alongside Ibiza and Leon. Continuing just-auto/AIC's review of interior design and technology trends, we take a closer look inside this sensible family choice on the crossover tree.
On first glance, the stand out elements of the Ateca are its trapezoidal grille, triangular light signatures and rectangular wheel arches framed in black.
Once seated in the throne-like SUV power-adjusted driving position, the eye is drawn to the plastic unadorned expanse of the dashboard, emphasising the car's width if nothing else. Head, shoulder and leg room for those sitting in the back, however, is more pleasing although the seats do not slide and recline, unlike the VW Tiguan which the Ateca is based on. The lofty seating position provides a good view of the road ahead and around some relatively thin A-pillars. Front and rear sensors also help with parking.
Measuring 4.36 metres in length, the Ateca's deep, square-shaped boot holds 510 litres in its standard configuration or 485 litres in the 4Drive versions. The 60/40 rear seats can be flipped forward by pulling two handles on either side of the boot area.
Infotainment and connectivity
Ateca drivers and passengers can get Apple/Android connectivity through the car's infotainment system. As with most centre mount touchscreens, it is a little fiddly at first to work your way around, but you soon get used to it. The HVAC unit, positioned directly beneath, is the polar opposite in terms of its simplicity, with large, clearly marked buttons either side of a central dial that control the fan speed.
The driver's digital display is an interactive, customisable pixel-dense digital instrumentation cluster allowing drivers to reconfigure the view from classic information found on analogue dials, such as speedometer and tachometer, to full colour maps and navigation.
On the connectivity front, Ateca's Easy Connect system is operated via the eight-inch touchscreen, providing a clear view of the sat-nav and infotainment content. The 'Connectivity Box' in the centre console enables wireless smartphone charging and, thanks to automatic coupling with the roof antenna, ensures a good reception. Two USB ports are located in the front compartment and two more in the back.
One central function of the ConnectApp is Voice Replay. This text-reading function converts messages from sources such as e-mail and text messages into speech, reading them aloud. Answers can be dictated by voice command. Ateca also offers gesture control enabling functions to be activated by waving a finger at the touchscreen.
Advanced driver assistance systems
Driver assistance technologies include traffic jam assist (which makes progress in heavy stop-and-go traffic far more bearable) and operates through the car's lane assist and adaptive cruise control (ACC). Other ADAS technologies include ACC with front assist, and city emergence brake function with pedestrian protection.
While Front Assist operates at higher speeds to warn against driving too close to the vehicle in front and potential collisions, automatically braking the vehicle, the city emergency brake system handles this task in urban traffic. Previously, this system only recognised vehicles. In the current generation Ateca, the system has been developed further to react to pedestrians. Ateca also has traffic sign recognition, blind-spot detection, rear cross-traffic alert and park assist
A question of wiring
The interior of a vehicle contains some 1,350 wires that function as the central nervous and circulatory systems of the human body. When laid out in a straight line, these wires would stretch more than a mile in length. Wires ranging from one millimetre to one centimetre in thickness are behind the car's lighting, sound system or driving assistants like the blind spot detector. They branch off into more than 30 circuits that "ensure the operation of nearly every car function and transfer power from location to another, just like blood flowing through an organism," says Pedro Manonelles, an engineer at the SEAT Technical Centre. Most of the wiring is concentrated in the instrument panel.
In terms of weight, this wiring collectively weighs 40 kg. "Copper is the most widely used metal for electrical conduction, but its high density, which is greater than that of iron, makes us optimise its use in order to achieve the biggest possible weight reduction," added Manonelles.
On the road
The Ateca comes with petrol and diesel engines ranging from 85 kW / 115 PS to 140 kW / 190 PS, with either front-wheel or all-wheel drive, and with manual or DSG transmissions. The 'Driving Experience' rotary dial on the centre console offering the profiles Normal, Sport, Eco and Individual. The Ateca models with 4Drive include Snow and Offroad profiles as well as the Hill Descent Control function.
Six trim levels are offered, from the entry level SE, rising through to SE Technology, FR, FR Black Edition (launched last January), Xcellence and Xcellence Lux. The FR Black Edition four-wheel-drive that we took out and about last week was powered by a 2.0-litre petrol engine mated to an automatic gearbox. It is not short of puff despite being fully loaded with passengers and clutter. The car's fuel economy pretty much lived up to expectations averaging 38.6 mpg, compared to the carmaker's claim of 40 mpg.
On balance, the Ateca comes with a generous list of standard equipment, clever safety technology and an intuitive infotainment system. The long list of creature comforts fitted as standard in the FR Black Edition includes front leather, heated sports seats, ambient spot lighting and a driver tiredness recognition system. Stand out features include its boot capacity with low loading lip, comfortable interior space and connectivity features. While there is little to get excited about when looking at the dash, there is very little to criticise about the rest of the interior and its layout.
Designed and developed by SEAT, the Ateca is built at Škoda's Kvasiny factory in Czech Republic, the same factory that assembles the Skoda Superb and Yeti. Its rivals include the Renault Kadjar, Ford Kuga and KIA Sportage.