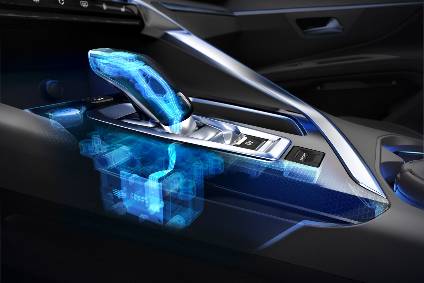 Launched at the 2016 Paris motor show, the second generation Peugeot 3008 competes in a crowded C segment SUV market. Continuing QUBE/just-auto's review of interior design and technology trends, we slipped inside this popular compact family crossover to see what distinguishes it from its predecessor. Quite a lot it seems.
Swish interior
The high-tech, swish interior of the 3008 is cloaked in a rich mix of materials, including leather, touches of brushed chrome, large expanses of carbon or cloth decoration. The upmarket textiles cover the door-card inserts, headliner, windscreen pillars and dashboard inlay. Most of the surfaces are soft to touch with all the usual scratchy plastics hidden at ankle level. Faurecia supplies the well-shaped and supportive seats. Both front seats are heated while the driver seat has a massage function on the GT Line. Generous-sized armrests are fitted either side of the front seats. The storage box in the central armrest is air-conditioned too – great for keeping a packed lunch cool.
i-Cockpit
The transformed dash incorporates the automaker's i-Cockpit. It comprises four elements: a compact sports steering wheel, head-up instrumentation, high centre console and touchscreen.
The small-diameter steering wheel has been redesigned with two flats to make it easier to grip and provide the driver with improved visibility and legroom. You can easily see the instrument cluster over the steering wheel rather than peering through it. It also requires less steering effort when parking and manoeuvring around corners in town.
The reconfigurable 12.3-inch instrument cluster – positioned directly in the driver's line of sight and above the sports steering wheel – offers five different display modes, controlled from a button on the steering wheel. The read-outs are clear and crisp.
Positioned on the raised centre console is an eight-inch tablet-style touchscreen that is equipped with capacitive technology and angled toward the driver. The touchscreen displays the usual vehicle information – such as trip data and fuel economy – and images from the rearview parking camera. The TomTom sat-nav also worked a treat, guiding us through some densely packed streets and circumnavigating roadworks. Magneti Marelli supplies parts for the 3008, including the instrument cluster and infotainment TFT display.
Beneath the touchscreen is a row of six piano key buttons to control for example radio, HVAC, sat-nav, vehicle parameters and phone and mobile applications.
Another button – 'Amplify' – on the centre console can vary the brightness of the ambient lighting and the colour of the screens, adjust the sound settings, seat massage function and fragrance diffuser.
In addition, two environment ambiances [French spelling] are offered, namely an atmospheric 'Boost' focused on an energised driving experience and 'Relax' for a more tranquil mood. The Boost theme is aimed at a dynamic driving style while the Relax is for gentler driving. Three fragrances are also on offer, namely the 'Cosmic Cuir' (described by the automaker as "a vibrant and sensual fragrance, and a genuine olfactive signature of the brand"); 'Aerodrive': default setting for the 'Boost'; and 'Harmony Wood': default setting for the 'Relax'.
On the connectivity front, all versions offer phone mirroring, smartphone recharging pad and 3D navigation.
Voice control is operated via a button on the steering wheel. Voice commands are rather limited but seemed to work well, all things considered. Another button on the dash opens and closes the powered liftgate. This can also be operated by waving your foot beneath the rear bumper. There is no shortage of USB sockets to power up mobile devices.
Advanced driver assistance systems
The 3008 comes equipped with a number of advanced driver assistance system (ADAS) technologies as standard, including: Active Safety Brake (emergency brake assist) and Distance Alert (risk of collision warning); active lane departure warning; driver attention warning; automatic adaptive headlamp main-beam; speed limit sign recognition and recommendation; adaptive cruise control with stop function (automatic gearboxes) and active blind-spot monitoring. For manoeuvring around towns and cities, Visio Park (360° all-around vision) and Park Assist do the job.
Cabin space
In terms of its proportions, the 3008 measures 4.45m in length which is 8cm longer than its predecessor. With a width of 1.84m (the same as the previous generation) the height of this model has been kept to 1.62 m (including roof bars). The net result is extra rear legroom (+24 mm), front elbow room (+17 mm), rear elbow room (+4 mm) and rear headroom (+36 mm). Continuing the space theme, cubby holes are also wide, deep and plentiful. The two front door pockets are flock lined to stop loose items from rattling around.
The boot space has also increased. It provides a capacity of 520 litres with the 60/40 back seats in the upright position, 90 litres more than on the previous generation. With the rear seats folded flat, the load increases to 1580 litres.
While the rear seats do not slide or recline, rear seat occupants sitting in the middle will welcome a flat floor to rest their feet. The front passenger seat also folds flat enabling the driver to use the entire length of the car when carrying long loads.
Lightweighting
The Peugeot 3008 is 100kg lighter than its predecessor due to a number of features, including VHSS and UHSS steels (Very High Strength Steel and Ultra High Strength Steel); thermoplastic boot floor and tailgate; wings, front suspension arms and rear seat frames in aluminium; and improved engine noise levels, allowing reduction in sound-deadening materials.
Popular model
Groupe PSA reported a new record for sales in 2018 at 3.9m units, up 6.8 per cent on 2017's total. However, the overall total was distorted by the impact of the addition of the Opel-Vauxhall brands to the group's numbers (2017: 403,933 units; 2018: 1,038,057 units). With that distortion removed, total sales for the Peugeot, Citroen and DS brands last year were down 12 per cent at 2.84m units. Like other OEMs, PSA has been hit by contracting sales in China. Last year, the world's largest vehicle market fell for the first time since 1990.
PSA Group sales in China and SE Asia were down 32.2 per cent in 2018, to 262,583 units. PSA says it is 'working on action plans with its partners to tackle current issues'. It is also implementing its electrification strategy with the Fukang brand, and the 'core model strategy is under execution to propose a product offering designed for Chinese clients'. PSA said the overall sales increase for the 5th year in a row comes 'with improved pricing power, in a context of economic and geopolitical headwinds' and claimed the core model strategy as a trigger with successful new launches. It said that SUV models are particularly successful driven by the 3008 among other models.
On the road
Around and about last week, our ride along country back roads and potholed highways was relatively smooth thanks to a decent suspension set-up. Tenneco supplies its Multi-Tuned Valve (MTV) suspension technology for the 3008. The supplier claims that its MTV offers improved damper performance and durability compared to conventional passive valve designs and enables the optimum balance between body control and driver comfort. Other suppliers to the 3008 include Faurecia. From its Koacelli plant in Turkey, Faurecia supplies the cold end components for the diesel and gasoline engines.
On balance, this stylish second incarnation is more handsome SUV than frumpy MPV. Its avant-garde interior, wrap-around ambient LED lighting and plush cabin materials give it showroom appeal in spades. The 3008's small steering wheel makes good sense as it does create an easier drive. The version we borrowed was a GT Line, so fitted with lots of fancy gear to make driving it a pleasure. It's also practical and cheap to run. Our press review BlueHDi 130 diesel unit with an eight-speed automatic transmission returned 53.2 mpg on average, compared to the headline figure of 68.9 mpg combined. All in all, 3008, regardless of trim level, comes with a generous list of standard equipment, clever safety technology and an intuitive cockpit.