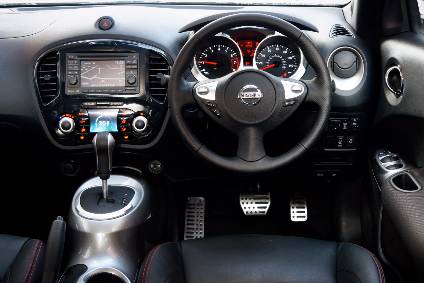 A subcompact crossover SUV, the Nissan Juke entered production in 2010. Since then, more than 500,000 units have been sold worldwide, 130,000 in the UK alone. The name 'Juke' means to dance or change direction. It is certainly true that this model was a breath of fresh air on launch, redefining the segment with a distinctive alternative to conventional superminis. Significantly for Nissan, it has attracted a number of buyers who are new to the brand; 82 percent of sales have been to first-time Nissan owners. Continuing just-auto/QUBE's review of interior design and technology trends, we take a closer look this popular model.
The Juke is a real-world version of the Qazana concept car created in Nissan's London studio. Love or loathe its appearance, the Juke's wide grille, high waistline, protruding headlights and prominent wheel arches all serve to give it a certain road stance. Its coupe-like appearance is helped by the rear door handles being located close to the C-pillars, within the window frame, itself reminiscent of the 1985 Nissan Pathfinder.
Since launch, there has been just one facelift, revealed at the 2014 Geneva motor show. This cosmetic surgery resulted in sharper looks, improved infotainment, connectivity and driver assistance. It also triggered some vibrant hues, including our sunlight yellow one. It's an acquired taste – like the Juke itself – but it marked us out on the road like nothing else. It was easy to spot in the car park, too.
When ordering a Juke, customers can stamp their own personality with a programme called 'Nissan Design Studio' that allow for brightly coloured inserts to be added. Our funky interior had touches of egg yolk yellow on the centre console, door finishers, air vent rings, and even on the stitching of the gear knob, steering wheel, seats and transmission tunnel. The latter, says Nissan, was inspired by the shape of a motorcycle fuel tank.
The Juke's rivals in the growing B-segment crossover market include the likes of Vauxhall Mokka X, Citroen C4 Cactus and Renault Captur. All share the same jacked-up small SUV appeal, bristling with advanced driver assistance systems and safety features, yet practical enough for the family and all for a tempting price.
The UK range consists of a number of trim grades, namely Visia, Acenta, N-Connecta, N-Connecta with Exterior + Pack, Tekna and Tekna with Exterior + Pack. Starting at around GBP15,000 for the entry-level Juke Visia, as with the rest of the Nissan crossover family, it comes with NissanConnect.
More and more kit is piled on for your delectation the further up the trim grades, of course. For example, the N-Connecta adds a sat-nav that integrates Google Online Search, allowing drivers to locate fuel stations, hotels and restaurants. All these points of interest can be searched through Google's hands-free voice command and categorised by distance and customer ratings.
Although quite a small display, the touchscreen features a number of shortcut buttons which are easy to fathom. When not in infotainment mode, the screen doubles as a monitor for the newest version of the automaker's Around View Monitor. As the name suggests, it gives a 360-degree bird's eye view of the car making manoeuvring in tight spots safe and easy.
For the driver and front seat passenger, there is ample head and leg room. Yet tall rear seat passengers could feel squeezed due to the sloping roof line and some quite thick front seats, thereby limiting the amount of knee room for those sitting behind.
Further back, changes have also been made to the shape of the boot area in two-wheel drive models to boost luggage space by 40 percent, providing 354 litres, making it deep and wide enough to carry a chassis-type pushchair. The boot features additional storage beneath the floor, that area where you would look for the spare wheel.
Advanced driver assistance systems
In early 2013, Nissan let it be known that it will include advanced safety systems on the then new Note, claiming a first-in-segment. Described as the Nissan Safety Shield, it includes blind spot warning, lane departure warning and moving object detection as well as Nissan's around view monitor. At the time, radar-based safety technologies such as advance collision warning and blind-spot detection were becoming commonplace as optional equipment on new C-segment vehicles.
Back then, this announcement chimed with just-auto/QUBE's series of component supplier interviews. While we have seen multi-function cameras on the high-end and medium segment cars for some time, such technology was permeating down to the low-end in Europe. An executive from ZF told us: "Multi-function cameras have already penetrated down to mass market C-segment vehicles in Europe, and are expected to migrate further downwards in the next five years, potentially driven by EuroNCAP and future regulations. Obviously, the A and B segments are the most price-sensitive, but at the same time smaller and lighter vehicles that are more vulnerable in a crash can also benefit the most from crash avoidance technologies, and OEMs could potentially use this as a safety differentiator in this segment."
Included in the B-segment Juke's Nissan Safety Shield are lane departure warning, blind spot warning, and moving object detection. The latter combines the car's front and rear parking sensors with Nissan's around-view monitor parking aid. If, when stationary, something moves into the area covered by the four cameras, the system will give an audible warning and highlight the area in which the moving object is detected. Mounted on the tailgate and having a fish-eye lens, the rear wide view AVM camera has a sweep of vision in excess of 180 degrees, giving it an unparalleled field of vision at the rear of the car. Images from the camera are displayed on the centre console screen. To keep this camera clean, the car's computer can sense dirt on the lens and uses a 'wash and blow dry' system to automatically rinse and dry the surface.
Last May, Nissan GB unveiled its Signal Shield prototype compartment within the armrest of a Nissan Juke, lined with a Faraday cage to cut down driver distractions with mobile phones. Once a mobile device is placed in the compartment and the lid closed, the Nissan Signal Shield creates a 'silent zone,' blocking all the phone's incoming and outgoing cellular, Bluetooth and Wi-Fi connections. The concept is designed to give drivers a choice about whether to eliminate the distractions caused by the millions of text messages, social media notifications and app alerts 'pushed' to smartphones each day. Turning off your phone as you get into the car would also do the trick.
A growing problem, the number of drivers admitting to handling their phone in the car has increased from 8% in 2014 to 31% in 2016, according to British breakdown service, RAC. Users are becoming habitually more tempted to check text messages and notifications as they appear on their phone's screen, even if they are driving. Nissan's own research found almost one in five drivers (18%) admitted to having texted behind the wheel.
On the road
A Juke driven by stunt-driver, Terry Grant claimed a Guinness World Record when it was driven around the Goodwood Hill Course on two wheels in just under three minutes. While our test drive didn't take us off road, let alone on two wheels, we enjoyed a gentle potter around and about. Our Juke had a 1.2-litre turbo petrol engine with a 6-speed manual gearbox. Badged DIG-T 115, it felt relaxed and quiet to drive around town and on some of Britain's busiest motorways. The suspension felt firm and poised, thanks to some clever tweaks in 2014. Like most of its rivals, the Juke's rear visibility is hampered by a shallow rear window and thick C-pillars. That's where the around view monitor comes into its own, though. Officially, this model will achieve 48.7 mpg although our real-world test returned an average of 38 mpg.