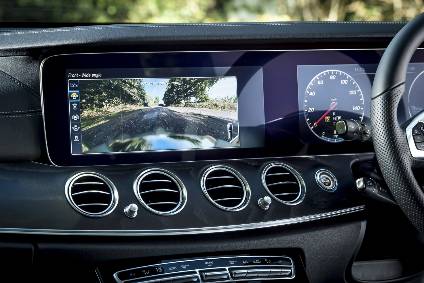 Launched in 2016, the fifth generation Mercedes-Benz E-Class takes design cues from the larger S-Class and smaller C-Class. It also comes bristling with semi-autonomous driving technology. Continuing QUBE/just-auto's review of interior design and technology trends, we slip inside an E-Class estate to take a closer look.
Cockpit and instrumentation
Once seated with the engine purring, you feel immediately engaged. The cabin is cloaked with high grade, tactile materials. Facing the driver are two displays that can be merged to form a widescreen effect. Supplied by Continental, the dual display is said to make information and other content "intuitively perceptible". One display replaces the conventional instrument cluster and its analogue instruments while the other display sits above the centre console. Touch-sensitive controls on the multifunction leather steering wheel worked quite well to operate both displays.
Beneath the central display on the dashboard are four swivelling metal air vents. Lower down on the centre stack is a row of switch-like buttons to control the HVAC and certain driving assistance systems. On the centre console, a touchpad with a rotary controller in situ to operate the multimedia system and Garmin sat-nav.
As we would expect from Mercedes, the cockpit incorporates some classy materials to define the luxury carmaker's interior style. They include open-pore woods, wood with a yachting look with flowing lines as a contemporary interpretation of inlaid wood and a novel metal fabric. The use of authentic materials is continued in the leather-trimmed doors and the beltline. The instrument panel is supplied by Novem Car Interior Design GmbH.
The power adjustable heated leather seats are offered with a massage function. An optional heat comfort package warms not just the front seats but also the armrests. The powered seats are operated by intuitive pictogram buttons located on the door panels.
Rear visibility around some chunky door pillars is aided by a set of parking sensors and a rearview camera. Also, the rear seat headrests can be flipped forward by pressing another button on the centre console.
Lighting
During night time driving, the E-Class takes on an entirely different feel thanks to the ambient interior LED lighting that can be personalised using a palette of no fewer than 64 colours. It really does start to feel like a cockpit, adding illuminating highlights to the trim, the central display, the front stowage compartment on the centre console, the handle recesses, the door pockets, the front and rear footwells, the overhead control panel and the mirror triangle.
Although our focus here is on the interior, the headlights are worthy of note. In June 2016, Hella let it be known that it is supplying the three-layered multi-beam LED headlamp for the E-class. This features 84 individually controllable LEDs in each headlamp. Its light distribution varies with traffic, weather and road conditions. The adaptive high beam is also intelligent enough to adjust itself within a fraction of a second to avoid dazzling drivers of oncoming vehicles. It can also vary the beam in rainy conditions to prevent glare from rain and this is the first time that dynamic bend lighting is worked solely by electronics, dispensing with mechanical actuators.
In addition, the lights in the E-class also feature the use of transparent silicone plastic, replacing the traditional use of thermoplastics. Silicone plastic is attractive here because it is resistant to high energy radiation in LEDs and can also be machined to meet stricter tolerances compared to conventional thermoplastic.
Cabin space
Given that estates are all about cabin space, the E-Class has plenty of it. With all seats in the upright position, there is enough space in the boot to stow a washing machine (or 640-litres to be precise.) Adjusting the rear seats' backrest by 10-degrees can liberate an additional 30-litres of boot space. Folding flat all rear 40/20/40 seats – by pressing electric switches located in the load compartment and on either side of the backrests – provides some 1,820 litres of luggage space.
Other neat tricks include a combined cargo cover and net, ensuring your belongings are hidden when the car is locked. Thanks to the electric drive, the load compartment cover moves upwards automatically when the tailgate is opened.
The powered tailgate can be operated at the press of a button on the driver's door panel, on the boot lid, on the key fob, waving your foot under the rear bumper (if you have ticked that option) or simply by manually releasing the boot handle.
Fully loaded up with passengers and clutter, the self-levelling rear air suspension kicks in. It ensures that the car remains horizontal, even when towing. Although we weren't towing anything, the model we borrowed included an electric tow bar that popped out by pressing a button on the driver's door panel.
The stowage capacity on the latest E-Class is also higher than that of its predecessor. In the front area alone we found a centre console with larger stowage compartment for keys or a mobile phone, drinks holders in the door panels for 1.5-litre bottles, a spectacles compartment in the overhead control panel, and another cubby under the central armrest. Under the boot floor is a large extra compartment to store stuff, including a plastic fold-out crate for paperwork and loose items. The panoramic sunroof (supplied by Webasto) is a welcome option, shedding light on an otherwise dark leather interior.
Connectivity
The 'Mercedes me connect' can help with vehicle diagnostics in the event of a breakdown or an accident. Its concierge service can help with the finer things in life, such as making a restaurant reservation, obtaining tips about tourist routes, and information on cultural and sporting events. It can also send navigation destinations directly to the car.
Laminated side glazing
Every car has a laminated windscreen, of course. For some time, however, Europe has led with the adoption of laminated side glass for increased vehicle comfort and security. The first North American vehicle with laminated side windows was launched in 2002 with market demand catching up Europe. Today, from just-auto's research database QUBE on glazing technologies, we are seeing a clear upward trend for laminated side glass, especially for front door applications due to the acoustical benefit that comes with that value-added product. The E-Class that we took out for a spin came fitted with optional front side laminated windows, supplied by AGC Automotive. Laminated glass provides a three-to-six decibel noise reduction over tempered glass.
Advanced driver assistance systems
In the semi-autonomous driver assistance department, the E-Class that turned up at our door came with a Driving Assistance Plus package. For an extra GP1,695, you get active blind spot and lane keep assist, active brake assist and evasive steering assist, active lane change assist and drive pilot. The latter represents the carmaker's next step along the road to autonomous driving. As Distance Pilot Distronic, it is not only able to automatically maintain the correct distance behind vehicles in front on all types of road, but also, for the first time, it can follow them at a speed of up to 130mph. Perfect for the Autobahn then but we didn't drive as far as that. The E-Class is also equipped with Remote Parking Pilot that allows the vehicle to be moved into and out of garages and parking spaces remotely using a smartphone app, enabling the occupants to get into and out of the car easily, even if space is very tight.
On the road
The 194bhp 2.0-litre diesel E220d in AMG Line that we took out this weekend felt easy-going and relaxing along motorways and rooted on twisting back roads. Power is managed by a nine-speed automatic gearbox providing a good response when required. The ride was also smooth on 19-inch wheels thanks to Tenneco's electronic damper technologies. The car's large fuel tank gave a generous range, too. We clocked-up 488 miles in this premium family estate, returning an average 48.7 mpg although a little short of the carmaker's 57.7 mpg claim. All things considered, however, that's quite impressive.
The E-Class' contemporary dual-screen display, classy cabin materials and high-tech ambient interior lighting press all the right buttons, giving it driver appeal in spades. While our drive insulated us from the outside world, it also felt cossetted and poised at every turn – in whichever air body control mode – providing a truly engaging experience.