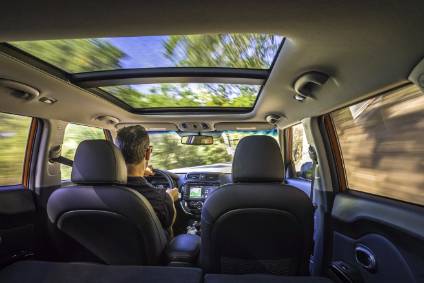 Launched in 2008 for those looking to make a funky and bold statement, the Kia Soul is certainly out of the ordinary. Competing models include the likes of the Vauxhall Mokka X and Nissan Juke. Like the Juke, opinions are divided on its distinctive looks and hamster TV commercials. But that hasn't stopped the Soul from becoming a market leader in the US and China. Continuing just-auto/QUBE's review of interior design and technology trends, we take a closer look inside the Soul.
While the Kia Soul is popular in the US with hip urban youths, over here it is favoured by Millennial parents.
The second-generation Soul takes advantage of the boom in the B-segment SUV market. Just over a quarter of European B-SUV customers are British. While it is popular in the US with hip urban youths, over here it is more popular with Millennial parents.
The Soul is built at Kia's Gwangju plant in Korea, which was also home to the first model. Gwangu was fully refurbished to accommodate the Soul in 2008 and is capable of manufacturing 135,000 versions of the car a year. The Soul is also built in China at the rate of around 40,000 a year for the Chinese domestic market. The 1.6-litre CRDi diesel engine is manufactured at Žilina in Slovakia and shipped to Korea for installation in the Soul.
Gwangju also produces K-series trucks, buses and military vehicles – most of which have never seen European soil in any shape or form – as well as the Sportage for markets outside Europe: European Sportages are built at Kia's Slovakian factory, alongside the Venga and the cee'd family.
Practical interior
The Soul's upright stance, squared-off shoulders and bumper flares give it a confident, bulldog road presence.
The Soul's upright stance, squared-off shoulders and bumper flares give it a confident, bulldog road presence. Designed in California primarily for (a younger) US market, compared to its predecessor the latest Soul has a 20mm longer wheelbase – now 2,570mm – which stretches the car by a corresponding amount to 4,140mm, and it is 15mm wider at 1,800mm. The height has been lowered to 1,593mm giving it an even more squat posture.
The net result of this cube-like design is a practical car with a generous interior. The bucket seats are also a touch wider and offer better thigh support. The most notable aspect is the ample headroom for six-footers front and back. Legroom is also generous in the rear, partly thanks to a shallow transmission tunnel. Large glazed areas, including the panoramic sunroof, flood the cabin with light, giving it a greater sense of space.
Offered in four trim levels – 1, 2, 3 and Sport – all are generously equipped. For example, the '1' comes with a DAB digital radio, Bluetooth, USB and MP3 player connections, while the '3' features keyless entry, front parking sensors and privacy rear glass, further accentuating its gangster appearance.
The cabin itself has a more premium look and feel compared to the previous generation Soul. This is all thanks to some new materials, soft-touch facings on the instrument panel, centre console and door panels, the leather-covered steering wheel rim and gear lever knob along with high-gloss black finishing on the fascia panel, steering wheel bezel, door armrests and upper console cover.
With an increasing number of car buyers now relying on smartphones or MP3 players for their in-car music, Kia has taken the decision to fit a DAB Radio with USB and AUX ports as standard and delete the CD player. This helps to lower the height of the fascia for a more streamlined appearance. The speaker-topped vertical air vents on either side of the dashboard add to the car's charisma coupled with front door speaker trim lights that change colour and intensity with each song you play, giving added appeal to the younger driver.
Rear seats are heated, too; a trend we are increasingly observing.
Seat and mirror heaters were most welcome on some chilly autumnal mornings. Rear seats are heated, too; a trend we are increasingly observing. The display and dials on the centre console are intuitive and well set out; we didn't find ourselves searching for the right button to unlock the rear doors or open the panoramic sunroof.
Acoustics
Noise levels in the cabin are greatly reduced thanks to liberal use of expansion foam, replacing the previous block foam, in the body cavities. A reinforced isolation pad in the cargo area and polyurethane-layered carpet also contribute to a reduction in interior noise of almost three decibels.
In addition to the suspension changes minimising transmission of road noise into the cabin, detailed work on the engines, aerodynamics and sound-deadening materials have also softened the amount of noise in the cabin by three decibels while curtailing vibration.
One of the unwanted side-effects of GDi engines can be an increase in noise and vibration. Kia engineers have addressed this with a new four-point engine mounting system (previously three), a redesigned exhaust system to reduce booming when driving and at idle, extended intake ducts which reduce noise and an increase in the size of the tunnel pad, which has the dual effect of improving air flow to the cabin while reducing noise levels. An increase in the number and rigidity of integrated support brackets reduces noise from the optional automatic transmission's planetary gears with the CRDi diesel engine, and there is improved sealant and damping materials to block high-frequency noise.
Other measures to dampen noise include expansion foam in the A- and B-pillars, a redesigned A-pillar garnish and improved hood and cowl structures.
Material matters
The Soul makes good use of ultra-high-strength and high-strength steels in critical areas. For instance, the B-pillar includes sections made of steel 2.5 times stronger than that which qualifies as ultra-high-strength. Ultra-high-strength steel has also allowed Kia to make the A-pillars 20mm narrower and 3.3kg lighter than in the previous model, improving driver visibility without reducing the protection they offer.
To overcome the inherent rigidity problems posed by the taller, boxier body of an SUV crossover, ring-shaped horizontal and vertical structures are incorporated, with reinforcements where they are inter-connected. These increase both torsional and transverse bending rigidity.
The Insurance Institute for Highway Safety (IIHS) recently awarded its best rating possible, Top Safety Pick Plus (TSP+), to 2018 Kia Souls when equipped with high-intensity discharge (HID) headlights.
On the road
The Kia Soul 'Sport' that we took out and about, painted 'wild orange', was powered by a 1.6-litre T-GDi engine. This turbocharged 1,591cc unit, with an aluminium block and cylinder head and a steel oil pan, was Kia's first GDi engine. A thirsty petrol engine, our test around town and country resulted in an average of 32 mpg, a little short of the expected 41.5 mpg. In addition to a choice of 1.6 litre petrol or diesel, there is also a Soul EV available.
Kia's Flex Steer allows you to adjust the degree of assistance provided according to preference and where the car is being driven. The chassis felt tuned to suit a younger driver. Kia points out that the Soul's handling characteristics are supported by improved ride quality to cope with the deteriorating roads in established markets and the poor surfaces found in many developing markets. New suspension bushing, a suspension insulator at the front and revised suspension geometry at the rear serve to improve both comfort and quietness.