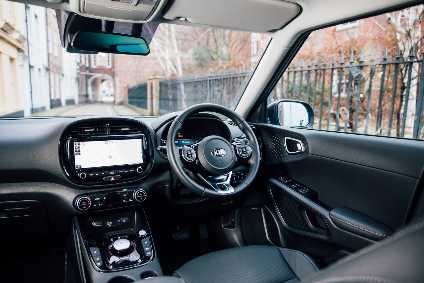 The third generation Kia Soul is powered in Europe exclusively by electric energy. With a claimed combined range of 280 miles on a single charge, that's a country mile improvement on the original Soul EV's 132 miles and should relieve any symptoms of range anxiety. The longer range is due partly to the knowledge the Korean carmaker has gleaned from its e-Niro. Continuing just-auto/AIC's review of interior design and technology trends, we take a closer look inside this quirky all-electric compact crossover.
Launched in 2008 for those looking to make a bold statement, the Kia Soul is certainly out of the ordinary. Its upright stance, squared-off shoulders and bumper flares give it a confident, bulldog road presence. Compared to its predecessor, it is 80mm longer while the wheelbase has also been extended by 30mm.
It's what's inside that matters
While occupant space is generous, luggage space is a little pinched. Boot space of just 315 litres with the 60:40 split folding rear seats up, extends to 1,339 litres when folded down. The boot incorporates a useful split-level load floor that provides a neat place to store the charging cables rather than leave them sliding around the boot. Unlike some other SUVs, however, the rear seats do not slide or recline.
Soul EV currently comes in just one trim level, the 'First Edition' which wants for nothing. The cabin itself has a more premium look and feel compared to the previous generation Soul. This is all thanks to some new materials, soft-touch facings on the dashboard, centre console and door panels, the leather-covered steering wheel rim along with high-gloss black finishing on the fascia panel, door armrests and upper console cover.
Seat and mirror heaters were most welcome on our tester on some chilly autumnal mornings although using those features nibble away at the driving range. We found the display and dials on the centre console to be intuitive and well set out. Mercifully, not everything is controlled via the touchscreen as some large, chunky dials to operate the HVAC are located lower down on the centre stack. All the switches feel nicely damped. The circular drive selector further adds to the car's effortless driving feel.
Talking of the HVAC, a particularly noteworthy feature is the 'Driver Only' air-con system that instantly deactivates airflow to all cabin vents except those nearest the driver. This is designed to reduce the draw on battery energy from the ventilation system, while still keeping the driver at their preferred temperature. Unlike conventional ventilation systems, the system doesn't simply restrict airflow to certain vents, rerouting it elsewhere; instead, it switches off the fans themselves, reducing energy use at source.
Other comfort and convenience features include powered leather front seats, wireless smartphone charger at the dash base, head-up display, auto-dimming interior rearview mirror and a swanky Harman/Kardon ten-speaker sound system.
Connectivity
The Soul is the first Kia in Europe to offer the brand's UVO Connect telematics system. UVO features the Kia Live system, housed within the 10.25-inch TFT LCD widescreen in the centre of the dashboard. The system uses its own eSIM chip to retrieve and update live data during a drive, such as live traffic information, weather forecasts, points of interest, and details of potential on- and off-street parking – including price, location and parking availability.
The second element of the UVO system is an app, designed for compatibility on Android and Apple smartphones. The app offers users peace of mind with a range of features to provide diagnostic data about their car and the trips they take. It also enables drivers to check battery charging status remotely and send a route to the sat-nav in preparation for a journey.
Infotainment
The 10.25-inch central touchscreen navigation system looks good and brightens up the dark grey interior. It features Bluetooth as standard, enabling occupants to connect two mobile devices at once, as well as Apple CarPlay and Android Auto. Its split-screen functionality lets users control or monitor different vehicle features simultaneously, customising the screen with a series of different widgets. This enables the driver to have a single display (such as navigation or battery information) or combine elements on-screen at the same time. The driver can follow navigation directions or keep track of battery energy efficiency, while passengers can choose their favourite songs or check the weather forecast. The infotainment system also controls vehicle recharging preferences and ambient light settings.
Lightweighting
The Soul EV makes good use of high-strength steels in critical areas. Its body is made up of a blend of steel and aluminium, maximising torsional rigidity while keeping body weight low. With a higher proportion of advanced high-strength steel and hot-stamped steel components than its predecessor, as well as new aluminium side-sill reinforcements, the more rigid body shell reduces road vibrations and enhances occupant safety in the event of a collision.
Compared to its predecessor, more sound deadening material has been applied beneath the cabin floor, in the rear pillars and around the wheel arches. Road noise is reduced by increasing steering knuckle stiffness, the application of anti-vibration pads on the floor panel and lining the wheel arches with new sound deadening Thinsulate material.
Advanced driver assistance systems
Standard driver assistance technologies include high beam assist, driver attention warning, lane keeping assist system and forward collision warning with forward collision-avoidance assist. Also included is blind-spot detection with rear-cross traffic alert.
On the road
The Soul EV is powered by 201bhp (150kW) pure electric drivetrain with lithium-ion polymer battery pack, with a nippy feel around town and incredibly quick (in 'sport' mode) on the open road. In a straight line, it will shift from a standstill to 60 mph in just over 7 seconds. Charging is pretty fast too. The battery can be recharged to around 80 per cent in just under an hour using a 100kW charger while a full charge takes about nine hours using a 7kW domestic wall box. The Soul's generous list of standard equipment and thumpin' pumpin' ten-speaker Harman Kardon sound system helps makes it a stand out choice in a segment that looks set to grow exponentially over the coming years.