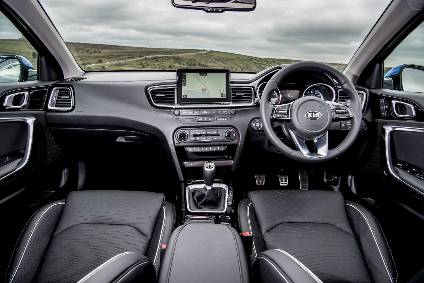 The third iteration of the Kia Ceed, previously known as Cee'd, arrived on our shores last August. Like its predecessors, the C-segment hatchback has been designed and engineered in Europe. Continuing QUBE/just-auto's review of interior design and technology trends, we take a closer look at the latest incarnation to discover what's new.
Inside job
There are no fewer than 11 versions of the Ceed, based on four trim levels, namely the '2', 'Blue Edition', '3' and 'First Edition'. While the entry-level '2' model that we took out last week featured black premium cloth seat upholstery, 'Blue Edition' and '3' versions come with black cloth seat trim with black faux leather bolsters. Crowning the line-up is the 'First Edition' with black leather seats and contrast grey stitching. Ceed prices start at GBP18,295, rising to GBP28,600 for the range-topping First Edition estate.
The cabin architecture from the most recent Kia vehicles has been adapted for the Ceed, with a sculptural, seamless dashboard. The dash itself is split into an upper area – for the 'floating' touchscreen infotainment system – and lower level, housing the nitty-gritty controls for audio and heating and ventilation. Driver-centric in its layout, the centre console is helpfully angled slightly towards the driver's seat. The interior has soft-touch materials hither and thither. Surfaces are finished with metallic or satin chrome trim. A leather-wrapped steering wheel and gear stick are also nice touches. While cubby holes are in abundance, the doors bins are not lined meaning things left inside rattle around noisily while on the move.
Although our '2' trim level did not feature ten-way power adjustable, heated, leather seating, higher trim levels do offer this. While Kia's strapline is 'The Power to Surprise', we weren't all that shocked to note a generous list of standard equipment on the First Edition Ceed. The top spec First Edition even offers ventilated front seats and heated rear seats. Other creature comforts offered in the top-drawer model include heated steering wheel, centre console with sliding armrest, dual automatic air-con, auto-dimming rearview mirror and a push start/stop button.
Other useful technologies include Bluetooth smartphone integration, Android Auto and Apple CarPlay smartphone compatibility. A Harman JBL Premium sound system with Clari-Fi music restoration and a wireless smartphone charger is also standard on the First Edition. An integrated sat-nav was missing on the '2', however, which meant using a portable device plugged into a 12-volt socket on the lower front console. Truth be told, it didn't matter one iota as it got us from A to B without a hitch. Higher specs incorporate a touchscreen sat-nav, Kia connected services and parking assistance.
Advanced driver assistance systems
Standard ADAS technologies on the Ceed include high beam assist, driver attention warning, lane keeping assist and forward collision warning with forward collision-avoidance assist.
A notable first for any Kia sold in Europe, the Ceed is available with lane following assist. This detects road markings to keep the Ceed in the centre of its lane on the motorway and controls acceleration, braking and steering. The system uses external sensors to maintain a safe distance from the vehicle in front, operating between 0 and 81mph.
Additional technologies on 'First Edition' grades include smart cruise control with stop and go, blind spot collision warning, smart parking assist system and pedestrian recognition with haptic steering wheel warnings for the forward collision-avoidance assist system. Every Ceed is equipped as standard with Kia's vehicle stability management, ensuring stability when braking and cornering by controlling the car's electronic stability control if a loss of traction is detected.
Size matters
Constructed on Kia's K2 platform, the third-gen Ceed is 20mm wider (1,800mm) and 23mm lower (1,447mm) than the outgoing model. Its wheelbase remains the same at 2,650mm, with the front overhang shortened by 20mm (to 880mm), and rear overhang extended by 20mm (now 780mm). The model has a larger, 395-litre boot, as well as greater shoulder room for rear passengers, more headroom in the front row, and a lower driving position. The boot lip is also lower than its predecessor – the lift-over height is reduced by 87mm compared to the outgoing model, making it easier to load heavier items into the boot. A split-level boot floor allows the driver to lower or raise the height of the boot floor, to accommodate larger cargo or create a hidden compartment beneath.
Made in Slovakia
The Ceed is manufactured at Kia's production facility in Žilina, Slovakia, alongside the Sportage and Venga models. The story of Žilina goes back to the mid-2000s, when Kia established a policy of building cars in and for the markets where they were to be sold, wherever possible. In Europe that meant mid-sized three- and five-door hatchbacks and an estate to compete in the all-important C-sector. But it also opened up the possibility for the Korean automaker's compact crossover, the Sportage, to be made closer to its European customer base. Since the introduction of the Ceed, Kia's annual European sales have more than doubled, from 225,000 in 2006 to more than 472,000 in 2017. In the medium term, Kia is targeting annual sales of more than 500,000 vehicles.
As temperatures in the UK this week hover above freezing at night, it's nothing compared to Slovakia. Žilina lies deep in the Slovakian countryside at the foot of the Tatra mountains – lovely in the summer, but in winter temperatures dip to minus 28º C. Winter lasts a long six months, which influenced the layout of the plant. The press, body, paint and final assembly shops are constructed in a square so that cars and parts do not have to go outside at any stage. The engines are assembled on a factory site next door and delivered to the final line by over ground tunnel. This enclosed facility means that large exterior doors are not needed. In turn, this reduces the need for high levels of heating as doors are not constantly being opened and closed.
A new diesel unit
The Ceed range is powered by a choice of powertrains. Petrol options include an updated version of Kia's 1.0-litre T-GDi engine, producing 118bhp, as well as a new 1.4-litre T-GDi power unit. The Ceed is also available with Kia's 'U3' diesel engine. Designed to go beyond the stricter limits laid down by the latest Euro-6d-Temp emissions standard, the 'U3' 1.6-litre CRDi (Common-Rail Direct injection) unit uses Selective Catalytic Reduction (SCR) active emissions control technology to regulate emissions. The engine produces 114bhp and 280Nm of torque when paired with a manual gearbox or 300Nm of torque when fitted with Dual-Clutch Transmission (DCT) and is available with an ECO Pack on manual gearbox derivatives. Every engine is paired with a six-speed manual transmission, while the 1.4-litre T-GDi and 1.6-litre CRDi engines are also available with Kia's seven-speed DCT.
The automaker state that the Ceed's new diesel engine will be introduced to other models too. A spokesperson explained: "The new engine is designed to replace our existing 1.6 and 1.7-litre 'U2' diesel engines. The new powerplant is also being introduced into the recently upgraded Optima, Stonic and Sportage, with other Kia models to follow in the future."
Although Kia is, of course, concerned about the downturn in diesel sales it reckons the launch of its new 1.6-litre 'U3' engine is quite timely, as it's very clean and efficient. Paul Philpott, President and CEO, Kia Motors UK, said: "It exceeds the requirements of the latest, most demanding emissions regulations, including Euro 6d TEMP, and it is one of the most efficient diesel engines in the C-segment. Diesel power has traditionally been very popular in the Ceed's predecessor, however if buyers want to opt for petrol, we have a range of highly efficient, cutting-edge turbocharged petrol engines that will exceed their expectations."
On balance, this renamed well-equipped model felt brisk, quiet and poised at every turn. It also has noticeably good suspension; a 100-yard stretch of country road near me, littered with bumps and potholes similar to that found in a proving ground, is the perfect spot for a road test. Officially, the 1.6 CRDi will achieve a whopping 74.3 mpg and emit 99g of CO2. While our run-about mostly involving a gentle cruise along motorways and dual carriageways fell a little short of expectations, we achieved a perfectly agreeable 59 mpg.
For more perspective on Kia:
Carmakers keeping the diesel faith – Kia