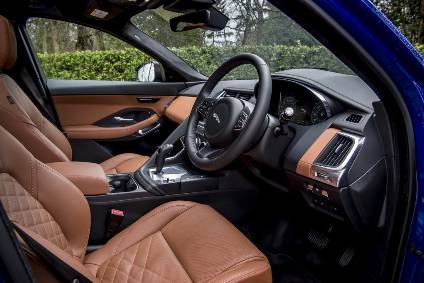 The Jaguar E-Pace features just about every conceivable connectivity and infotainment gadget that you could wish for Christmas. At first glance, it's an undeniably handsome beast with distinctive mesh grille, muscular build, short overhangs and powerful haunches all of which give it a bold, edgy road stance. Continuing QUBE/just-auto's review of interior design and technology trends, we take a closer look inside to see how it compares to its designer suit.
Wraparound cockpit
Once seated, the E-Pace doesn't disappoint. Push the start button and the panoramic sunroof shade slides back, flooding the cabin with natural light on a late November day. The cockpit is swathed with soft-touch materials, thereby giving a sense of luxury. Sure, there are some parts of the interior lower down that feel a little scratchy but the areas that you are most likely to come into contact with feel lush. These include soft trimmed door casings, satin chrome door handles, leather-clad facia and seat upholstery with twin-needle stitching. Fine grain leather is also used on other touchy-feely parts that matter most, including the steering wheel, centre-console grab handle and gear shifter.
­­­­Taking design cues from the F-Type, the focal point is a wraparound cockpit with the passenger grab handle forming the boundary of the driver console. Its geometry gives a visual connection with the doors while the 14-way powered, heated, memory driver's throne-like seating position provides a commanding view of the road ahead. The colour sections on the seats, dash and door panels are also reminiscent of a treatment found in the F-Type. Despite the sunroof, headroom for both front and rear seat passengers is pretty good (which is quite rare to find in this small SUV segment). The chrome finish on the gearshift surround, instrument panel, side vents and door pulls all add to the classy look. Operating the HVAC system – via three large chrome dials with illuminated centre displays – is simplicity itself.
Another smart design element is evident in the design of the interior lighting, which illuminates essential features such as handles and stowage areas, while task lighting enables the driver to configure colour settings to their personal preference. The 'Jaguar Cub' graphic projected by the puddle lamp seen at night raised a few smiles, too.
"Creating a dynamic, modern and relevant interior continues the promise of the E-Pace's exterior character as soon as the doors are opened," said Alister Whelan, Creative Director, Jaguar Interiors. "The soft, high-quality materials used throughout the cabin are the first 'handshake' with the customer, while charming British detail design leaves a lasting memory. The E-Pace interior design raises the bar for the compact performance SUV."
The automaker also points out that its vehicles are designed to help combat feelings of nausea. The E-Pace is a case in point. It has 26 different seat configurations for passengers to find a position that raises the infotainment screen relative to eye level as well as turn on the cooling seat function. Both factors have been proven to significantly reduce the likelihood of motion sickness. The E-Pace's adaptive dynamics (see below) also remove low-frequency motion from the road, which can lead to nausea, by altering the ride settings every 10-milliseconds to ensure passengers always experience high levels of comfort.
Spacious cabin
The E-Pace is also quite spacious for a compact SUV. Data-wise, it measures 4,395mm long with short front and rear overhangs of 882mm and 832mm, respectively. Its luggage capacity of 577 litres is made possible by the vehicle's Integral Link rear suspension architecture.
The E-Pace has 60/40 split folding rear seats as standard. Folding them creates 1,234 litres of square-shape space; with one side folded down customers can carry items up to 1,568mm long and still accommodate a couple of tall passengers, even three small ones in relative comfort. While the rear seats can fold forward, they cannot do clever tricks like recline or slide. That said, there is no shortage of stowage solutions. The centre console compartment can store four large water bottles. In addition, there is a generously sized glovebox and the front and rear door bins offer loads of space to stash stuff.
Advanced driver assistance systems
As we would expect, the E-Pace bristles with advanced driver assistance systems (ADAS). A stereo camera underpins the emergency braking system, which also provides pedestrian detection, and supports lane keep assist and traffic sign recognition, as well as the adaptive speed limiter and driver condition monitor features. The latter detects if you're starting to feel drowsy and gives you an early warning when you need to take a break, (e.g. coffee cup indicator on the dash).
Rear visibility is a little restricted although the rear parking sensors and camera view counter-balance this. The camera also combines with the electric power-assisted steering system to deliver a blind spot assist function to help reduce the risk of sideswipe collisions on multi-lane roads. Another smart feature is a forward traffic detection system that warns drivers of approaching vehicles at junctions where visibility is restricted.
Material-wise, the automaker has optimised body structure to protect occupants using a strong and stable safety cell, complemented by a set of airbags and restraints. Ultra-high-strength steels, including hot-formed Boron, are used to reinforce the A- and B-pillars to mitigate the effects of side impacts.
Head-up display
The E-Pace is the first Jaguar to feature the company's next-generation Thin-Film Transistor (TFT) head-up display technology. The display can project up to 66 per cent more information onto the windscreen using some quite sharp colour graphics. Besides essentials such as speed and navigation directions, the new system can also display engine speed data, details of the chosen entertainment media and the adaptive cruise control settings, as well as lane departure and blind spot warnings.
Infotainment at your fingertips
Jaguar's so-called Touch Pro infotainment system features voice control technology, a ten-inch touchscreen interface and a customisable home screen that is actually integrated into the dash, rather than standing proud of it like so many rivals. It's also quite responsive while prodding and swiping. A 12.3-inch colour digital TFT instrument panel and Meridian audio system – including a surround sound system with 15 speakers – adds to the pleasure of driving the E-Pace.
The spec list goes on and on. Also worthy of note is that the E-Pace is the only vehicle in its segment available with a wearable Activity Key (for an extra £310). This wristband has an integrated RFID transponder, allowing the driver to lock the main key inside the vehicle while going off for a run, cycle or even swim. Although we didn't try it while out and about in the English midlands, the Activity Key can withstand scuba diving to a depth of 18m. Whenever the Activity Key is activated, by holding the wristband up to the upper edge of the number plate surround on the tailgate, any conventional key fobs left inside the vehicle are disabled apparently.
Let's stay connected
The E-Pace is also one of the most connected cars in its class, claims Jaguar, incorporating an intuitive touchscreen infotainment system that connects drivers to their favourite apps, such as Spotify, through Jaguar Land Rover's InControl apps. Passengers are kept entertained on the move, too. We found four 12-volt charging points and five USB connections as well as a 4G wi-fi hotspot for up to eight devices.
Out and about
Despite the name, E-Pace does not mean electric. It is offered with a range of Ingenium petrol and diesel engines. Ours was powered by the front-wheel drive 150PS diesel mated to a six-speed manual gearbox. The 2.0-litre Ingenium engines are designed in-house by JLR and produced at the company's £500 million Engine Manufacturing Centre in the West Midlands, UK.
The car's fuel economy lived up to expectations, too. Fully loaded up with passengers and clutter, the diesel engine delivered more than enough oomph when needed. While the headlined combined fuel economy is 60.1 mpg, our spin covering motorways, country roads and early Christmas shopping town traffic came pretty close to that average.
Our test run felt poised at every turn, too. Configurable Dynamics gives the driver more control with individual settings for the throttle, automatic transmission, steering and, where fitted, the Adaptive Dynamics suspension system. The Adaptive Dynamics set-up senses driver input, body and wheel movements and pre-emptively loads the suspension and chassis and adjusts the damping for improved roll control and agility in all conditions. Last September, Tenneco stepped forward to reveal it supplies suspension technology for the E-Pace. Tenneco's conventional front strut and rear shock absorber is standard equipment on the vehicle, while the Continuously Variable Semi-Active (CVSAe) suspension system from its Monroe Intelligent Suspension portfolio is included in the adaptive dynamics package. The company supplies the E-Pace front strut and rear shock from its manufacturing facilities in Gliwice, Poland and Hodkovice, Czech Republic and the CVSAe suspension system from its facility in Ermua, Spain.
Positioned in a competitive segment where style and technology are major selling factors, the E-Pace ticks a lot of boxes. Despite arriving late to the party, the carmaker has great expectations for its smallest (cub) family member. Tata Motors' Jaguar Land Rover retail sales in October 2018 fell 4.6 per cent year on year to 44,282 units despite, the company said, strong sales of newer models such as the I-Pace and E-Pace and updated Range Rover and Range Rover Sport. Chief commercial officer Felix Brautigam said: "Looking ahead to the end of the year, Jaguar's growth trajectory remains positive, as the all-electric I-Pace and sporty E-Pace compact SUV are growing in popularity and driving demand."