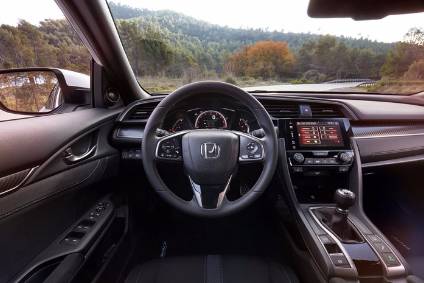 Since its launch in 1972, the Honda Civic has gone through no fewer than ten generational changes, each one slightly larger and rebadged for international markets. Continuing QUBE/just-auto's review of interior design and technology trends, we take a closer look at the latest incarnation of the C-segment Civic to discover what's new.
Building on its 40-year heritage, the automaker maintains that the Civic stays true to the original concept of "a car for all people." It is certainly true that it competes against a number of other popular family hatchbacks, including the VW Golf, Seat Leon, Skoda Octavia and Vauxhall Astra. Also true to form, this ten gen is larger than its predecessor, specifically wider (by 30mm) and longer (by 136mm). It is also lower (20mm) and lighter by 16 kg. The new platform's design, the selection of materials, the engineering process, and manufacturing techniques have been key to creating a lighter, more rigid structure.
Advanced driver assistance systems
Automated driving levels are also referred to as feet off, hands off, eyes off and ultimately brain off.
The Society of Automotive Engineers (SAE) defines five levels of driving automation, ranging from 'no automation' (you do all the work, level zero) to 'full automation' (level 5). A key distinction is between level 2, where you perform part of the dynamic driving task, and level 3, where the automated driving system performs the entire dynamic driving task for you. These automated driving levels are also referred to as feet off, hands off, eyes off and ultimately brain off.
Although there is buzz around level 3 – 5 cars at the IAA in Frankfurt this week, most new cars already have some level of basic driver assistance. The latest Civic provides a good example of just how far we have travelled in terms of advanced driver assistance systems (ADAS) fitment. The five-door hatchback has Honda Sensing fitted as standard. This includes a variety of ADAS technologies such as collision mitigation braking, forward collision warning, high beam support, intelligent adaptive cruise control and speed limiter, lane departure warning with road departure mitigation, lane keeping assist, low-speed following and traffic sign recognition. On that basis, it is not surprising that Euro NCAP gave the Civic a good score of 88 percent in its Safety Assist category.
Cocooned in a cockpit
The interior features an uncluttered layout and some new technologies. Above all, the cabin feels spacious, well thought out and far better looking than the old Civic.
The seating position is noticeably different from the previous generation car, sited lower (by 35 mm). The lower seating position is partly thanks to the fuel tank being relocated from beneath the front seats in the old Civic to further back in the new one. To improve visibility, the bonnet has been lowered by 65 mm and the A-pillars made narrower (by 12 mm).
Front shoulder room has also been increased by 10 mm, and space between the front seats has increased by 30 mm. Rear seat shoulder room is up by 20 mm, while rear seat passengers now have 95 mm more legroom, and 45 mm more knee room. Another difference over the previous generation Civic is the absence of the cinema-style Magic rear seats that had storage space underneath. On the question of storage, the boot provides 478 litres of luggage capacity increasing to 1,120 litres with the rear 60/40 seats both flipped forward. But like so many other new cars nowadays, you won't find a spare wheel. Instead, a hidden underfloor compartment offers a secure roomy storage area.
Infotainment delivered through Honda Connect 2
Positioned at the top of the piano-black finish centre console – and drawing the eye as the push start is pressed – is a Honda Connect 2 seven-inch touchscreen. This serves as the main point of contact to control the infotainment and climate control functions. This second-generation of Honda's infotainment and connectivity system incorporates Apple CarPlay and Android Auto integration.
The reconfigurable instrument cluster display includes a large digital tachometer – with analogue or digital rev needle – and a digital speedometer readout. Integrated into the display is an area where you can switch between a variety of infotainment screens, including navigation instructions, SMS and email, audio track information, smartphone contacts, journey trip information and car maintenance information.
Although the Honda Connect helps minimise the number of dials in the centre console to just two, controlling the radio volume requires using either the touchscreen or steering wheel control. The HVAC fan speed can also only be controlled via the touchscreen. Touchscreens have their merits but a couple more dials on the dash for both functions would be a less little fiddly. On that note, steering wheel controls allow you to tweak various modes and settings, perform alphabetic searches – of contacts or music tracks, for example. You can also use a thumb pad to adjust the adaptive cruise control and lane keeping assist system settings.
Material matters
Remember the new Civic is 16 kg lighter than that of the previous generation model? It also has 52 percent greater torsional stiffness. The improvements in rigidity and the design of the new-fangled unibody have led to improvements to NVH characteristics, too.
Notable platform design features include front and rear bulkhead 'rings' that encircle the entire interior cabin space. Further platform rigidity is provided by a low-sensitivity front-floor structure, including cross braces in front of the engine bay and between the bases of the A- and B-pillars.
The lightweight, high tensile materials used across the structure improve body rigidity and crush safety. Hot stamped steel was applied to a wider area resulting in an increase to 12 percent from six percent in the previous Civic. The use of ultra-high strength steel increases the strength and reduces the overall weight of the entire body frame. For example, one of the most significant areas for the platform's overall strength is the B-pillar and lower sill.
Spot welds 20 mm apart in critical areas of the unibody further contributes to increased stiffness and durability.
Short-pitch welding places spot welds 20 mm apart in critical areas of the unibody, compared to the traditional spacing of between 40 mm and 45 mm. This further contributes to increased stiffness and durability.
These design, engineering and manufacturing innovations result in a 65 percent increase in the body's global bending rigidity compared to the previous generation Civic, and a 41 percent increase in torsional rigidity.
Acoustic windscreen
An acoustic windscreen can lower the sound levels entering the cabin by as much as five decibels.
Noise reduction inside cars and consequently improvement of acoustic control has long since been a focus of automakers. Yet the vehicle's glazed surface is continuously increasing making it a significant path for noise penetration inside the car. An acoustic windscreen, however, can lower the sound levels entering the cabin by as much as five decibels using a specially designed acoustic insert between two polyvinyl butyral (PVB) films. This sandwich is then inserted between both sheets of the windscreen's glass.
Since the first vehicle appeared in Europe with an acoustic windscreen – the Renault Clio II – the number of vehicles being fitted with acoustic glazing is gradually increasing. Next up is the Honda Civic which has an acoustic windscreen comprising an outer layer of 2.1 mm safety glass, a 0.7 mm middle layer of noise-reducing acoustic PVB, and a 1.8 mm inner layer of safety glass, for a total thickness of 4.6 mm.
Production
Honda's European production facility, Honda of the UK Manufacturing (HUM) based in Swindon (the exclusive manufacturer of the five-door variant), is the global production hub for the new Civic. Honda has invested some €270m in new production technologies and processes to prepare for the new model, which is being exported around the world, including to the US. HUM produced its first engine in 1989 and its first car in 1992. It now consists of two car plants and an engine manufacturing facility. Other areas of the site are dedicated to a purpose-built test track, dynamic and static test cells, as well as administration and purchasing functions.
By developing its European facility into a global manufacturing hub for the hatchback model, Honda hopes to increase Civic volumes whilst developing improved economies of scale and quality. Honda is aiming to increase levels of product specialisation to raise efficiency at its international plants. Honda's Swindon production is allocated at around 15 percent for the UK market, 35 percent for mainland Europe and 50 percent to the rest of the world (mainly North America).
The Swindon plant is aiming for production of 165,000 units this year, an increase of 18 percent over last year. Honda is also in the process of expanding its export business further through adding shipments to Japan. Speaking at the SMMT's International Summit in London, Ian Howells (Senior Vice President, Honda Motor Europe) said that Honda is 'fully committed to our UK operations' and is further expanding exports. "From the summer of 2017, HUM will expand its business to produce and export both the Civic hatchback and also the performance Civic Type R to Japan," Howells said. "This is a very exciting development for HUM and highlights the opportunities that globalisation and interconnectiveness can provide to the UK's automotive manufacturing sector."
On the road
Available in four trim grades – S, Comfort, Elegance and Executive – our exec grade came with leather upholstery, LED front headlamp clusters, keyless entry and start, power tilt panoramic sunroof, and an audio system with no fewer than 11 speakers. Under the bonnet is the triple-cylinder 1.0 VTEC Turbo, replacing the naturally aspirated 1.8-litre four-cylinder that was becoming quite long in the tooth.
Officially, this model will achieve 56.5 mpg and emit 114g of CO2. While our road test mostly involving a gentle cruise along motorways and dual carriageways fell short of expectations, we achieved an acceptable 44 mpg.
Rear visibility is a little pinched due to the coupe-like rear styling, although the reversing camera image projected onto the centre console screen plus parking sensors help to avoid any bumps and scrapes. It felt poised and engaged around country roads and nippy on the flat. A button found on the centre console, next to the electric parking brake, activated the car's dynamic damper control system. When activated, it managed to consistently absorb a variety of bumps with relative ease in the softer setting.