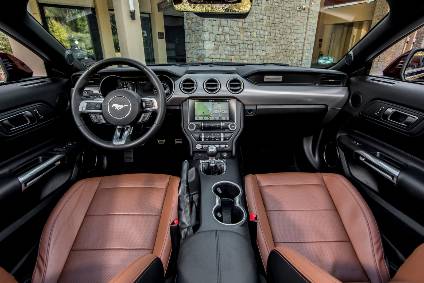 It is America's best-selling sports car of the last five decades and the world's best-selling sports car three years straight. Ford launched its facelifted Mustang earlier this year, introducing some styling tweaks, safety upgrades and other technology enhancements. Continuing QUBE/just-auto's review of interior design and technology trends, we slip inside to see what makes it such a popular choice.
­­­­
Creature comforts
At a rate of 30 beats per minute, the start button is meant to mirror the resting heart rate of a pony.
Once seated in the six-way power adjustable leather heated and cooled driver seat, the eye is drawn to the pulsating engine-start button. It pulses red from the moment the door is unlocked until the engine sparks into life. At a rate of 30 beats per minute, the start button is meant to mirror the resting heart rate of a pony.
The interior is cloaked in soft-touch materials while the door handles are a dazzling aluminium finish. The chrome button-heavy centre stack is wrapped in hand-stitched, soft-touch stuff. Space in the front is not an issue although the handbrake is positioned a little too close to the front seat occupant for comfort. While there are two rear seats, these are really only just big enough for children. The boot space is quite generous though.
A reconfigurable digital 12-inch LCD instrument cluster provides information displays optimised to match the selected Drive Mode, similar to the Ford GT supercar. The cluster configuration will automatically change depending on Drive Mode and can be programmed by the driver to display a range of gauges in one of seven colours. A video-game-style animation displays when the Electric Line Lock feature is activated.
Ford's Sync 3 communications and entertainment system is featured, which allows drivers to control their connected smartphones, audio (with Shaker Pro 12 speakers), navigation, and climate functions with conversational voice commands and by using pinch and swipe gestures on the central eight-inch touchscreen. The system is compatible with Apple CarPlay and Android Auto. Bluetooth, DAB radio and a USB socket are also standard.
Ambient lighting
Not so long ago, car interior lighting, in general, consisted of central and side headliner lights, complemented by low-level ambient lighting located mainly in the cockpit area. Today, the accent has changed, thanks to widespread use of LEDs enabling personalisation of car interiors. The Mustang follows the trend with its MyColour ambient interior lighting. When activated with the headlamps on, ambient lighting illuminates foot wells, cup holders and door release handles, etc. Other neat tricks include power-folding wing mirrors with Mustang logo projection puddle lamps.
Advanced driver assistance systems
As we would expect of a car that comes with a forty grand price tag, the Mustang boasts loads of ADAS equipment. Although it can't drive itself … yet. The spec sheet left in the car listed pre-collision assist with pedestrian detection (designed to reduce the severity of, and, in some cases, even mitigate frontal collisions involving vehicles and pedestrians), adaptive cruise control, distance alert technologies (helps drivers maintain an appropriate distance to the vehicle ahead) and lane departure warning (it does what it says on the tin.)
Growl control
Good Neighbour Mode enables drivers to schedule a full-throated roar.
For some time, carmakers have paid close attention to exhaust sound in order to maintain and enhance their brand. The Mustang is a case in point. It comes with something Ford calls an 'active valve performance exhaust' meaning drivers can adjust the intensity of the car's exhaust note to suit their mood and the driving scenario. It is aligned with a Good Neighbour Mode that enables drivers to schedule a full-throated roar when they won't bother anyone or tone it down a bit to ensure they stay on friendly terms with their neighbours. This adjustment feature is accessed via the instrument cluster.
Some sports cars already offer active exhaust systems that can be turned on and off, but, Ford claims, the Mustang's Good Neighbour Mode, or Quiet Start, is the first to allow times to be scheduled. Drivers toggle through a menu in the instrument cluster to select the sound they want. For example, between 8 pm and 7 am, drivers can keep the peace by scheduling their car to start, minus the roar.
Both Quiet Exhaust mode and Quiet Start features are part of the available active valve performance exhaust system on the Mustang, which automatically adjusts the decibel level of the exhaust note according to the different drive modes, from Normal and Sports up to Track mode that emits a satisfying 82-decibel growl.
"Sounds upwards of 80 decibels can start to irritate people; some of the most annoying sounds imaginable, such as a coffee grinder, or lawnmower, have decibel levels in the high eighties," said Matt Flis, Ford exhaust development engineer. "With Quiet Start activated the decibel level of the new Mustang GT drops by about 10 decibels, to a much more comfortable 72 decibels."
Ten-speed automatic transmission
Driving around town, a bright yellow muscle car with a growling engine will not fail to turn heads. The deeply contoured body shape of the Mustang gives it an edgy, extroverted stance.
Out and about driving the thumpin' pumpin' 5.0-litre V8 certainly sets pulses racing, accelerating on a dry day from zero to 60mph in a pony's heartbeat with shockingly good Brembo braking performance. "Typically, when you shift gears, you give up time," said Matthias Tonn, Mustang chief programme engineer, Ford of Europe. "The Mustang's new ten-speed transmission enables the engine to deliver peak power and torque while up-shifting, for faster acceleration and seamless performance."
The ride is unquestionably comfortable thanks to BWI Group's MagneRide adjustable suspension and selectable Drive Modes (that can be tuned for 'track', 'drag strip' and even 'snow' mode) plus a customisable My Mode option. As the name suggests, My Mode enables you to set and save your preferred settings. That includes steering effort, throttle response, gearshift control (automatic only), Electronic Stability Control setting, and the aforementioned active valve exhaust.
A novel fluid inside the damper is electronically stimulated to offer higher or lower damping resistance, depending on the driving scenario. Sensors continually monitor conditions to ensure optimum handling performance. Recalibrated shock absorbers improve stability through corners, and rear suspension is stiffened with a cross-axis joint reducing unwanted movement at each corner, which can lead to body flex. Thicker anti-roll bars also improve body-roll control for sharper handling.
On balance, the Mustang has the interior feel and quality you would expect from such a popular car. Its bold American styling and imposing front-end grille make it king of the road.