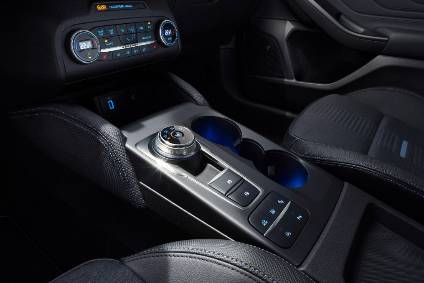 The fourth-generation Ford Focus emerged last year, marking the brand's 20th anniversary. As in the previous generation, the model is available with sedan, hatchback and estate body styles. A crossover SUV trim level, known as the Active, is also available with the hatchback and estate body styles. While the Active's ever-so-slightly raised driving position (3cm compared to the standard Focus) and rugged trim adds off-road appeal to the carmaker's most popular family car, such features are not new to the car industry or Ford. It joins the Active versions of the Ka+ and Fiesta. Continuing QUBE/just-auto's review of interior design and technology trends, we climb aboard an Active to take a closer look.
Behind the wheel
Once seated, the powered front seats and adjustable leather-wrapped steering wheel means it doesn't take long to find a comfortable driving position. Metallic touches on the dash and door panels, branded scuff plates and prominent blue stitching on the seats and floor mats give the Active cabin a bespoke feel. Other than that, it doesn't appear or feel any different to a regular Focus from behind the wheel.
Compared to the outgoing model, the latest Focus has more interior space supported by a 50 mm longer wheelbase and flat floor. Front seat occupants get slightly more shoulder room too. Rear passenger knee and shoulder clearance is also quite generous compared with the outgoing Focus. The relatively shallow transmission tunnel also means that rear seat passengers sitting in the middle won't have to splay their legs uncomfortably. The rear seats are split 60/40 and can be folded forward by either pulling a lever either side of the boot liner or seat shoulder.
Moving further back, the powered boot lid releases by waving a foot under the rear bumper. The boot space has been designed apparently to accommodate a large dog crate with 1653-litre capacity. The boot luggage cover can be stored beneath the load floor. It is also far easier to remove this cover with a pull-strap release. The latter is a particularly neat design.
On the infotainment front, Ford's SYNC 3 technology allows drivers to control audio, navigation and climate functions plus connected smartphones using voice commands, and is supported by an eight-inch colour touchscreen that can be operated using pinch and swipe gestures. The system is compatible with Apple CarPlay and Android Auto.
Audio-wise, the Focus is offered with a Bang & Olufsen Play stereo system complete with ten speakers that delivers a concert-hall experience.
FordPass Connect modem technology transforms the Focus into a mobile WiFi hotspot with connectivity for up to ten devices. FordPass Connect enables a number of other features via an app, including vehicle locator, status (for checking on things like fuel levels and alarm status), door locking, remote engine start and eCall functionality.
The centre console features a neat rotary gearshift dial for the eight-speed automatic transmission that liberates space and makes it easier to use the wireless charging pad, nestled in the front console. An electronic parking brake button in place of a conventional parking brake lever also frees up space and houses a fairly deep storage box. We also appreciated the ambient interior lighting and illuminated scuff Active plates.
Heated windscreen
Way back in the 1980s, some automaker discovered the benefit of laminated glass as a way of introducing new functionalities in glass. It started with antennae: a fine metal wire was embedded in the PVB by use of a heated needle before final lamination and provided radio reception through the windscreen. Shortly thereafter came the defrosting system in the rear window by use of heating wires. A system similar to the antennae was used to embed tiny tungsten wires in the PVB, allowing the vehicle maker to offer an aesthetic solution for defrosting the rear window. Mercedes-Benz was the first user of this technology which has eventually migrated to windscreen. Ford is currently the main user and the Focus is amongst its models that has one, known as 'Quickclear'.
Advanced driver assistance systems
The Focus incorporates a suite of advanced driver assistance system (ADAS) features including something Ford called Evasive Steering Assist. Designed to operate at city and motorway speeds, it uses radar and a camera to detect slower-moving and stationary vehicles ahead and provides steering support to enable drivers to manoeuvre around a vehicle if a collision is imminent.
Other ADAS technologies include adaptive cruise control, adaptive front lighting and the carmaker's so-called Active Park Assist 2. The latter is enabled by the shift-by-wire capability of the eight-speed automatic gearbox. Once the system has identified a suitable parking space, the driver can control the car's motion by selecting neutral and holding down a button on the centre console. The technology can also help the driver exit parallel parking spaces using the Park-out Assist button. Assistance to manually parking this car comes in the form of a rear camera that provides a 180-degree view of what's happening behind.
Earlier this month, Ford said its Fiesta and Focus have new security technology which disables keyless entry fobs when not in use to block illegal hacking. A new motion sensor in the Ford fob detects when it has been stationary for longer than 40 seconds and triggers a sleep mode which will not respond to attempts to hack its signal via a relay box or other nefarious equipment.
Head-up display
While head-up displays (HUDs) have been in cars for more than 20 years, OE fitment rates have been slow and gradual. But the HUD market is predicted to flourish as more cars are being equipped with ADAS and drivers are demanding graphically rich data, visual alerts and greater levels of connectivity.
HUD technologies fall into two camps: Combiner and Windscreen. A combiner HUD uses a screen to reflect an image to the driver, while a windscreen HUD has images projected directly off the windscreen.
The Focus incorporates a pop-up combiner that displays information on speed, adaptive cruise control, navigation and other ADAS critical data. Using buttons on the centre console and steering wheel, the display angle of the retractable plastic screen can be adjusted for individual driving positions, while brightness can also be altered to match the surrounding light level (both automatically and manually).
On the road
The Focus Active X estate that we took out this week came loaded with a number of optional extras, including hands-free boot lid, wireless charging pad, HUD, B&O audio system, driver assistance pack and convenience park. The car's fuel economy lived up to expectations too. Fully loaded up with student paraphernalia and the sat-nav set for a motorway slog, the 1.5-litre EcoBoost petrol engine delivered enough oomph when needed. While the headlined combined fuel economy is 47.5 mpg, our real-world test came close enough to that average (41.5 mpg to be precise).
In addition to the Normal, Sport and Eco driving modes equipped as standard for all Focus models, the Active offers two more, namely Slippery and Trail. As the name suggests, the Slippery mode tightens the reigns of the ESC and traction control settings depending on road surfaces with reduced grip such as mud, snow and ice. Trail mode can be used to help maintain momentum on soft surfaces such as sand; adjusts anti-lock braking to allow greater wheel slip.
On balance, the interior of the Focus Active is spacious and well thought through with enough kit to justify the base price of £27,455. Although it is not equipped with an expensive all-wheel drive system, the dirt trail mode offers drivers the opportunity to venture slightly off the beaten track. The beefed-up body-work and elevated perch give it a sense of adventure too. Its raised height is partly thanks to revised suspension and larger tyres. While it hasn't got anything like the lofty driving position that some crossover buyers crave, it feels practical with a certain rugged charm.