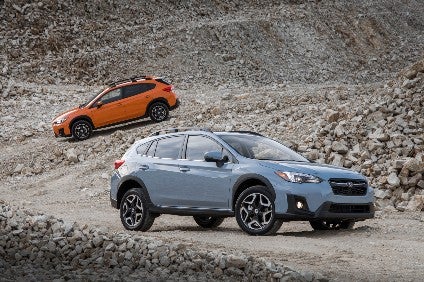 As our preliminary data published on Friday indicated, rising interest rates and higher petrol prices didn't stop US light vehicle sales from rising in October. According to estimates from Edmunds.com, the average new vehicle finance rate was 6.21%, up from 4.95% in October 2017. It was the highest rate since the meltdown in 2009. The once fairly popular zero-percent financing offers have virtually disappeared from the market.
Higher interest rates meant that monthly payments increased an average of 5.0% to US$542 (GBP417).
Petrol prices were up about 12.5% for regular unleaded but jumped 19.9% for diesel. Diesels are a popular option for the big American.
Car companies delivered 1.36m cars and light trucks last month. Volume was up 5,244 units or just 0.4%. The seasonally adjusted annualised rate came in at 17.59m vehicles, the highest reading since November 2017.
Of special note was the end of Audi's long streak of sales growth. Nine years after its last finish in the red, Audi deliveries fell 17.3%, though the miss was fairly predictable. Subaru's streak continued with another record October.
While it is impossible to cite a specific cause, deliveries of passenger cars rose to 30.3% of total sales. Car share dropped to 28.5% in August and was only 29.4% in September. The crossover and SUV share fell from 48.1% in September to 46.5% in October.
Pickups missed their year-ago numbers by 1.7% due to a 4.4% slump in deliveries of full-size models. Of all the larger pickups, only the RAM pickup beat its mark from October 2017, knocking the Chevrolet Silverado out of send place for the second month in a row. It should be noted that all GM numbers are estimates; we won't know for sure until January 2019 when GM releases fourth-quarter results.
Mid-size pickup sales rose 13.2% as American commercial buyers may be shifting some of their fleet buys to smaller trucks that cost less to operate. The segment should show even more growth in 2019 with the addition of the Ford Ranger mid-size pickup.
Commercial van deliveries jumped last month, up 17.0% compared to the previous year. Big spikes in the sales of the full-size Chevy Express, compact Ford Transit Connect, Ram Promaster (Fiat Ducato) and both Mercedes-Benz vans fueled the surge.
Mercedes-Benz also had a good month in the upscale segment in spite of coming up short. Total car and SUV deliveries beat BMW with enough margin to open a nearly 4,600-unit gap in year-to-date totals.
Thanks to strong performances by every brand except Fiat, FCA finished October with a 15.7% gain and a 1.7% increase in market share. Jeep remained the most popular utility brand and appears to be on track to finish the year in the top spot.
Tesla's Model 3 is putting the brand on the map. Estimated sales of 21,700 cars and SUVs but it ahead of both Mazda and Mitsubishi.
Ford continues to stumble and Elon Musk's comments about the company's prospects weren't helpful. Add to that the fact that Land Rover brand outsold Lincoln last month and Volvo is less that 1,600 deliveries behind after ten months have to raise questions about the point in keeping the brand going. In fairness, the Lincoln Navigator seems to be selling well.
Ford's dependence on the F-Series pickup is another worry. For the first ten months of 2018, the F-Series has been responsible for 37.7% of total Ford brand turnover. The Ram comprises slightly more than a quarter of FCA's former Chrysler brand deliveries and GM's four pickups combined make up 32.5% of General Motors' volume.
Looking ahead, another increase in U.S. interest rates is likely come in December, but that may be coupled with a significant drop in fuel prices. Some oil-patch predictions say it is likely the U.S. will see a return to prices around US$2.00 (£0.41/litre).
* indicates a sales record.
Note: Monthly sales figures for General Motors are estimates.
**Volkswagen Group figures include Audi, Bentley, Porsche and Volkswagen brands
Other includes estimated sales for Aston-Martin, Ferrari, Lamborghini, Lotus, McLaren and Rolls-Royce