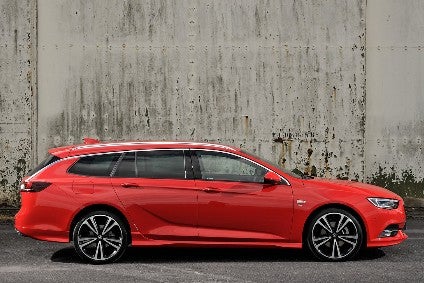 Few are noticing the progress being made by Vauxhall – Groupe PSA's ex-GM unit that is UK market only sister brand to Opel. In March it moved closer to Volkswagen and pulled away from fourth place Mercedes with the strongest growth of any top-ten brand. The main reason is a renaissance for the Corsa, yet the Insignia is also doing surprisingly, sales pushing past the 5,000 units mark in Q1.
All eyes were on the extraordinary rise of the Mercedes-Benz A-Class in Britain last month, registrations of the hatchback and saloon range doubling to 10,805 as the segment leading Golf suffered a 21 per cent fall to 11,072. C segment models may be vitally important in the British market yet a B segment hatchback still commands the number one position. Even so, the Fiesta suffered a rare setback in March, and a significant one at that, retaining the number one slot with 14,676 sales (-24%) but struggling to hold off an attack from a car many have been amazed to see doing so well: the Vauxhall Corsa (13,244, +13%).
The Corsa might be on the climb at a European level (34,487, +14%) but it's a mixed bag for other models. Insignia registrations fell by a third across Europe to 7,650 units during the first two months of 2019, with the German market responsible for most of that plunge. On the other hand, Opel and Vauxhall's crossover and SUV models are doing well, the Crossland X is up 28 per cent to 18,126 units with the larger Grandland X experiencing a 47 per cent surge to 13,298. By contrast, sales of the Astra and Mokka X fell by around a fifth.
We already know that the next Corsa will be revealed within the next few months although production isn't expected to commence until the fourth quarter. There is also a much needed relaunch and facelift for the Astra due later in 2019, something which could help to reinvigorate sales of this unfairly overlooked model. Then in 2020 comes a new Mokka X and an electric Mokka X, an electric Corsa, Grandland X hybrid (it will be called that but is likely to be a PHEV) and probably right at year-end, a Crossland X facelift. That's a lot of new or updated cars but don't forget that the Karl/Viva and Adam will disappear too, not that their combined sales volume amounts to a large number.
What PSA intends to do about the Insiginia isn't known and subject to much speculation. An EMP2 architecture replacement might be as far into the future as 2024, which would be under the scenario that the existing GM platform model runs to a full seven-years life cycle. Having only arrived in Britain in 2017, this big car is therefore one of the freshest designs in its size class.
There is a chance that Opel-Vauxhall will replace the car in 2021, althouth surely the expense of designing a new model overrules that idea? In fact, prototypes with their front and rear ends covered have been photographed recently, suggesting that a facelift some time within the next 18 months is more likely than a new model.
Certainly the existing E2JO hatchback and E2JOW estate (their General Motors development codes) are doing far better in the market place than many realise. Vauxhall says it sold 13,561 units in 2018 and 5,247 in the first quarter of 2019. Not a bad result at all, considering the downturn in this class for non-premium makes. The car continues to be tweaked too, an updated infotainment system having been introduced last year, followed by a new 1.6-litre petrol turbo engine which is compliant with Euro 6d Temp norms which will be mandatory in EU countries from September. Available in Grand Sport (five-door) and Sports Tourer (estate) body styles, the four-cylinder engine produces 200PS and 280Nm.
You don't need to travel far in the Insignia to remember what a good car it is. I hadn't been in one since soon after the UK market launch and the new engine makes things even better than they were. The previous generation always felt like the typically German vehicle that it is and the latest one does too. Heavy doors, everything solid feeling, restrained styling, steering and suspension tuning with an emphasis on touring – in a word this is a refined car. Not as sporty as the Mondeo and with a ride that errs on the side of comfort.
Something else which holds great appeal is the Insignia's infortainment system. This manages to strike the right balance between being state of the art but not surrendering to a trend for too many features which owners won't use cluttering up the menus. Things such as endless colour choices for background lighting or fiddly SatNav settings which won't take a postcode, or a system itself which struggles to connect to CarPlay. These are the things which irritate drivers and passengers and cause brands' models to be rated poorly when owners are surveyed. Opel has got this right then.
As the new 1.6 develops its 280Nm of torque from 1,650-4,500 rpm, what seemed to me as though it might be too small an engine is in practice perfect for the Insignia. You don't have to hammer the throttle to get decent performance either. Vauxhall quotes a top speed of 146mph and 0-60mph in 7.2 seconds. Fuel economy is 44.8mpg (Combined) with CO2 emissions of 146g/km. In my hands, it was 38mpg, which was more than I had been expecting.
One final word on the Insignia. As an estate, and as long as colour and wheel choice are optimised, this has to be just about the best looking car in its class and I would include the Mercedes C-Class in that statement. With that model seemingly everywhere, the Vauxhall has to be a strong alternative and it's a lower cost one too. Prices start from GBP28,105 on-the-road for the Grand Sport SRi VX-Line Nav with the new 1.6-litre Direct Injection Turbo engine.