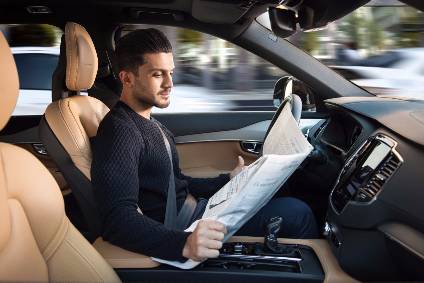 While time spent sitting in traffic can feel tedious, it could fly by in a robo-car as you focus on other things, productive or otherwise. Continuing just-auto/QUBE's series of research snapshots, this one takes a sideways look at the autonomous car.
With 'driverless cars' often in the media spotlight, a number of studies have been carried out to discover how people might spend their free time in such vehicles. Self-driving cars may still be a way down the road but Ford believes that many people can already foresee the life-changing difference they will make. A Ford-commissioned survey of 5,000 adults showed how drivers would spend the time in self-driving cars.
80 per cent said they would look forward to relaxing and enjoying the scenery;
72 per cent would chat on the phone;
64 per cent would have a bite to eat, with enjoying books and movies close behind; and
16 per cent would let children travel alone, marking the end of the school run.
On average, European drivers spend up to 10 days each year in their cars.
A previous Ford survey showed people in major cities find their commute more stressful than their job or even the dentist. This latest poll by Ford showed a preference for autonomous vehicles over traditional cars when it comes to going out for drinks and commuting – and nearly half thought driverless cars would be safer.
Another study on the other side of the Atlantic carried out by the University of Michigan, researchers concluded that 62 percent of current US drivers would be unlikely to see any increased productivity, either because they are unwilling to ride in self-driving cars or they would spend all the time watching the road anyway. The research report stated: "This is the case because 23 percent indicated they would not ride in such vehicles, and 36 percent would be so apprehensive in such vehicles that they would only watch the road. Furthermore, out of the remaining 41 percent, around 8 percent would frequently experience some level of motion sickness—for an additional 3 percent of occupants."
Connected and autonomous vehicles are set to add £51 billion a year to the UK economy by 2030.
According to a KPMG study commissioned by the SMMT, connected and autonomous vehicles (CAVs) are set to add £51 billion a year to the UK economy by 2030. The UK government wants to see a 'cluster of excellence' along the London to Birmingham M40 motorway corridor – companies developing technology to support CAVs.
Testing of driverless cars is already taking place on British roads, with Bristol, Milton Keynes and South-East London selected as test cities. The Bristol Venturer consortium aims to investigate whether driverless cars can reduce congestion, while the GATEway scheme in Greenwich is testing automated passenger shuttles and valet parking and Milton Keynes tests its LUTZ Pathfinder Pods in pedestrianised areas.
In the meantime …
While self-driving cars should liberate a little time for us to pursue other interests, semi-autonomous cars are helping that cause. Earlier this year, Geely-owned Volvo Cars let it be known it will introduce "Skype for Business", Microsoft's collaborative productivity app, to its new 90 Series cars.
Volvo Cars claims it is the first carmaker to launch such an in-car productivity tool.
"Skype for Business … is just the beginning of a completely new way of looking at how we spend time in the car."
"We've all been there. Sitting in the car trying to join a conference call. You either fumble with or drop your phone while trying to connect or you forget the long pin code to join. It's not the best way to start an important call in the car. On top of all that, your attention is not where it should be – on the road. With the addition of Skype for Business all that goes away," said Anders Tylman-Mikiewicz Vice President Consumer Connectivity Services at Volvo Car Group. "Skype for Business … is just the beginning of a completely new way of looking at how we spend time in the car."
Volvo's partnership with Microsoft includes the exploration of using Cortana, Microsoft's intelligent personal assistant, with the express intention of adding seamless voice recognition and contextual insights to support peoples' daily lives by actively predicting their needs.
Interior re-design of the autonomous car
There are, of course, a number of ways in which the fully autonomous car will change the look and feel of the cabin. "For an interior designer, the change towards full autonomous cars is extremely interesting because it opens up so many opportunities to create innovative seat layout, features and new design ideas," Robin Page, vice president interior design, Volvo Cars, told just-auto. "The main game changer is that we free up time for our customers to do other things such as relax, work or be entertained and with that comes the opportunity to create interiors that have never even been considered before."
"The advent of autonomous cars is a very interesting time for us designers," Gregory Guillaume, Kia Motors' chief designer for Europe told just-auto. "The way we use the car and interact with it changes profoundly, and with it, novel design solutions and interior architecture will evolve. Incidentally, this change somehow resets the whole industry to a similar starting point: past achievements and package advantages don't necessarily provide an upper hand anymore. While autonomous driving certainly will provide a lot of comfort in congested cities and motorways, the reasons that make individual car ownership and driving today so appealing to many buyers will not disappear. I believe that only the designs that will still stir emotions and, at the same time, offer the best usability will prevail."
Rinspeed's latest vision of the autonomous car, dubbed Oasis, was unveiled at the most recent CES and featured a number of supplier innovations. For its part, Chemical company Stahl created the funky living room or 'third living space of the future' for the Oasis, itself an evolution of the Swiss firm's Σtos shown in 2016.
The Oasis comes with glittering, mystical interior surfaces that certainly catch the eye. Does the autonomous car open up the market for such distracting surfaces? "New solutions usually start with inspiration," Stefan Buri, Global Director Marketing Automotive, Stahl, told just-auto. "It is the goal of Stahl to demonstrate how cutting-edge surface technology can open up new design freedom and create new forms of expressions – a subject of growing relevance also in car interior. [We] closely watch industry trends. One of them is the growing relevance of new accent features in car interior that provides differentiated experiences and enhanced look and feel to passengers. The presented special crystal effect is such a new design element for decorative surfaces that provide differentiated experiences by changing colour according ambient lighting and viewing angle."
Audio specialist Harman also played a role in the Oasis. Harman's executive vice president and president of the lifestyle audio division, Michael Mauser, told just-auto: "At CES, our connected car division showed a full windshield head-up display in the Rinspeed Oasis concept car that projects navigation or can be used for entertainment purposes. Together, the audio and the visual can make a real impact."
Adient used the most recent NAIAS in Detroit to unveil a futuristic seating system for the driverless car. Known as AI17, it sets out the supplier's vision of how automated driving will impact the driver and passenger experience in tomorrow's premium car. Adient was created when Johnson Controls' automotive seating business was spun off as an independent company last year.
According to Richard Chung, who is Adient's head of innovation, the AI17 showcases solutions for level-3 and level-4 autonomous vehicles. For example, it incorporates a Greeting/Conversation Mode arrangement that allows the front seat to swivel enabling the occupant to get in or out of the car seat or face the rear passengers during automated driving scenarios.
Panasonic Automotive was also among those suppliers taking up prominent space at CES this year. The supplier showcased its vision of a four-seater autonomous cabin concept, incorporating swivel front seats and connected interactive tables for all occupants, each featuring a screen in 4K resolution that can be used as a touch display or a foldable table – or both. This space-age cabin also features an array of touchscreens and augmented reality wizardry to keep the occupants occupied.
Hmm, a theme is developing here
It's a car, Jim, but not as we know it.
Retracting steering wheels, reconfigurable dashboards, Star Trek looking seats and entire windscreens that transform into head-up displays are also a common vision of the autonomous car.
Whatever next? Well, car interiors with split personalities are just around the corner. Automakers already talk of a virtual interior concept of an autonomous car, dividing the cabin into 'private areas of retreat' and 'digital living spaces' with lighting to suit the mood.
However we decide to use the time in a robo-car is open to question, of course, but we can certainly expect that being chauffeured around will take some getting used to. While you might feel completely relieved of the task of driving, you could be gradually consumed or 'expected' to use the time to concentrate on more pressing work-related tasks just as if you were travelling on a train or plane. While this means you are more accessible to your employer, it could enable you to take part in face-to-face meetings or accomplish some other work outside the office. This might give you the opportunity to leave the office earlier than usual. Now there is something to look forward to.