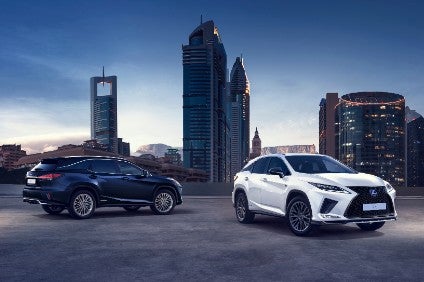 Memo to self – when a car company kindly loans you a press review vehicle, write it up before the model gets updated. In this case, twice. Oh, the blushes. Fortunately for slacker here, Lexus UK has an online press archive dating back to the stone age, conveniently shooting down my theory we're actually overdue an RX full redesign – the present model dates back only to a New York show debut in April 2015 – and a tweak or two since launch makes perfect sense.
In fact, our resident guru with the crystal ball noted at the end of last year the RX remains Lexus' best seller, especially in the US, where deliveries were on course to possibly touch the 110,000 mark by year end. According to our resident US statistician just a few weeks later, RX US sales actually hit 111,641, up 3.1% year on year. The next news, we said in December, would be a facelift for North America's 2020 model year, which has now been announced. The 760X series fifth generation RX should again be built in Canada and Japan with production likely to begin in the second half of 2021. There will be standard and (reason for my week's drive) long-wheelbase derivatives, and there will probably also be a plug-in hybrid or even a fully electric variant which we don't yet get. The architecture will change, the new model to be based on TNGA-K.
While UK and European buyers are offered a two-litre turbocharged petrol engine with two- or four-wheel drive, and some markets like the US and Australia also get a petrol V6, most opt for the all-wheel-drive petrol V6 'self-charging' hybrid, as Toyota GB likes to bill non-PHEVs these days. Lexus, however, had a new trick up its sleeve for this latest RX generation, announcing at the November 2017 Los Angeles show something I suspect many buyers had been waiting for – a stretched RX with seven, instead of five seats. The third row was fitted in using what Lexus called "intelligent packaging": extending the body's overall length by 110mm and fitting a steeper tailgate window to ensure there good headroom for people using the extra seats as well as useful rear load space.
The extra seating comprises a 60/40 split-folding bench, claimed to offer as much comfort and luxury as the middle row seats, with easy access thanks to a pull lever that slides the second row seats forward. The design was claimed to give the new 'RX L' variant a longer flat cargo floor area than its competitors with the second row seats set slightly higher than those behind, creating more foot room for those in the cheap seats. A tri-zone climate control system with separate settings and vents for the third row of seats, a power-folding seat system and a smart power tailgate were offered along with cup holders and a neatly stowable tonneau cover that operates on covered slide rails. Full length curtain airbags were extended to provide protection for outer seat occupants in all three rows of seats.
The new seven-seater duly made its European debut at Geneva last year when we learned it would be sold largely only as a hybrid in western and central Europe with eastern Europe (and Russia) getting a 3.5-litre petrol version. Lexus doesn't fiddle much with the basics market by market so what we'd seen first in L.A. came to us largely unchanged including the second (centre) row conveniently split 20/40/20 to allow access to the rear from either side without tipping everyone in the middle out. The hybrid remains a pairing of a D4-S injection 3.5-litre V6 petrol engine with two high-torque electric drive motor-generators, producing a full system output of 308bhp/230kW for strong acceleration and overtaking performance. The E-Four all-wheel drive system is unique to the hybrid model. Instead of transfer gears and a driveshaft to the rear wheels, it uses an independent rear-mounted electric motor to drive the rear wheels when driving conditions demand.
My two evil children love seven seaters not least because parking themselves in the third row keeps them well out of reach and there is considerable entertainment to be gained from seeing if Fat Daddy can enter and exit without the need for shoehorns, grease, cranes, forklifts, etc. And extricated without needing the jaws of life to be summoned. I did years ago give up on Land Rover's Discovery Sport, since redesigned but had no trouble getting aboard the RX L. The seats are pretty tight for rotund adults but you get in and out ok and there is room for negotiation with the second row over the position of those seats to liberate a bit more legroom for the nosebleed section. Legroom is tight if row two is stingy and my notes also show we had some fun getting the seatbelt into the buckle when one of our juniors was in a booster seat. Otherwise, the two tyrants mostly installed in there were happy enough.
Rear occupants get their own third zone climate control with side mounted vents and controls on the left and a set of switches just inside the automatic tailgate (touch the Lexus logo for access rather than that ridiculous wave-foot-under-bumper trick other automakers offer) folds the third row pews electrically.
The girls also know dad's pet hate – no proper spare wheel – and the long Lexus bats this into touch with a temporary spare on a cradle below the boot with jack, tools and even the removeable loadspace roller cover all stashed under the load floor. This is what we in the trade call 'nice packaging'. The kids, both of whom were born connected, approved of two USB ports in the centre console, middle row seat heat and cup holders, plus rear side window sun blinds while we in front had two USBs, two 12V plugs and wireless phone charger.
Strangely, perhaps because I'd got well used to it, I prefer the older mouse style centre screen controller to the touchpad used in the newer LS500h limo I had to be chiseled out of by Toyota's collection driver earlier in the year. When using split screen, the main display defaults to maps, which I found annoying, wishing for a little more 'customisability'. As to driving, well, it's a refreshingly similar Toyota hybrid with which you can amuse yourself seeing how far you can go on the electric before the petrol engine kicks in. I've always been a sucker for creamy smooth three-litre-is V6s since Japan started serving up these multi valve, multi-cam jewels in the early 1990s and their earlier reputation for slightly heavy fuel consumption is nicely offset by hybrid which lets you get mid 30s no sweat in what is a pretty big car. All the usual safety/convenience/nanny state kit is included in most versions so the RX will help steer and keep you in your lane in LKA mode. Veer over the line and haptic feedback through the wheel wakes you up while Sport drive mode sharpens responses but makes the ride a bit harsh. In these days of cars being turned into greenhouses, it's getting quaint to find a standard size sunroof (moonroof, 'mericans) instead of a full length panel.
Lexus UK makes the RX L choice easy – base, but still loaded for GBP52,000, Premium Pack for GBP55,110 and loaded-up Takumi for GBP63,355. That makes the optional Premium Pack a bit surplus but there is also a Tech & Safety Pack and a sunroof option for Premium Pack cars. Essentially it's a two-model choice that is going to make buying a used version much simpler for those who can't afford new (like me) and for those stocking up a dealership.
So what changed? For 2019, the SE, Luxury and Premier (which I tried) were replaced by RX L and Takumi (the F Sport trim remained for the five-seater). Lexus Safety System+ became standard, providing Pre-Collision System, Adaptive Cruise Control, Lane Keep Assist, Sway Warning System, Traffic Sign Recognition and Automatic High Beam/Adaptive High-beam System. Option packs were revised and the Tech and Safety Pack added a colour head-up display, Blind Spot Monitor, Rear Cross Traffic Alert with Intelligent Clearance Sonar and automatic braking, auto-folding/auto-dimming door mirrors, power tailgate with no-touch sensor and a panoramic roof. The Takumi added a power-folding function for the second row seats and most of the stuff on the older Premier.
New 2020 versions, due on sale in the autumn, get styling and equipment tweaks and, at last, a new multimedia touchscreen with Apple CarPlay and Android Auto smartphone connectivity. There's new bumpers, grille, headlamps and tail lamps and the seven seaters' third row seats now have two different seating positions with the additional new setting giving more leg room. Body rigidity has been increased and detailed adjustments made to the suspension. Active Cornering Assist which suppresses understeer when the driver steps on the throttle in mid-bend is added and the electric power steering has been tweaked for a more linear feel and faithful line tracing in all driving conditions. New-design shock absorbers have been introduced, fitted with a friction control device which further reduces the high-frequency vibrations caused by minute imperfections in the road surface. The dampers also allow for flat cornering and exceptional responsiveness.
Lexus is also claiming a world first with the introduction of a new BladeScan Type Active High Beam System (AHS) which operates by shining light from LEDs on to two blade-shaped mirrors that are rotating at high speed. The light is then transferred onto a lens to illuminate the road ahead. Although to the naked eye the light does not appear to be moving, its distribution is precisely controlled by synchronising the spinning of the blade mirrors and the switching on and off of the headlights. Because the effect of the high beam can be expanded in more natural manner, the system lights up areas that may be difficult to see using a conventional high-beam system, such the shoulder of the road. It also helps the driver see pedestrians and road signs much earlier, without interfering with the visibility of drivers of vehicles ahead, or oncoming traffic. Pedestrian recognition at night has been improved to 56 metres using BladeScan technology, compared to 32 metres with the previous system. Lexus Safety System+ has also been updated.
My preferred 'mouse' has gone, replaced by LS style Remote Touch Interface in trackpad format, and there is a new phone holder, USB port and connectivity to Apple CarPlay and Android Auto. Using voice control, customers can access Apple Siri or Google Assistant via their smartphone, and they can also choose whether to use the Lexus Navigation system fitted to their vehicle, or an alternative service on their smartphone.
Time for another review car, then.