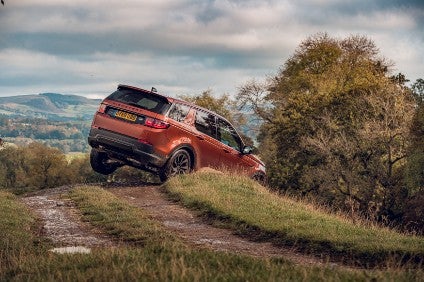 Some press cars are memorable; others not so much. The first Discovery SPORT I drove – with one of the old Ford diesel engines – was memorable for mostly good reasons – it performed, rode and handled well and was nicely made; it was also memorable because Lardbutt here couldn't get into the third row, much to the amusement of The Family.
Since then, the Discovery Sport has been substantially upgraded though the latest model won't upset owners of older versions as you have to look closely to pick new from old in the traffic – tail lamps are the most obvious change. The 2020 model year Land Rover Discovery Sport, however, is an unusual vehicle. Technically it was a mid-life facelift of a model launched back in 2015 and which sells at a pre-COVID-19 rate of about 120,000 a year worldwide, with 20% of those finding homes here in the UK. But it's rare to get a brand new platform underneath a mid-cycle refresh as well.
At first glance, little appeared to have changed. Nose styling tweaks. New tail lamps with the distinctive circular lens replaced by rectangles to more closely match the full-size Discovery redesigned since little sporty brother came along. Also arriving with the new Premium Transverse Architecture (PTA) platform were new electrified in-house made Ingenium engines (48v mild hybrid), a new interior, new seats and dashboard and some new technology.
Body panels were barely changed, however. The main thing I noticed was a larger fuel filler flap, the better to house the diesel models' AdBlue filler now housed in the same location as the main fuel filler. This is something most automakers are doing now, saving the need to ferret around in the boot or under the bonnet for the smaller tank's filler.
The latest model's body in white is 10% stiffer and the front subframe is now rigidly mounted to the body and there are new engine mounts. Our P200 AWD S R-Dynamic was already very well equipped for what passes for (relatively) entry level specification these days and the R-Dynamic S pack added a great deal more including a standard family demand these days – 4G Wifi Hotspot – along with other goodies the driver might appreciate such as 12 way electrically adjustable heated front seats, 10″ Touch Pro display, connected navigation, Android Auto and Apple Car Play and adaptive speed limiter with traffic sign recognition. Further options fitted to the well loaded presser included automatic high beam, privacy glass, extra 12V and USB sockets and two more family favourites – privacy rear side glass and a panoramic sunroof, fixed in this case.
And, hooray, dad fit the third row thanks to the introduction of a sliding second seat row to make way for the excess kilos.
The new PTA platform was designed for electrification and the 48 volt mild hybrid electric vehicle (MHEV) battery does not intrude into passenger or luggage space. First launched with the redesigned Range Rover Evoque, the system uses an engine-mounted belt integrated starter generator to harvest energy normally lost during deceleration and stores it in the under floor battery. MHEV is fitted as standard on vehicles with automatic transmissions such as the one we drove. At speeds below 17km/h (11mph), the engine will shut off when the driver applies the brakes, before redeploying the stored energy to assist the engine under acceleration to reduce fuel consumption. Available across the range of four-cylinder Ingenium petrol and diesel engines, the mild hybrid delivers CO2 emissions from as low as 144g/km CO2 (NEDC equivalent) and fuel economy up to 40.9mpg (6.9l/100km) (based on WLTP test procedure). A plug-in hybrid electric vehicle (PHEV) variant – using a new three cylinder Ingenium engine is also now available.
JLR also now offers a 'smart rearview mirror' which transforms into a video screen at the flick of a switch to display what is behind the vehicle in crisp high definition. Ground View technology has also been introduced to help drivers navigate high city centre kerbs or tackle rough terrain by projecting camera imagery that offers a virtual 180-degree view beneath the vehicle onto the touchscreen.
Wireless charging for compatible mobile devices is also, optionally, offered for the first time within the lower centre console. Second and third row occupants can also have individual ventilation controls, as before. For regular drivers, Smart Settings uses artificial intelligence algorithms to learn driver preferences, adjusting massage and seat positions, music and climate settings and steering column positioning to suit each driver.
Having already driven the model a considerable distance at its media launch, I was keen to try it on home territory and found myself immediately a little at odds with the new electronic lever automatic transmission selector which has replaced the previous, foolproof turn knob. You need to hold in a button to shift and I often missed the selection I was aiming for. The electric handbrake operates automatically and the switch has been moved to the right of the steering column – I would prefer it in the centre console.
The petrol Ingenium engine – 200hp, I4 turbo – wasn't quite as refined as I expected with a little more engine noise perceptible though that perhaps reflects how good the diesels are, having not driven the petrol at the launch. The S specification doesn't give you keyless entry with keyless start or radar with cruise control so detailed perusal of specifications and option lists would be well advised before placing an order. The Family found the car very comfortable and practical but the S lacked rear climate control and you need to use the correct socket for Apple CarPlay and Android Auto to work.
Lacking experience, I would not normally dare to take GBP45,000 worth of test car very far off road and I wonder how many owners do so. It's tempting to dismiss such SUVs as being bought for kerb climbing outside the school or hazardous conditions in the supermarket car park so Land Rover was keen at the press launch to show the offroad ability was (still) there and, boy, was it. On one of the courses, nervous wrecks of new or would-be owners like me are turned into confident and passably proficient basic level offroaders courtesy of the Land Rover Experience – using the automaker's cars, not the owners' – we climbed steep, rutted tracks, slithered down a hill with rollers one side intended to simulate a complete loss of traction, turned right on rocks, raising one rear wheel completely in the air, before descending a steep slope, traversed hillsides at an angle and waded happily through 600mm of river water. With all the correct gizmos turned on to instructor order, especially hill descent control, the Disco Sport demonstrated capabilities few owners will ever use, but could if the need arose. This is still a Land Rover, after all. It would be very reassuring to own one of these and know, courtesy of such a demo in professional instructor's hands, if needs must, you could put that ability to work.
In addition to the AWD and automatic transmission options, Terrain Response 2 is now available. This allows drivers to choose from four modes (Comfort, Sand, Grass-Gravel-Snow, Mud & Ruts) to optimise performance and capability and the new Auto mode enables the vehicle to select the most appropriate mode for the conditions and automatically adjust its torque delivery to suit the terrain. When paired with Adaptive Dynamics, a Dynamic mode also delivers a more enhanced drive experience. The latest model also comes with a number of additional all terrain technologies pioneered by Land Rover, including that Hill Descent Control and All-Terrain Progress Control standard on AWD models.
Maximum towing capacity remains 2,500kg but has been enhanced with optional Advanced Tow Assist – a pioneering technology that incorporates semi-autonomous driving technology to allow the driver to concentrate on steering the trailer, while letting the car guide itself. As the driver uses the touchscreen for visual guidance and one of the lower interface rotary dials to 'steer' the trailer, it removes the need to counter steer the vehicle.
A reversing camera is standard on all models along with Lane Keep Assist, Autonomous Emergency Braking and Driver Condition Monitor. Touch Pro infotainment is now standard, introducing a new 10.25 inch high definition touchscreen, which allows familiar controls such as swipe and pinch zoom. A hidden until lit lower interface is also available, allowing control of the heating, ventilation and climate system, Terrain Response 2 and Advanced Tow Assist.
The modified 5+2 seat layout continues but the new second row 40:20:40 slide and fold allows up to 24 seat combinations. Seats also are new and there is increased stowage in the centre console, lower dashboard compartment and doorbins. There is now the option of front row massage for the first time. Yes please. With that added ability to slide the second row forwards and back, legroom can be as much as 968mm for second row and 655mm for third row passengers. That added flexibility really makes a difference.
Boot space is 1,179 litres, increasing to 1,794 litres when the second row seats are folded flat, and a cargo net is standard.
Unlike Japanese and Korean models, JLR goes the European build-it-yourself route with Discovery Sport so there are various 'base specifications' and then you load on the fixings either as individual options or packs.
A Driver Assist pack comes with Adaptive Cruise Control with Steer Assist and 360-degree Surround Camera, alongside Blind Spot Assist, High Speed Emergency Braking, Park Assist, 360-degree Parking Aid, Rear Traffic Monitor, Wade Sensing and Clear Exit Monitor. This can be broken down into the more focused Drive pack which adds Adaptive Cruise Control, High Speed Emergency Braking and Blind Spot Assist or the Park pack which comes with Park Assist, 360-degree Parking Aid, Rear Traffic Monitor and Clear Exit Monitor. The Discovery Sport can also be fitted with cabin air ionisation technology.
This latest example, sampled to give me a go at the petrol engine which eluded me at the launch, reinforced my liking for this particular model. It ticks a lot of boxes with The Family who have always loved the seven-seat layout though we would rarely use such a configuration and, most of the time, solo dad would just be driving air about. But, when we need it, nice to have. The Discovery Sport is great to drive, practical for everyday use and well thought out and that 2020 update brought many useful improvements while adding the latest technology and MHEV electrification, with PHEV also available. It's no surprise I see so many about.
Discovery SD6 HSE Luxury
Coinciding with my time with the Discovery Sport I also borrowed a full size Discovery as I had never tried the latest model. The latest Disco has received 'flak' for its offset tailgate registration plate and a replacement kit, centralising the plate is available aftermarket. I can't personally see why as the offset 'gate' makes the latest model easy to spot in a crowd and is a distinctive feature to identify the model.
The GBP70,400 loaner had a three litre, six cylinder diesel and eight speed automatic and HSE Luxury specification plus options such as GBP1,005 electric tow bar, GBP635 surround camera system, GBP1,065 fancier 21-inch wheels and GBP1,370 Dynamic Design Pack. It was probably one of the most highly specified press cars to grace our driveway and has since been known to a certain, movie loving, member of The Family as 'the car with rear seat screens' on which she watched several DVDs while enjoying a stereo soundtrack through wireless headphones. And, of course, it also had those much loved seven seats.
My notes say 'incredibly complex car dripping with equipment' yet I found some things were not as intuitive as expected such as turning the navigation's voice guidance on. I found it, eventually, in the destination entry screen. I'd like to find it quickly in a Settings menu and also see an on-screen mute/unmute button when using the nav. We also noted rear compartment controls could use labels as well as symbols to avoid confusion. There's an automatic inner tailgate but this only opens when you use some controls like the remote opener and not all the time – there's an inner switch to operate otherwise. And the cameras could give a clearer view – we did check the lenses.
But what a beast to drive. The big diesel surges this big SUV off the line and up to 60mph in just seven seconds and you can still get around 30mpg – diesel still has its place in this size category despite the attempts to demonise it. Ride and handling are very good and driver aids like lane keep assist are subtle but effective and very handy while you are still getting used to the size. Interior space is generous and there was just so much luxury to enjoy with items like electrically reclining rear seats, power folding third row, four zone climate control, Meridian sound system with 14 speakers and so on.
I did not venture off asphalt but have had enough excursions with Land Rover experts over the years to know the Discovery is likely very competent in most situations. Should I ever become a Land Rover owner, I'd be first in the queue for an Experience event, as tried most recently with the smaller Sport, to learn what my chosen model can do.