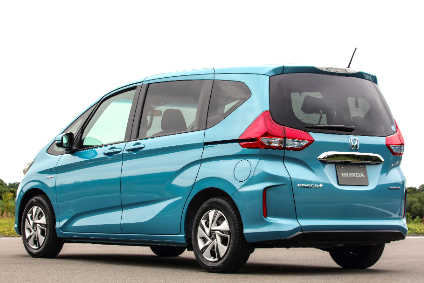 With the CR-V the top selling SUV in the US and the brand having now become the number one Japanese make in China, Honda is powering ahead in its two largest markets. Staying ahead requires big investments in future cars and SUVs and ever more efficient powertrains. This focus on Honda Motor looks at what's coming next for the brand. An analysis of future Acura models will follow.
Kei (mini) vehicles
Things are also good in Japan for Honda, where it is second only to Toyota after pulling ahead of Suzuki and Daihatsu, having long ago overtaken Nissan. The company's Kei jidosha mini vehicles, which have a maximum engine capacity of 660cc and power limited to 47kW/63PS, are one of the main reasons for this.
Five years ago, the N Box, the first of what became a new family of Kei models, was released. Since then, these N-Concept platform vehicles have dominated their size class. Mid-2017 should see the second generation N Box launched in Japan, with successors for the N Box +, N-One, N Box Slash, N-WGN and N-WGN Custom following between late 2017 and 2019. Another Kei model, the S660 sports car, should remain in production until its replacement arrives in 2021 (project code: 3RZ). All these cars will use a tweaked version of the N-Concept architecture.
A segment
For Honda, this class means just the one model, which is built and sold in only certain parts of Asia. That car is the Brio, also known as the Amaze, and it remains popular in Thailand and India. The architecture is a lower cost version of the third generation Fit/Jazz platform. This should still be the case when a new generation model appears in 2018 (project code: 2UA Brio/2UB Amaze).
B segment/Subcompact
There are multiple vehicles in this category, including one of the most popular, the Fit/Jazz. The fourth generation model is due on sale in 2019, and it should bring with it a fresh platform. Expect the popular-in-Japan Fit Hybrid to have an updated powertrain too.
The Shuttle is more or less an estate version of the Fit. Sold mainly in Japan, the current generation became available there in May 2015. The Shuttle Hybrid is powered by a 1.5-litre Atkinson Cycle engine linked to a seven-speed DCT, while the Shuttle's engine is a 1.5-litre unit sending drive to either the front axle or else all four-wheels via a CVT. A styling refresh is due in 2018 and a new model by mid-2020. This will have the same platform as the next Fit.
An SUV based on the current Fit is due to appear soon and should be called 'WRV'. It has been developed especially for the Brazilian and Indian markets and will be manufactured at the Itirapina (São Paulo) and Tapukara (Rajasthan) plants. The code name is 2FM and production is due to commence in late 2016 after a debut at the SP motor show.
Honda has a couple of similarly sized existing SUVs, with the BR-V reserved mainly for lower income markets, while the Vezel/HR-V is mostly for customers in Japan/Asia-Pacific, North America and Europe. Unlike just about all of the brand's other B segment vehicles, the BR-V is based upon the Brio. It offers up to seven seats and is powered by 1.5-litre petrol and (in India) diesel engines. The BR-V should have a seven-year lifecycle, which means the replacement will enter production in both Indonesia and India in 2023. Build in Thailand is equally likely.
The Vezel, also known as the HR-V or XR-V, plus its hybrid variants, is due a facelift in 2017 and to be replaced from late 2019. Like the Fit/Jazz, it should use the new B segment models platform. There will again be two models for China: the Vezel, manufactured by the Guangqi Honda joint venture, and the XR-V, which is built by Dongfeng Honda.
Small SUVs might be increasing in popularity in many countries but subcompact sedans have for a long time been big business for Honda. The current generation of the four-door City, which is 4.4m long, was announced first by HMIL (Honda Motor India Limited) in November 2013. It went on sale locally from January 2014 and was gradually rolled out from other plants which built the previous model. The car is sold as the Honda Ballade in South Africa, as was its predecessor. Expect the next model to enter production in Japan, India and China (Guangqi Honda) from 2020.
The Grace, a unique model for Japan, went on sale there during December 2014 and was immediately successful, ending its first month with over 5,000 sales and a place in the top-ten. It is the same car as the City/Ballade but initially, there was one major difference: the Grace was available only as a hybrid. A non-hybrid, the Grace LX, was added in June 2015. This is powered by a 1.5-litre petrol engine. A CVT is standard and like the Grace, both front-wheel drive and all-wheel drive variants are available. The replacement should become available in 2020.
The Greiz is one of several small cars which were developed especially for China. This small sedan is manufactured at Dongfeng Honda's Wuhan 1 plant. It is based upon the Guangqi Honda-built City and Japan's Grace LX, but with some external changes. As with the Vezel and XR-V, each of the company's Chinese partners therefore has a version of the same car. A facelift for the Greiz is due in 2018 and a replacement in 2021.
Another model unique to the PRC is the Gienia, a small hatchback, which, like the Greiz, is City-based and manufactured by Dongfeng Honda. Production has only recently commenced so a successor is unlikely to appear until the third quarter of 2022.
The Freed and Freed+ are two other recently announced small Hondas, these minivans having gone in sale in Japan only days ago. They are designed to attack the big selling Toyota Sienta but the styling is a lot less adventurous (see pic above).
The Freed has three rows of seating, whereas the Freed+, which replaced the Freed Spike, has two rows. Both are powered by a 1.5-litre petrol engine linked to a CVT. The petrol-electric variants instead have a seven-speed DCT with integrated electric motor. Production is at Yorii-machi. Facelifts are likely in 2019 and replacements in 2023, with the architecture to be that of the next Fit/Jazz.
The Mobilio is a seven-seat minivan similar in size to the Freed but this is for countries in Asia which have lower incomes than Japan; specifically India and Indonesia, where it is built. A 1.5-litre i-VTEC engine is standard. The Mobilio has 185mm of ground clearance, similar to that of many SUVs. A facelifted model should be released in 2017 and a successor based on the platform of the next Fit is likely to enter production in 2020/2021, given a six/seven year lifecycle for today's model.
The final B segment model is the CR-Z. This hybrid hatchback has sold poorly and has been subsequently dropped by importers in most regions. It remains available in Japan but production is due to end in March of next year. No replacement is expected.
China: what's the future for Ciimo & Li Nian?
Ciimo, which is both a brand and a car, appears to be fading away. The Ciimo is available only in China. It is a slightly restyled eighth generation Civic sedan. A mere 13 were sold in August and just 1155 during the first eight months. Production is said to have stopped in June and plans to give the brand an SUV by restyling the CR-V have reportedly been cancelled.
Honda was required to invent 'domestic' brands for its two Chinese joint ventures as part of the requirements for building passenger vehicles in partnership with Dongfeng and Guangzhou Auto (GAC). While others, such as SAIC and GM's Baojun have been huge successes, Dongfeng Honda's Ciimo has bombed, and Guangqi Honda's equivalent, Li Nian ('Everus' in English) has been quietly shelved. The Li Nian S1, the only model, was based on an obsolete Honda City. Just five cars were sold in August and 4,164 for the year to date.
Li Nian and Ciimo are a contrast to how Honda's overall sales experience in China has been. To keep pace with demand for its mainly smaller models, yet another plant is under construction in Wuhan, the home city of Dongfeng Motor. This new factory is to have an initial capacity of 240,000 vehicles per annum when it comes on line in late 2016, bringing Honda China's annual production total to 1,320,000 vehicles.
Number 1 Japanese brand in China
Volkswagen, with 1,876,383 vehicles delivered in the first eight months, is as ever, way ahead of all other brands in China, with Buick's 759,506 the next best. ChangAn is third with 712,813 but then comes Honda, with 711,407. It outsold the Chinese make in August by some 3,800 vehicles so this will likely be the market's number three brand when official numbers for September are announced. It's worth noting that Honda's lead over Toyota is more than 20,000 units. There are very few countries where this is the pecking order of Japan's two largest OEMs. TMC will be finding this situation hard to comprehend and making plans to shift the status quo.
Honda's strategy of always playing the long game is paying off, but what is even more interesting than the company's rise in China is how broad-based it has been. What is extraordinary is that the brand has no models in the top twenty, its best seller in August being the Vezel in 30th position with 101,674 deliveries for the year to the end of August. The Accord is next (40th, and 73,654) then comes the CR-V (43rd, 115,049), followed by the Fit (54th, 74,495), XR-V (56th, 104,224), Civic (65th, 40,646), Crider (91st position, 50,788) and City (96th, 42,256). The Odyssey, Greiz, Elysion and Jade all make the 20,000 mark or thereabouts, with just the Crosstour having a four-figure sales number (5,751), while the Spirior can be considered the only other failure with just 14,175 registrations over the first eight months.
As is clear from the above numbers, and despite needing to keep two state-controlled partners happy, Honda has managed to resist the temptation to add a dozen or more models which would only blow out spending on R&D, manufacturing and marketing. Concentrating on a few vehicles is how the brand came to be so successful in the USA. Toyota Motor Sales USA might sell more vehicles but it has a vast range and isn't quick as Honda usually is to cull slow sellers.
C segment/Compact
As noted above, the CR-V is Honda's best performing model in China. This compact SUV is the brand's number one in the US too, having overtaken the Civic and Accord. Due to go on on sale from the end of 2016, the next generation of this compact SUV will have the platform that was introduced by the tenth generation Civic in 2015.
With the exception of Swindon in England and El Salto (Guadalajara) in Mexico, the future CR-V should be built or assembled in the same global plants as the existing model. Honda of the UK Manufacturing (HUM) stated in March 2015 that its plant west of London would not be making the next CR-V. Honda Motor Europe will instead source its cars from Japan. Initially, Honda had intended to ship the car from Canada to Europe but these plans changed in February 2016.
In January 2016, American Honda announced that production of the CR-V would be added at the HMIN plant at Greensburg, Indiana. The Mexican facility losing build of the CR-V will gain the HR-V. This means that HDM's El Salto and Celaya plants will both be building the HR-V. And to be clear on North American production of the next CR-V, this will be at three regional locations: East Liberty (Ohio), Alliston (Ontario) and Greensburg (Indiana) with East Liberty the lead plant.
The other big selling C segment model is the Civic sedan. The latest shape car is now a year old and HUM is about to start production of the five-door hatchback for European markets, exports to North America having got underway in August. A Type R is planned for 2017, as is an estate. The sedan will be built in India from 2018 and also of interest is how it is already manufactured in Thailand: production at the Prachin Buri Rojana Industrial Park in on what Honda terms an ARC Line.
Another model in this size class is the 3.7m long Jade. Now three years old, the 2CN series model is built in China by Dongfeng Honda as well as in Japan. Its basis is the ninth generation Civic's platform but the next generation of this minivan due out in 2020 will use the architecture of the Civic Mk X.
C/D segment
The VW Jetta is one of the better known models which has moved beyond the usual size norms of North America's Compact class, due to the XL-dimensions of that region's Passat sedan. This strategy has been explored in China by Honda. The Crider – larger than a Civic sedan but shorter than an Accord – competes with the Beijing Hyundai joint venture's Mingtu.
Sales of fewer than 51,000 Crider sedans in the first eight months appears to suggest that this car isn't too successful, but it should be noted that the current model is now three and a half years old. Guangqi Honda's next generation Crider should be on sale in China from early 2019.
D segment/Mid-size
The (3GA) Accord will be out for North America's 2018 model year, due to enter production at Marysville (Ohio) in August 2017. This, the lead global plant, will be followed by others in China, Thailand and Malaysia with some small scale assembly in Nigeria.
The tenth generation Accord sedan will be joined by a coupe for North American markets, with both cars having the same basic architecture as that of the tenth generation Civic. The sedan will be sold globally, with the exception of Europe, Honda having withdrawn from that region's D-sedan and wagon segment. The Crosstour, which is a five-door hatchback version of the ninth generation Accord, was not a success in the US and so it was discontinued there at the end of the 2015 model year. Guangqi Honda continues to build it but as sales are now minimal in China too, no replacement is expected.
Another D segment sedan for China is the Spirior, which is part of the Dongfeng Honda JV. As was noted in the section above on the brand's sales in the PRC, this Accord-based sedan is not nearly as popular as Guanghi Honda's Accord, even though the current car is not yet even a year old. A facelift which hadn't been due until 2019 will likely be brought forward to 2017, followed by a second one in 2019 with the third generation model entering production at Wuhan 1 in Hubei in the last quarter of 2021.
A model which had always done well in Japan is the Step WGN. It fits into the domestic market line-up below the Odyssey. The 2HS series Step WGN went on sale eighteen months ago, its platform being that of the ninth generation Civic. The main rivals are the Toyota Noah, Toyota Voxy and Nissan Serena. All versions have seven seats. The Step WGN was the first vehicle to be fitted with Honda's 1.5 VTEC turbo. The sixth generation model is due to appear in early 2021.
The Odyssey sold in Japan and countries in Asia-Pacific is smaller than North America's full-size minivan of the same name. The fifth generation model is now three years old and was the first one to have sliding rear doors. It is manufactured in Japan (Sayama) and by Guanghi Honda (ZengCheng #1, Guangzhou). Successors for the conventionally powered and hybrid variants will be launched in late 2019. These will have the Civic generation ten platform.
E segment minivans
One of two big selling XL-sized products is the other Odyssey. A new model is not far away, with the next generation due to enter production at the same US plant (Lincoln, Alabama) which builds the current one. It is expected to use the platform that was introduced by the third generation Acura MDX in mid-2013. This might also be one of the models for the ten-speed automatic gearbox which Honda has been developing. The company announced the first details of this transmission in October 2015.
Dongfeng Honda's Wuhan 1 plant in Wuhan should replace its current Elysion with a new model in 2017. The existing vehicle is similar to the Odyssey and this will apply to the successor. The Elysion used to only be sold in Japan but now China is its main market and the model is not available in Honda's home market.
Large SUV & sedan segments
American Honda's other major success in the full sized model classes is the (2SF) Pilot. This eight-seater SUV, new for North America's 2016 model year in July 2015, is three inches longer than the second generation model and 300lbs lighter. It uses the platform that was introduced by the third generation Acura MDX in mid-2013. The fourth generation Pilot should enter production at Lincoln (Alabama) in late 2021 or early 2022.
Does the Legend still exist? It does indeed but production numbers and sales are tiny. It is sold mainly in Japan and manufactured at Sayama. The near-identical Acura RLX Sport Hybrid is built on the same line for export to North America and elsewhere. Expect a facelift in 2017 but a successor seems unlikely.
Clarity – no longer just a car, now a range
The reason why the home market probably won't see a new Legend is the existence of another project: EV and PHEV versions of the Clarity fuel cell car. Honda hopes to pull back some of the enormous R&D costs of the hydrogen-fueled model by adding models based on the same architecture.
The Clarity Electric was announced in April 2016 as being part of a family of zero or low emissions vehicles. The Clarity fuel cell sedan's architecture will be the basis for not just this plug-in sedan but also a plug-in hybrid variant. These cars will also serve as a way of attempting to make the Clarity name better known. Their main market will be the US. Production should commence during the first half of 2017.
The Clarity itself will probably be built until 2020, at which time the results of GM and Honda's fuel cell JV should see production. Speaking at the Japanese market sales launch of the Clarity in March 2016, Honda CEO Takahiro Hachigo told the media that he wanted to see tens of thousands of a future hydrogen powered Honda built annually. The fuel cell stack and hydrogen tanks are what the cars will have in common but the platforms, electric motors and battery packs will be bespoke to each OEM.
Sports cars, and a pick-up
The S660 was discussed in the section on Kei-class models, and the NSX is not yet on sale in much of the world. Exports from the Ohio manufacturing base to Japan, for example, will not commence until January. Next for this supercar should be a convertible bodystyle, likely to added by 2020, and the replacement model will probably appear in 2023. Should Acura exist in Japan and Europe by then, the successor would for the first time be sold worldwide under one brand.
Another sports model, tentatively known as the MSX or ZSX, is said to be under development, mainly for the US. The new model would compete with the follow ups to the Subaru BRZ and Toyota (GT)86. As for a production location, some sources claim the model would be built in Ohio alongside the Acura/Honda NSX.
Honda told the media in October 2015 that it had been working on a potential all-electric sports car powered by four electric motors, but that it was still working on the business case for such a model. This project may be linked to the MSX/ZSX.
By continuing to resist the temptation to join Toyota and Nissan in offering a full-sized pick-up, American Honda is out of step with its Japanese rivals. Instead, it now offers a new generation of the smaller Ridgeline.
This mid-size truck had its debut at the Detroit auto show in January and is new for North America's 2017 model year. Both front-wheel drive and all-wheel drive variants are available. A six-speed automatic gearbox is standard for the 3.5-litre petrol V6 which powers all Ridgelines. All variants have four doors. Production commenced in May. A seven-year lifecycle is expected. As for production numbers, American Honda says only that it hopes the latest model can exceed 40,000 units per annum, which was the best year result for the original.
With reports that Hyundai's Santa Cruz has been delayed until 2020, and a model for Kia even further away, Honda will likely have the FWD/AWD pick-up segment to itself for a few more years. Should fuel prices spike in the next 12-18 months, a four-cylinder Ridgeline will probably be added to the line at the Lincoln, AL plant in 2018 or 2019.
Future product program intelligence
Get more data on vehicle lifetime and future product plans with PLDB from QUBE.