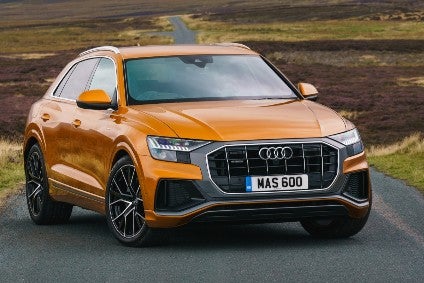 Once again, Audi is ahead of rivals in finding yet another market niche. This time it's for a big SUV-coupé, the new Q8 being lengthier than the BMW X6 and Range Rover Sport which some claim are its natural rivals.
All it takes to discover why Audi believes the Q8 isn't just one more SUV is to open any of its doors. As with how the A7 relates the A6, something is instantly, obviously missing. Window frames. So this is a coupe. An especially wide, long and heavy one. The official dimensions are 4,986mm long, 1,995mm wide (but 2,190mm including the mirrors) and 1,705mm high. The minimum size for the alloy wheels is 21 inches, with 22-inchers optional. Those big wheels and the coupé-style roof line make it look much lower than the Q7. That model is 66mm longer, but 27mm narrower than the Q8.
Around the same time as it was premiering the vehicle to the media at an event in Shenzhen in June, Audi began production. This takes place at the Volkswagen Group's Bratislava plant, the same factory which builds two other big SUVs. These, the Q7 and VW Touareg, share MLB Evo with the Q8. This architecture is also the basis for quite a few other models, including the Porsche Cayenne, Bentley Bentayga, Lamborghini Urus plus multiple Audi cars.
Mild hybrid tech for all Q8 V6 diesels
Volkswagen is believed to be planning to build an average (and ambitious) 40,000 units of the Q8 per annum over seven or eight years. For now, the range is limited but will be steadily expanded. In Britain, so far there is just one the engine, a 2,987cc diesel mild hybrid, which Audi denotes via a 50 TDI badge. Power is 286PS and torque is 600Nm, and there are 48V electrics. Buyers may choose from two trim levels: S line (GBP65,040) or Vorsprung (GBP83,040).
The 48-volt primary electrical system incorporates a lithium-ion battery and a belt alternator starter. Audi says that under braking, the system is able to harvest up to 12kW of power, feeding it back into the battery. This helps to offset the fuel economy penalty inherent in such a heavy vehicle: even the lightest Q8 tips the scales at a minimum of 2,145kg. Still, Audi's engineers have done well to keep the weight to levels many hundreds of kilograms below that of the Range Rover Sport and Tesla Model X, to name a couple of SUVs which are respectively shorter and longer but possibly chasing similar buyers.
Hot-formed steel and aluminium
There is a lot of aluminium (and hot-formed steel) in the Q8. Aluminium parts make up 15 per cent of the body-in-white by weight. Components such as the suspension strut towers in the engine compartment and the connecting parts between sills and longitudinal members are also constructed of the alloy. The side panels as well as large areas of the floor, the rear wheel housings and the roof consist of aluminium plates, just like the frameless doors, the front wings and the tailgate. These make up 23.7 per cent of the body-in-white.
An SQ8 TDI coming in 2019?
As numbers such as 700, 750, 800Nm and more are readily available in other six- and eight-cylinder diesels of similar power, it's safe to assume that Audi will be adding a higher-torque engine – or engines – in 2019. The SQ7 TDI's 4.0-litre V8 comes immediately to mind. Not that there is inadequate performance from the existing mild hybrid TDI, more that buyers expect a choice and are not used to seeing an Audi SUV which is shown up by its German and English rivals.
Germany was the Q8's first market, deliveries commencing there in August. In that country and some others, buyers have a wider choice of powertrains. This starts with a 231PS version of the 3.0-litre diesel (45 TDI), then comes the 50 TDI, followed by a slightly more powerful 55 TDI, with the range topper being the 55 TSI. For now, this is the only Q8 with a petrol engine. It's also a 3.0-litre V6 but unlike the diesels, there is a supercharger and the transmission is a seven-speed s tronic. That means dual clutches, whereas all the diesels have an eight-speed tiptonic, shorthand for a torque converter automatic.
Big In Britain
To drive, the Q8 impresses with its silence and performance. Not that it's first class in all ways, the air suspension allowing a little too much body roll even in the sportiest of electronic settings. That's a surprise in an Audi SUV so perhaps the company has listened a little too much to criticism of overly firm suspension in certain other models. Another, more serious factor in limiting driving enjoyment is the width of the thing. You really do need to be extra cautious on rural roads and even on many suburban ones too.
Carparks can present problems as well – easing yourself in and out is often done very slowly due to the narrowness of most of Britain's public parking places. This is one of those vehicles which sits well outside the standard white lines that councils really need to start repainting about another 10cm further into roads. To park within them, Q8 drivers currently have to put two tyres on the footpath.
The 50 TDI will reach 62mph in 6.3 seconds. The CO2 average is 178g/km and average official Combined cycle consumption is 41.5mpg. Those numbers apply regardless of whether the car has 21- or 22-inch wheels. And here is another interesting fact: the top speed is not electronically limited to 155mph, as we have come to expect of most big cars powered by engines with high power and torque figures. In this case, it's quoted as being 152mph, which just goes to show the effect of weight and the aerodynamic drag of large, relatively blunt shapes compared to lower, lighter cars. The Q8 50 TDI is still very fast of course, and Audi is not alone in this – I noticed that in the press information for the new X7*, BMW lists a 250km/h (155mph) top speed for only the most powerful xDrive50i and xDrive50d variants. (*see Specifications PDF)
Fans of big touchscreens will love the Q8. While BMW has retained and updated the rotary controller which is still positioned between the driver and front passenger in its vehicles, Audi is steadily eliminating the equivalent MMI controller which used to be a familiar sight. It's quite a change and the effect is a large, wide black space as occupants enter the Q8. Press the ignition button and suddenly, there is light aplenty, as a large screen in the middle of the dashboard, supported by another for the HVAC controls and the instrumentation ahead of the driver all come to life. It doesn't take long to become familiar with where everything is and most of it is logical. There are some nice touches too, such as the word quattro being illuminated in red ahead of the front passenger – by day it just looks like a badge and there is no clue that it lights up.
Room for all occupants is in the vast category although that really means four people as the transmission tunnel's hump is fairly intrusive. Still, how often do any of us carry four passengers? If that's a regular occurrence, Audi dealers will inevitably suggest a test-sit in the larger, seven-seat Q7.
Summary
It's a curious model, the Q8, yet that won't stop it selling. Curious in that it's huge for a coupe and probably a little too wide for many villages in Britain – the parking sensors bonged loudly, and constantly during my time with it and such is the width it would have been too risky to switch them off in the interest of a quieter life. On a motorway, though, the Q8 is brilliant. Near silent, more economical than many might expect and brim full of safety and convenience tech to keep the driver and passengers super-safe, entertained and alert. It also – and this will matter to some – looks fairly intimidating at the front yet elegant from behind. Yes, there is definitely a niche for the Q8 – some owners will need to check that their garage is wide enough though.
Audi sales – preparing for the bounce
As we know, Audi is currently suffering badly in Europe and elsewhere due mainly to delays in getting all of its models and their variants through the compliance testing for WLTP. Sales in Britain have been hit hard, the brand's numbers down by 53 per cent in October and 14 per cent over the ten months. That has made it impossible for Audi to take back the number one premium brand position, its deliveries now being 130,588 compared to 147,627 for BMW and 149,482 for Mercedes. No doubt, plans are already in place to hit the ground running in 2019 in the hope that a young model line-up and the addition of models such as the Q8 and a new Q3 will entice buyers back.
At a European level, October was also a shocker of a month, deliveries plunging by the same percentage as they did in the UK, the total being 31,274 compared to 66,487 in October 2017. Year to date, the numbers are 641,470 (705,499) and a drop of 9.1 per cent. In all likelihood, within a few months, the September to December 2018 period will be all but forgotten as a one-off anomaly.
Will anyone remember or even believe that Porsche sold less than a third of the number of cars delivered by Jaguar dealers, Europe-wide, during the first month of the year's final quarter? True: 1,988 Porsches (-62%) and 6,923 Jags (+65%), according to ACEA data. Clearly, as with Porsche, when the bounce comes for Audi, it will be a high one.