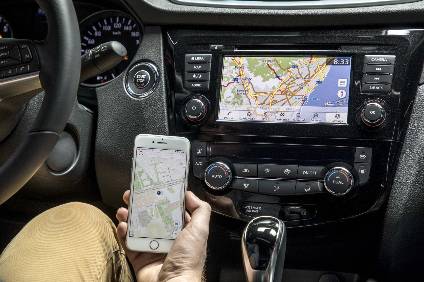 Nissan's Qashqai Pilot One Edition is this month's test vehicle in our Hands-On-Tech (HOT ) reporting series*. Taking you through the top-spec connectivity features offered by manufacturers in detail, this HOT report series looks to benchmark the connectivity functionality of each manufacturer based on various test criteria. Nissan's attempts to leapfrog competitors to deliver a next-generation package that will future-proof its popularity and perhaps jobs in post-Brexit Britain have mixed results.
Display and Switchgear
The 7″ capacitive touchscreen is small when compared with other displays of this segment. The way the physical shortcut buttons straddle either side of the screen is dated in its design. By no means the most intuitive layout, the saving grace is the use of high-quality components, offering the premium feel of a system built for a wider market.
There's no pinch and zoom functionality, though the touchscreen reacts well in leather or wool-enveloped fingers. Instead, a rotary dial on the bottom right corner acts as a scroll wheel for more accurate selection. This offers zoom functionality but in truth, this feature is a bit clunky and the variety of control options could be confusing for the average driver.
Voice Control and Mirroring Apps
Surprisingly there is no voice control with the proprietary system. So, there was nothing to assess, no preprogrammed instructions to report on or accuracy to score. However, the voice control icon—usually indicated by the outline of a head and three increasingly longer curved lines from the mouth denoting audio—appears somewhat bafflingly on the steering wheel controls.
What's more, Nissan has decided not to integrate Apple CarPlay or Android Auto, instead offering drivers an improved NissanConnect application. Keep reading for assessment of this.
Audio and Telephony
Coupled with no less than six media options, Nissan has partnered with Bose to offer an eight speaker premium audio package, with a 7.7-litre dual driver subwoofer. The quality is superb with the two subs eradicating bass distortion. Of course, the high- and mid-frequency levels are manually adjustable without any pre-set configurations.
The telephony functionality is disappointing. Rated three out of five for clarity, the Nissan's system is difficult to use earning only one out of five. It failed to import the contacts and Bluetooth connection wasn't immediate on both Android and iOS handsets. As a result, we rated it one out of five for usability, where one indicates severe difficulty—specifically answering handsfree, where the steering control buttons did not answer the call but needed touchscreen intervention on more than one occasion.
Networking and Companion App
Though a mobile handset can be connected to Bluetooth features without any hassle, all other networking is done through tethering via the NissanConnect app, which is a difficult beast to tame. The number of menus encountered to register and link the vehicle make this no easy feat. Firstly, the app is named 'Mobile App' making it unsearchable on a handset. Apps currently available on the platform include Facebook, Google Search, Eurosport, Twitter and TripAdvisor. Since the app would not connect to the vehicle, we were unable to get any real exposure to the facility of these apps, however, they did not appear the most intuitive variety of driver assistance applications. Speaking with Nissan, it appeared that the vehicle had to be registered for NissanConnect only once and connecting with a different handset would invalidate the original configuration.
From what we could glean, in the era of personalisation, there was very little offered by the Nissan system.
Navigation
The navigation threw up some very real world issues, too. Road closures and addresses with multiple access roads sharing the same postcode meant the accuracy of the navigation fell below expectation. Though the design was clear and this European-wide navigation offers free lifetime updates—through Nissan's MapCare programme—the updates are only annual; therein lies the rub.
With eight steps to set the destination and a waypoint, this navigation system is at the higher end of the tests we've conducted, only matched by the JEEP Compass and trumped by the Volkswagen T-Roc. Moreover, the Nissan's proprietary navigation system didn't auto-split the postcodes entered either.
For intuitive design across 20 inputs, including three set destinations, three add waypoints and three search for points of interest (POIs), we rated the Nissan's system three out of five, where three offers good presentation, acceptable nesting and a mixed user experience. We scored it two out of three for route accuracy across a series of journeys totaling 200 miles, where the system found the destination but not without problems.
ADAS
The Propilot and Driver Assist Packages are where the Nissan Qashqai Pilot One Edition comes into its own. The 360-degree reverse parking and bird's eye view camera are on par, if not superior, to the more luxury models tested in this series. The ProPilot pack includes Traffic Jam Pilot, Intelligent Cruise Control, Intelligent Lane Intervention and Lane Keep Assist.
Traffic Jam Pilot enables the vehicle to slow to a stop and resume crawling forward when moving in heavy traffic, keeping a pre-determined distance from the vehicle in front. The Qashqai's Traffic Jam Assist is very responsive. These semi-autonomous features are an extension of adaptive cruise control, where the radar maintains the preset distance from the car in front. The driver's hands must be kept on the steering wheel at all times, in line with road regulations. The feedback through the steering wheel feels convincing, even though it is a drive-by-wire system and the experience is smooth in most cases. Lane Keep Assist is accurate and will not fight the driver if indicators are used. This highlights a crucial requirement in an era where fewer manual drivers actually signal their intention to change lanes.
The 5″ display screen in the cluster instrumentation can be configured to show the driver's preferences and also offers vehicle servicing information, including a countdown to the next one.
Conclusion
When we drove the Nissan X-Trail in summer 2017, we were surprised to discover that Nissan had still not introduced any form of adaptive cruise control. A year on and the company has leapfrogged competitors to offer a semi-autonomous package that works with grace and ease. However, while Nissan's driver assistance features are impressive, the in-cabin connectivity is less so. Though there is a strong business case for going against the grain and not integrating Apple CarPlay or Android Auto, it is imperative that when an OEM does so, its own proprietary offering is that much stronger, by way of compensation. Nissan has not executed such an in-cabin package and as a result, the lack of CarPlay and Auto becomes an issue. Since access to media and navigation is arguably of more importance to consumers, this strategic approach is one that leaves us dumbfounded.
*This article is an extract from a report that first appeared in our QUBE service. The QUBE article is accompanied by a comprehensive data sheet with our full evaluation of the Nissan's connectivity and HMI.
Other summary articles published on just-auto in the Hands-On Tech series