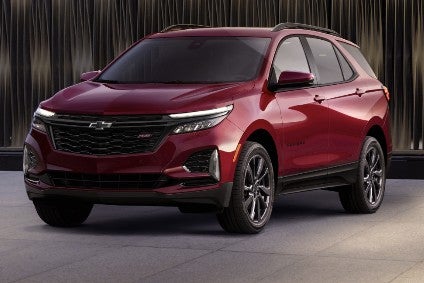 Many tend to think of Chevy SUVs as mostly big beasts, although the best seller in both the USA and China is the RAV4-sized Equinox. Now, having withdrawn the brand from certain countries in Africa and Asia, GM via its SGMW Chinese joint venture is increasingly rolling out more Chevrolet crossovers and SUVs for multiple markets in the Americas and Middle East.
The Groove is a small crossover for certain countries in Central and South America plus certain Gulf States. Production started in May. It is manufactured in China by the SAIC GM Wuling joint venture and comes off the same production line as the very closely related and older Baojun 510. More details, including the platform, can be found in PLDB.
As the 510 model was introduced in 2017, there should also be a facelift for the Groove in 2022, synchronised with one for the 510. The successor will likely be on sale in 2024.
Another of SGMW's SUVs which is going global is the Captiva . GM Colombia revealed the latest generation model at the Bogota motor show in November 2018 and it was also exhibited at the Bangkok motor show five months later. This 4,655 mm long, seven-seat SUV is the Baojun 530 with Chevrolet badges and a fresh grille. Built in China by the SAIC GM Wuling JV, it has a standard 1.5-litre four-cylinder turbocharged petrol engine.
GM has also launched this model in Peru (May 2019), followed by Ecuador, Colombia, Bolivia, Chile and Uruguay and then a year later, certain countries in the Middle East. Thailand is another market: General Motors began manufacturing the Captiva at plant in Rayong last September but the announcement of the sale of the Rayong plant to Great Wall Motor in February means production there was short-lived.
Expect the Captiva to be added to the Chevrolet line-up in Mexico later this year. The first facelift should take place in China in late 2021 and there could be another in 2023. The successor should be on sale in 2025/2026.
A facelifted Equinox premiered at the Chicago auto show in February, three years to the month since production began. Restyled for what was supposed to be the 2021 model year, an RS model grade was also new. This features a lot of blacked-out exterior detailing plus black upholstery with red stitching. US market deliveries had been due to commence in the fourth quarter but due to COVID-19, what has become the 2022MY Equinox won't now be in dealerships until 2021. A replacement is expected in late 2023/early 2024, the next model likely switching to VSS-S.
The larger Trailblazer is a three-row crossover for China, North America, South Korea and elsewhere. It can be thought of as an extended Blazer, the styling of which was heralded by the Chevrolet FNR-CarryAll concept.
Revealed at the Shanghai motor show in April 2019, the Trailblazer is built by both SAIC GM and by GM Korea, one of the latter's Bupyeong plants supplying North American markets. China's model is powered by a 121 kW and 240 Nm 1.3-litre turbocharged petrol engine. The same engine is also available in North America, along with a 1.2-litre turbo. A CVT is standard for both engines but all-wheel drive in combination with the 1.3 means a nine-speed automatic gearbox.
North America's Trailblazer is new for the 2021 model year with sales having started early, back in the spring. it was announced in May 2019. There should be a facelift for the 2024 model year and a successor in CY2026.
The new-for-2021 Suburban uses General Motors' VSS-T (formerly T1xx) architecture. This huge vehicle is four inches longer than the previous model and offers buyers the choice of three engines, each linked to a ten-speed automatic transmission:
277 horsepower and 623 Nm (460 lb-ft) LM2 3.0-litre Duramax-branded diesel V6
355 horsepower and 383 lb ft L84 5.3-litre gasoline V8
420 horsepower and 460 lb ft L87 6.2-litre gasoline V8
Among key engineering changes are independent rear suspension instead of the live axle which had been part of every previous generation. Body panels, meanwhile, are aluminium. Pneumatic suspension – GM calls it 'Air Ride Adaptive Suspension' is optional for High Country and Z71 model grades.
Just like its predecessor, the new generation model is optionally available in nine-seat layout: the front seats are replaced by what is effective a bench layout.
The Suburban is more or less an extended wheelbase version of the Tahoe, also new for the 2021 model year (see PLDB for details). Their GMC equivalents are the Yukon and Yukon XL. All should be facelifted in early 2024 and replaced for the 2028 model year.
Electric
Revealed to the media in November 2019 a few weeks ahead of its public debut at the Guangzhou motor show, the Menlo is a special model for China. An EV, it is closely linked to the Buick Velite 6 Plus MAV and is claimed to have a maximum NEDC range of 410 km. The motor's outputs are 110 kW and 350 Nm, while the battery's capacity is 52.5 kWh.
Deliveries commenced in February. There should be a facelift in the second half of 2023 and a successor in early 2027.
An electric Chevy crossover for North America will arrive in July/August 2021 for the region's 2022 model year. It had been thought that GM might revive the Volt model name but in March, the company instead told the media that the provisional name is 'Bolt EUV'. The vehicle will be positioned above the Bolt and some five inches longer. Unlike many other GM EVs, this one won't have the company's Ultium-branded batteries.
The announcement about the Bolt EUV was made at a special event held at GM's Warren Technical Center. The company also showed the new BEV3 architecture and gave details of certain other future models. Among the named vehicles was an electric crossover for Chevrolet. No launch date was given but 2022 is likely. Size wise, this EV should be around 4.7-4.9 m long.
Reports for many other manufacturers' future models are grouped in the OEM product strategy summaries section of just-auto.com.
Future platform intelligence
More detail on past, current and forthcoming models can be found in PLDB, the future vehicles database which is part of GlobalData's Automotive Intelligence Center. That includes the Chevrolet models not included in this feature.
This is the fourth of seven features exploring the passenger car brands of General Motors, including its Chinese JV with SAIC and Wuling Motors . First came an exploration of what's ahead for Baojun, then Wuling, then Chevrolet cars and pick-ups. Next will be GMC and Hummer, followed by Buick, and finally, Cadillac.