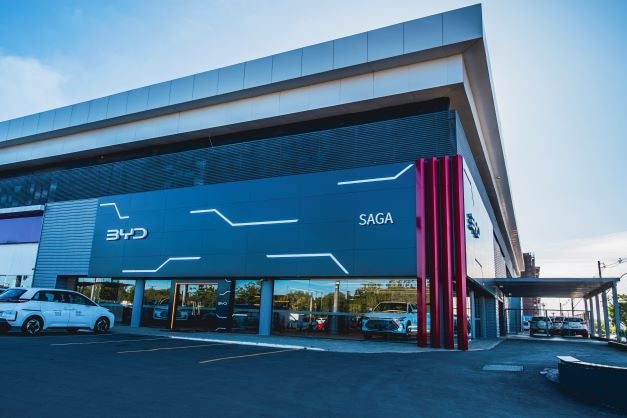 November's Global Light Vehicle (LV) selling rate eased back to 84 mn units/year from October's revised 85 mn units/year, according to analysis by LMC Automotive (a GlobalData company).
In raw registration terms, November rose 3.2% YoY (year-on-year) to 7 mn units. The year-to-date (YTD) figure now stands at under 1% below the corresponding period in 2021, though this is a weak base for comparison.
A major development in November was a sharp deceleration in China, contrasting with the strong rebound earlier in the year. In YoY terms, sales fell by 7% in November, ending five straight months of strong rebound. North America and Europe are still struggling YTD as supply-side factors continue to hamper sales.
As we near the end of the year, 2022 is looking like a disappointing one in terms of the global light vehicle market. A global market projected at 81.2 mn units in 2022 is flat on 2021 and 10% under 2019's level (just over 90 mn).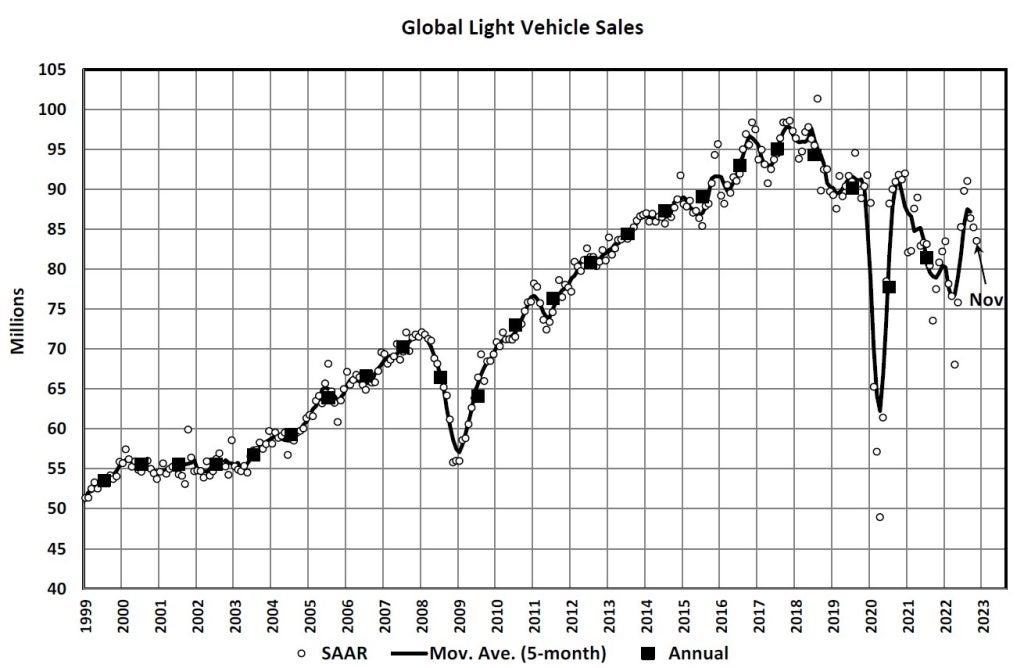 A summary of market developments in the world's regions follows.
North America
U.S. Light Vehicle (LV) sales grew by 11.6% YoY in November, to 1.1 mn units. The YoY gain was largely a result of weak sales a year ago, while the selling rate fell from 15.2 mn units/year in October to 14.2 mn units/year in November. Inventory levels are climbing, but average transaction prices hit a new all-time record in November, at US$46,246. Fleet sales are picking up some of the slack from the retail market, accounting for around 18.4% of volumes in November, the highest share since March 2020.
Initial estimates put Canadian sales at 126k units in November, a YoY gain of 9.8%. The selling rate is thought to have slipped to 1.67 mn units/year, from 1.72 mn units/year in October. Again, the YoY comparison is flattered by a slump in Q4 2021 amid the worst of the inventory shortages. In Mexico, sales were up by 15.7% YoY in November, to 95k units, but the selling rate slowed to 1.0 mn units/year, from 1.1 mn units/year in October.
Europe
The West European selling rate rose to 13.8 mn units/year in November – the second strongest performance of the year behind August. In raw monthly registration terms, November increased 15% YoY, with 1.1 mn cars registered. Year-to-date (YTD), however, the market remains down (-8% YoY) owing to vehicle supply constraints hampering market activity.
The East European selling rate grew slightly from the previous month to 3.0 mn units/year. Despite the increase in sales for November, the market is still down 28% YTD due to the war in Ukraine restricting supplies and sanctions decimating Russia's sales.
China
The Chinese market decelerated sharply in November, amid sporadic lockdowns across the country and an increasingly uncertain economic outlook. Preliminary data indicates that the November selling rate was 24.9 mn units/year, down 12% from a robust October. In YoY terms, sales (i.e., wholesales) fell by 7% in November, ending five straight months of strong rebound. Both production and sales were disrupted by COVID-19 outbreaks and lockdowns in major cities, including Guangdong and Chongqing. Reportedly more than 40% of dealerships in the country had to suspend operations last month.
NEV sales, however, continued to perform relatively well. According to advance data, NEV sales expanded by 58% YoY in November, led by BYD and Tesla, and accounted for almost 29% of Passenger Vehicle sales. The government has extended the temporary purchase tax exemptions for NEVs until December 2023, which should continue to support NEV sales next year. Looking ahead, the abrupt end of the zero-COVID policy and surging infections raise a concern for the near-term sales outlook.
Other Asia
In Japan, the selling rate accelerated to 4.8 mn units/year, the highest rate since April 2021. Continuing improvements in component supplies helped boost production and thus sales, especially for Mini Vehicles (which account for about 40% of total LV sales). Demand continues to outstrip supply as consumers face extended delivery times for their vehicles. Despite the improvements, sales contracted by 6% YTD. The market is heading for a worst sales year since 2011, the year of Tohoku earthquake and tsunami.
In Korea, too, sales gathered momentum in the run-up to the expiry of the temporary excise tax cut at the end of this year. The November selling rate reached 1.8 mn units/year, the highest rate since early 2021, boosted by strong sales of imported vehicles. In contrast, sales growth of domestically built vehicles was modest, despite production having expanded by 25%. Prior to the unionized truckers' strike, Hyundai and Kia built up inventory, but prioritized the export markets leaving low supply for the local market.
South America
Brazilian LV sales increased by 18.7% YoY in November, to 192k units, while the selling rate accelerated to 2.3 mn units/year, from 2.0 mn units/year in October, the strongest rate since February 2021. The start of the FIFA World Cup did not appear to hinder the market, as it has on previous occasions, but some of these November sales were likely delayed from October, due to the election and subsequent protests.
In Argentina, sales are estimated to have grown by 20.1% YoY in November, to 31k units. The selling rate improved to 428k units/year in November, from 401k units/year in October. This was the fastest selling rate since November 2020. Despite government restrictions, imported models gained slightly last month, enabling this relatively upbeat result.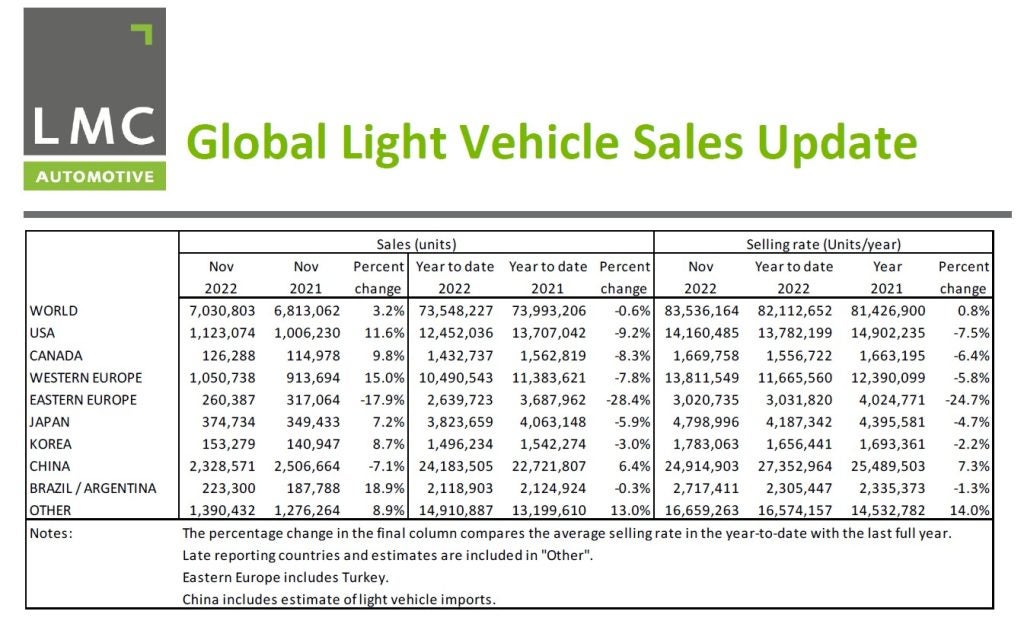 OPINION – Just Auto editor David Leggett adds:
There are welcome indications that the worst of the semiconductors shortage is now behind us with a gradual easing in prospect. One upside of backed up orders is that activity in factories can be 'smoothed' just as the emphasis switches to broader demand concerns and slowing economies due to a toxic combination of surging energy prices, lower household incomes, higher interest rates and significant ongoing geopolitical worries (all of which look set to be with us in 2023).
The demand outlook at this stage in what would normally be a relatively familiar industrial cycle is disappointingly weak. The latest LMC Automotive forecast for 2023 is for a global light vehicle market of 84.4 mn, barely an improvement (+4%) on an already depleted base.
Keep a close eye on China. The world's largest vehicle market is in a state of considerable flux. Beijing's decision to rapidly reverse the zero-Covid policy comes with enormous risks and uncertainties – in terms of both the immediate public health outlook and knock-on economic impacts. The next few months will tell us much about where the Chinese economy is heading and the Chinese government's response to any economic fallout. If the economy takes a big hit, attention turns to possible stimulus measures – so don't rule out new incentives in the autos sector.
More generally a big question is this: Will companies have to make significant changes to their global manufacturing footprints? It hasn't really happened yet, but the drop-off in volumes from 2019 is large and tinkering with model-mix has its limits as demand weakens. The OEMs will be reluctant to act, but the pressures will be building next year, especially if risks start to rise on the 2024 outlook. If the divergent trends in the global market continue, the mature markets will be the ones that feel the pressures most.
In the background, trends towards more automation and plants that require fewer workers to assemble EVs will add to the general feeling that a shake-out is coming. No-one wants ultimately to be a laggard in adjusting – the pain could be greater if there's a competitive loss on top of a sectoral one.