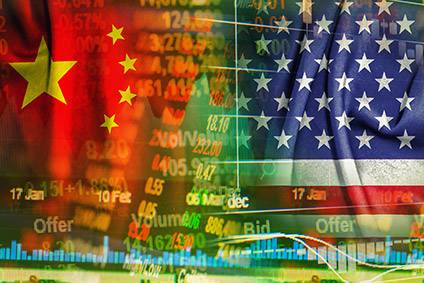 The global vehicle market was virtually flat in 2018, but the fourth quarter showed a near 5% year-on-year drop on the back of a similarly sized decline posted in Q3. Dave Leggett takes a look at the market numbers and considers the outlook for 2019.
Our analysis puts the global light vehicle market in 2018 at around 94m units, a result that is a shade under 0.1% ahead of the previous year's tally. A virtually flat picture for the year as a whole hides a deteriorating trend though: the third quarter and fourth quarter were down 4% and 5% respectively. It looks likely that the global market this year will sh-show a small decline, weighed down by lower sales in major automotive markets. The worrying trend in the second half of 2018 can be boiled down to one word and it's a word that has automotive executives in a sweat: China.
The world's biggest car market has gone into reverse for the first time since 1990. New vehicle sales in China fell by 2.8% to 28.08m units in 2018 from a record 28.88m units in the previous year, according to data from the China Association of Automobile Manufacturers (CAAM). The trade spat between the US and China has certainly spooked consumers and investors, but China's economy was on course for slowdown anyway. As Beijing tries to steer the vast Chinese economy towards more domestic consumption and away from reliance in export manufacturing, it's becoming clear that the efficacy of available policy levers is far from straightforward. Add in sentiment rocked by new tariffs on US-China trade (with the prospect of more to come), declining property prices and stock markets, and it's perhaps no surprise that consumers are sitting on their hands.
Expect to see subsidies and incentives rolled out by Beijing to stimulate activity in 2019 – automotive will be first in the queue.
China's economy grew by 6.6% last year (officially, anyway), the slowest annual pace since 1990, when sanctions were imposed following the Tiananmen Square massacre. The Chinese economy has, of course, grown massively since then, but more sluggish economic growth won't be easily turned around. Beijing's policymakers have a pretty good track record in economic management though. Past experience suggests China will act quickly to counteract economic slowdown if there are signs it is too sharp. Infrastructure spending is up and some taxes have been cut. Expect to see subsidies and incentives rolled out by Beijing to stimulate activity in 2019 – automotive will be first in the queue.
Much does depend this year though, on the state of the US-China relationship. If the world's two largest economies are engaged in hostile rhetoric that threatens more trade disruption and lower economic growth, consumers and businesses will likely rein in their spending further. Another round of US tariffs on Chinese goods has been postponed, but not yet cancelled. If behind-the-scenes talks don't go well (China will likely commit to buy more US products and liberalise rules further, which could be presented as a 'win' by The White House) the trade war could heat up again in the summer. And if Chinese customers put off car purchases, American companies will be among the losers seeing lower volumes and their bottom lines squeezed.
The China Association of Automobile Manufacturers (CAAM) has projected a flat Chinese vehicle market in 2019. It wouldn't take much to tip the market into decline, especially given the deteriorating trend in the past two quarters. Keep an eye on incentives designed to support sales though. Opportunities could be strongest in New Energy Vehicles (NEVs – electric and plug-in hybrids) where incentives and subsidies are likely to be concentrated.
US market hits a plateau
Although economic fundamentals in the US remain strong, a decline to the market in 2019 looks likely.
The US market hit something of a plateau in 2018. Light vehicle sales turned out at 17.3m units, less than 1% higher than the previous year. That's the fourth successive year the market has breached 17m units, so it's running at a natural ceiling, analysts say. The worry is that a big supply of new cars over the past few years could result in a sharp crash if anything negative grabs headlines. Donald Trump's corporate tax cuts have undoubtedly supported the performance of the US economy, but their impact will be diminishing just as interest rates have picked up. Political turmoil in Washington doesn't help sentiment either. Although economic fundamentals in the US remain strong, a decline to the market in 2019 looks likely.
Western Europe's car market turns down
Car sales in Western Europe in 2018 were down 0.7% on the previous year, with a total of 14.2m units sold – the first annual decline since 2013. In many markets across the region it was a weak end to the year. The Italian economy, for example, is teetering on the edge of recession and consumer and business sentiment has also dipped in many other countries, including Germany. France's economy has taken a hit as protesters have hit the streets. France's 'gilets jaunes' perhaps encapsulate the sense that all is not that well politically in Europe. And of course, there's the small issue of Brexit to keep an eye on.
Diesel car sales are on the wane in Europe and that also translates into a softer market because many diesel car owners are putting off replacement purchases in the absence of clear signals from policy makers on how diesel cars will be treated in regulatory and tax terms. Nowhere is the rapid decline of the diesel passenger car more evident than the UK (car market down 7% at 2.37m units in 2018), where the diesel share of the car market fell to just 32% in 2018, which compares with 42% in 2017.
The adverse impact of WLTP on German car manufacturers – notably Volkswagen – created availability shortages that also helped to explain market weakness in Germany in the fourth quarter of 2018. That effect could persist into the first quarter of 2019.
Market leading VW Group reported a whopping 18.6% decline to third quarter operating profit as its bottom line was dented by weaker vehicle sales and the impact of tighter emissions testing regulations – WLTP – in Europe. Put the blame on WLTP.
It seems likely that the European car market will struggle to maintain sales at the current level in 2019, especially if there is any significant slowdown to the European economy or interest rates rise significantly. Demand across the region looks fragile. A disorderly Brexit could also create greater further negative sentiment among car buyers – and not just in the UK.
Emerging markets – mixed picture
Emerging markets around the world showed a mixed picture in 2018, in part a consequence of global economic developments and knock-on effects from higher interest rates in the US and what that does to international capital flows.
One positive: Russia's car market continues to advance, albeit from a low base. The Russian economy enjoyed a boost from higher energy prices over a substantial part of 2018 and that helped lift the market by around 6% to a level approaching 1.7m units. There was also an extra lift towards the end of the year ahead of a VAT rise from 18% to 20% on 1 January 2019. The extent of any 'pull forward' effect will, however, be mirrored in a possible 'payback' effect in the first quarter.
In India, higher oil prices and interest rates combined with a disappointing monsoon – which hits agriculture and the whole economy – to rein back market optimism earlier in the year. Nevertheless, India's rate of GDP growth is still expected to have increased to over 7% in 2018. According to India's automotive trade body, SIAM, the Indian car market expanded by around 6% during the April-October period of this year. A car market of around 3.4m units is forecast for this fiscal year. Optimism could build on the outlook if vehicle sales avoid falling back significantly, despite current headwinds. Some estimates put the Indian light vehicle market at just short of 4m units in calendar 2018, 8% ahead of 2017. Finally it seems, the sheer weight of population and rising incomes for the urban middle class in India is being translated into a very sizeable car market, albeit one dominated by small cars.
Elsewhere, a mixture of higher interest rates and political events are acting as a brake to emerging markets. Iran? The re-imposition of sanctions has caused its economy to go into sharp reverse and car sales were off at least a third on 2017's level. Optimism for new investment involving European partners is drying up. Turkey has experienced a financial and economic crisis that has inevitably hit the auto sector.
In Brazil, the optimism surrounding the newly elected populist president (Bolsonaro) could be sorely tested as the economy is buffeted by the strong dollar and still-high public debt. In 2018 though, Brazilian vehicle sales were up against the previous year by around 15%, with over 2.5m light vehicles sold. However, neighbouring Argentina remains in the grip of financial crisis, volatile vehicle sales running around a third lower at times during the year.
On the plus side, Asean vehicle sales were up around 5% in 2018 at around 3.6m units. Thailand continues to be the main driver of growth for the region's vehicle market, with sales rising by 22% in the third quarter. The country's economy expanded strongly in the first half of the year, by 4.7%, and is forecast to grow by around 4.5% over the full year. The Thai vehicle market exceeded 1m units in 2018, as did Indonesia's (1.1m units).