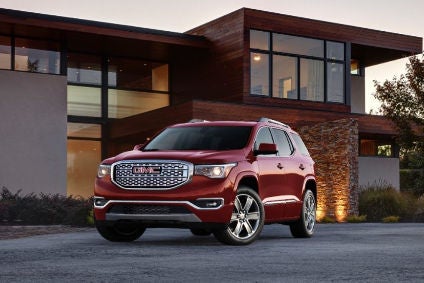 In the past, General Motors never seemed able to have all its divisions acting in sync. Costs skyrocketed as platforms were re-engineered for different regions and brands were saddled with superfluous models. Now, a leaner GM plans to use ten core architectures, many of which will have shared modules, for all future vehicles.
GM-SAIC Small
The first vehicle to use Small will be the replacement for the third generation Chevrolet Sail with that car due in 2018. The new range of models will be built and sold in China, India, Brazil and Mexico and exported to modest income/high growth markets. GM believes it will eventually be building up to two million vehicles a year based on this new architecture. Successors for the S4200 series cars will also be based on Small: models such as the Chevrolet Corsa Classic, Prisma and Celta. There should an SUV for Brazil, India and China.
Gamma 2
Lots of vehicles will use Gamma 2, with many of them being engineered and sold in Europe. That includes the next Opel/Vauxhall Corsa (project code: G2J0) due in 2018 and to be manufactured at Figueralas and Eisenach.
There will also be a follow up to the Karl/Adam (G2DO). The current model was not developed with US emissions and crash test regulations in mind but the successor is reportedly being engineered for potential sales in North America. Today's oil price would seem to suggest a variant wearing Buick badges might be a flop in that region, but it could well be a hit in China. And who knows what a gallon of gasoline will cost at the pumps in the US by the time the car is ready for launch in 2018?
In answer to where in Europe will Opel build the next Adam/Karl be made, it could be at one of two plants. German unions voiced concerns in November 2014 over the future of Eisanach. This is where the Adam and three-door versions of the Corsa are built. The factory has been guaranteed to remain open until 2018 but Opel has said nothing about what happens after that. Should Eisenach be closed, the next Adam would be made at Zaragoza/Figuerelas.
Gamma 2 is already in existence as the basis for vehicles such as the G2SC Chevrolet Spark. Other models to come include the next Aveo/Sonic (G2SC), the imminent Bolt EV, Opel/Vauxhall Mokka X successor (G2UO), next Buick Encore (G2UB) and future Chevy Trax (G2UC).
Compact 2
C2XX is to be the basis of many compact-mid sized crossovers and SUVs, with the first of these being the C1UL Cadillac XT5, soon to be followed by the next GMC Acadia (C1UG).
Next year we will see some more models based on this architecture. This includes a crossover to replace Opel and Vauxhall's Zafira people carrier, while in North America, the successors for the Buick Enclave (C1YB) and Chevrolet Traverse (C1YC) are also scheduled to appear.
Some are calling another model for GM Europe (C1YO) 'Monza X'. This vehicle would logically be a version of the Buick Enclave to challenge the VW Touareg replacement, as well as the Ford Edge, Hyundai Santa Fe and Renault Espace. A concept version should have its debut on 29 September at the Paris motor show, with the production model to follow next March at Geneva. Production will be at Rüsselsheim.
Delta 2
The new (D2JH) Opel/Vauxhall Astra, D2JB Buick Verano and North America's new Chevy Cruze are the big volume model for GM's Delta 2 platform. It is also EV and PHEV compatible, as the D2JC Volt proves.
In addition to being for compact cars, this platform will serve as the base for a couple of Cadillac crossovers, the XT2 (D2JL) and XT4 (D2UX), each of which will be on sale in North America and China from 2018. Coming sooner than that is the long delayed next generation Chevrolet Captiva (D2UC) to be followed in 2017 by a Holden Captiva (D2UH). The latter two will be manufactured by GM Korea at Bupyeong.
Epsilon 2
Opel and Vauxhall's next Insignia is out in Europe late next year, codenamed E2JO. Rüesselsheim will build four variants: sedan, hatchback, wagon and Country Tourer. The same plant is also expected to build the next generation E2SB Buick Regal. This should be nearly identical to the Insignia sedan, while a version of the Country Tourer is expected to be called Regal TourX. It also seems likely that the next Holden Commodore sedan and wagon will be sourced from Opel's main German plant.
SAIC GM will use Epsilon 2 for the follow up to the Roewe 950. This big sedan was likely previewed by the Roewe Vision R, a concept which premiered at November 2015's Guangzhou motor show. This gold-painted design study was similar in stance to the BMW 6 Series Gran Coupé. The new model should be based upon the latest (E2LB) Buick LaCrosse.
Those presuming that the next generation Cadillac XTS will use Epsilon 2 should note that this car will not be replaced. Cadillac president Johan de Nysschen stated this fact in an interview at the New York auto show in April 2015. That also means that the brand may eventually withdraw from the funeral car and stretched limousine/livery market. The XTS should remain in production until eventually being phased out in 2019. The CT6 can be thought of as its effective replacement.
Alpha
Having started life as the basis for the compact sized Cadillac ATS, the Alpha platform has since been updated and used for the A1BC Chevrolet Camaro. Both these cars are made in Michigan at Lansing Grand River with a long-wheelbase ATS also built in China. This is by the SAIC GM joint venture. Production is at the South Plant of the Pudong complex in Shanghai.
The larger CTS also uses Alpha but this car will not be replaced, production being due to end in 2020. This will be a year after the ATS sedan becomes obsolete, and there will not be a successor for this one either. The problem with both these models is their size, so GM will probably create one, possibly two vehicles which are closer in dimensions to the Mercedes C- and/or E-Class sedan(s). This might seem strange at first but Cadillac will be gaining additional SUVs as well as a smaller car with which to attack the success of the Mercedes CLA-Class four-door.
Will there be an Alpha 2 architecture? Yes there will be, this being the basis for the seventh generation Chevy Camaro which should enter production in 2022.
Omega
Cadillac's O1SL CT6 sedan, which is larger than many of its logical competitors, such as the Lexus GS, was the introductory vehicle for Omega, a RWD matrix which has AWD and PHEV capability. North American production is at Detroit-Hamtramck, with cars for China made by SAIC GM at Pudong South.
Next for Omega will be a larger model which Cadillac will aim at the high-margin long-wheelbase versions of the Mercedes-Benz S-Class and BMW 7 Series. Due to appear at the end of the decade, this will be called either CT8 or CT9.
Mid-size pick-up platform
The seventh of the ten platforms is used for the Chevrolet Colorado and GMC Canyon twins, as well as the Isuzu D-MAX, plus the TrailBlazer, Holden Colorado 7 (soon to be facelifted and renamed TrailBlazer) and Isuzu mu-X SUVs. This ladder frame chassis was introduced in 2011 and will be updated in 2018/2019 for the next generation Colorado and Canyon.
T1XX
T1CX (Chevrolet Silverado/Cheyenne 1500) and T1XG (GMC Sierra 1500) should be the debut models for an aluminium-intensive architecture. Due in 2018, this means a short, five-year lifecycle for the current big pick-ups. Alcoa and Novelis are believed to have signed contracts with GM for the supply of aluminium sheets for these vehicles. The metal will be used for body panels but the frame should be steel. The 1500 Crew Cab should be manufactured in Silao, Mexico and Flint, Michigan, with the Regular Cab & Double Cab to be built at Fort Wayne, Indiana.
Two of GM's most aged models, the Chevy Express and GMC Savana should also be based on T1XX with production likely to remain at what will be a retooled Wentzille plant. New versions of these big vans and their passenger carrying variants, all due in late 2018, cannot come soon enough with the Ford Transit having taken control of this segment of the North American market. Unlike the Silverado/Sierra, the Express/Savana will have steel body panels.
K2XX
Technically speaking, K2XX should be the second generation of a 'K' architecture. However, this platform, which is for large pick-ups and SUVs, has been around since 2013. The K2YC Chevrolet Suburban and K2UC Tahoe, as well as the K2UG GMC Yukon and K2YUG Yukon XL were the launch models, as were the K2XC Chevy Silverado/Cheyenne 1500 and K2XG GMC Sierra1500. These were followed by the Heavy Duty versions and the Cadillac Escalade.
In 2020, we'll see the follow-up to the Tahoe SUV. The next Escalade is scheduled to enter production in the third quarter of 2021. It will retain its name in defiance of the XT convention which is the first part of the three-character denomination for all other future Cadillac crossovers and SUVs. There will again be a long-wheelbase ESV too. GM is reported to be planning to make the next models more expensive, aiming them at the next generation (development code: L460) Range Rover and Range Rover L.
Details of a full list of worldwide GM vehicles can be found within PLDB, just-auto's current and future vehicle database.