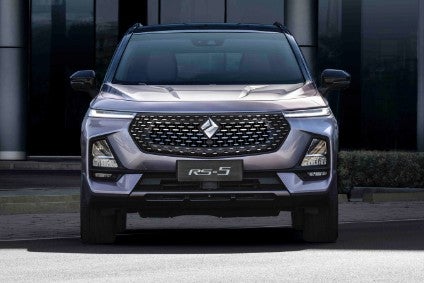 Only a year ago, SAIC GM Wuling's Baojun division was riding high, shooting up the Chinese market for passenger vehicles into seventh place. Now, sales have collapsed to such an extent that Baojun had crashed to fourteenth place in wholesale deliveries for 2019 at the end of July. The three partners have hit the reset button with plans for a range of stylish new SUVs, hoping that this will lead to a reversal of fortune.
Data from CAAM show Baojun wholesales at 41,923 units in July, a year-on-year drop of 26.5 per cent, and year-to-date deliveries hitting 292,983, down 44.5 per cent. Volkswagen, Honda, Toyota, Mercedes, Audi and Hyundai are doing way better than most other brands when it comes to ignoring the overall decline in vehicle sales, thus proving once again that having the right models and a stream of new ones along with slick marketing and promotions, is so often the answer.
SGMW has proved in the past that three OEMs are able to think as one and make quick, intelligent decisions so Baojun may well bounce back if buyers like the look of its new and next generation models. All the same, competition is especially brutal in affordable categories where this brand competes. GM, SAIC and Wuling Motors will have to decide whether they would prefer to live with lower sales and not chase profit-destroying volume as so many other OEMs appear to be doing.
Cars
The brand's smallest car to be powered by combustion engines is the 310, which is a hatchback version of the former 330. That 4,032mm long sedan was discontinued in early 2018 after fewer than three years on the market. The platform has its origins in Opel technology from the 1990s and as such, is extremely low cost.
The 310's public debut was at April 2016's Beijing motor show and the car entered production four months later, going on sale in September 2016. Unusually, SGMW also offers a 310 Wagon which at 4,610mm, is a fair bit longer than the 310. SAIC-GM-Wuling revealed this model at Auto Shanghai 2017. Just one year after its premiere, a facelifted 310 Wagon was announced at the Beijing motor show in April 2018.
The eventual replacement models are almost certain to use GM and SAIC's new GEM small car architecture. The next generation hatchback and wagon will likely go on sale in 2022 and 2023.
Details of certain other non-SUV or EV Baojuns, including the 630, a sedan, and 730, a big selling MPV, can be found in PLDB: see the link at the bottom of this report.
Electric
The smallest Baojun model, a 2,488mm long two-seater, went on sale in Guangxi province – where the car is manufactured – from July 2017. The E100 is a plug-in hatchback which shares some styling features with the previous shape smart fortwo.
According to SAIC and GM, the car's name is meant to represent a 100km/h top speed. The range, originally between 100 and 160km, was lifted to as many as 200 after a battery pack update was announced in June 2018. Sales expectations were not high, but deliveries averaged around 1500-2000 a month during the first year.
The E200, announced by GM China in September 2018, is one of the most striking looking cars sold anywhere. This electric hatchback is only 2,497mm long and has one motor which produces 39hp. The car has "a constant-speed" range of up 270km or 210km under New European Driving Cycle (NEDC). Some sources have claimed that the E200 will replace the E100 but a spokesman for GM China stated in September 2018 that this is not true. The little car is due to be facelifted in 2022 and replaced in 2025. In each case that should be twelve months after the equivalent changes for the E100.
SUVs
At just 4.2m long, the 510 is the brand's smallest SUV. Sales in China commenced in February 2017 and prices started at an affordable Yuan 54,800, which at the time, equated to only US$7,965. This model has remained a fairly strong seller and is the number two model behind the 730. The second generation 510 will almost certainly use SAIC and GM's low cost GEM architecture.
The 530, a 4,655mm long SUV, had its world debut at the Guangzhou motor show in November 2017. Chinese market deliveries started four months later. It competes with the Haval H6 among others in its size class.
SGMW released the Baojun 530 with a choice of eight variants offering 1.8-litre and turbocharged 1.5-litre petrol engines. There are three gearbox options: six-speed manual, dual clutch automatic and torque converter automatic.
SAIC based the Hector, its first locally built MG for the Indian market, on the Baojun 530. The original is due to be facelifted in 2021. A successor should be launched in 2025.
The RS-3 is to be a 4.3m long SUV. Images leaked to the internet two weeks ago. The sales launch should take place during the fourth quarter after a potential public premiere at the Chengdu motor show in a few days' time. Expect a seven-year life cycle, which would mean a facelift in mid-2023.
What will be the brand's smallest RS-badged crossover will slot in below the existing RS-5. This 4,570mm long SUV was announced to the media in China in October 2018. Its public premiere was at the Guangzhou motor show during the following month. As for powertrains, there is a 135hp naturally aspirated 1.8 or a 148hp turbocharged 1.5, each of which has four cylinders. Sales commenced in China during April and for the period to the end of July, deliveries numbered 12,694 units.
The RS-5 was the first model for a rethink by SAIC-GM-Wuling about the Baojun naming system. In brief, there can be three prefixes: RC, RS and RM where the R stands for the 're-creation' of Baojun and the C, S and M are shorthand for Car, SUV and MPV. The number is meant to indicate the vehicle's size relative to other Baojuns. See the PLDB link below to gain access to information on the RM-5 and RC-6.
Reports for many other manufacturers' future models are grouped in the OEM product strategy summaries section of just-auto.com.
Future product program intelligence
More detail on past, current and forthcoming models can be found in PLDB, the future vehicles database which is part of QUBE. Details of other Baojun models not named in the above report can be found there.
This was the first feature in a series which examines future models for the passenger vehicle divisions of General Motors. The second one will take a look at Wuling, another brand which is co-owned by General Motors, SAIC and Liuzhou Wuling Motors. After this will come Chevrolet cars, Chevrolet SUVs and pick-ups, then GMC, Buick, Cadillac and finally, Holden.