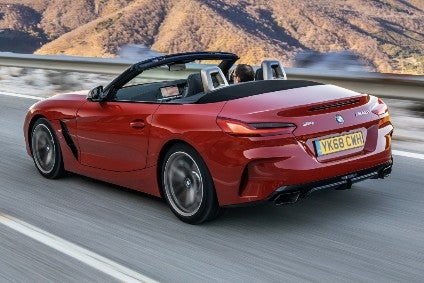 Daimler says it won't replace the Mercedes SLC, Audi plans to axe the TT and Nissan keeps trying to fathom how it can make a business case for a new 370Z. These are troubled times for sports cars. Or are they? BMW has orders coming out of its ears for the new Z4, and the car's global roll-out isn't even complete.
We all know that models such as these can get off to a stellar start, only to crash to earth and then sell in the low thousands (or worse) a year. That's due to buyers of these types of cars wanting to be the first to have one. A couple of years after the initial sales launch, deliveries typically spiral downwards, cases in point being the Toyota 86 and Subaru BRZ. Excellent cars both but nowadays, rarely bought. Or look at the Jaguar F-Type: beautiful, inspired dynamics, insanely fast and seldom seen due, probably, to silly pricing. Even now, the least expensive F is still more expensive than the top-spec Z4.
There are exceptions to any rule, the Mazda MX-5 being one, although it costs way less than most roadsters. Plus, it has a strong following in key markets such as the UK, Germany and certain parts of the USA. The Japanese company has also always been good at releasing evolutions of each generation model. And not just an alternative roof system either, but fresh engines and something else which buyers in some countries respond to: special editions.
BMW once had a competitor for the little RWD Mazda in the form of the Z3 but for various reasons, the company decided that it wanted to make the successor bigger, faster, heavier and pricier. The first and second generations of the Z4 did OK for a while but each soon faded not too long into the production cycle.
To break the pattern and keep development costs down, we know what BMW did: got TMC involved in the project to create a new Z4. It's way too early to know if G29 and its Toyota A90 equivalent will make money for the parent companies but if hype equals success then the Z4 and Supra are off and running. Fast.
The most rapid of three available versions is the M40i, this range topper supplementing the four-cylinder sDrive20i and sDrive30i. The company is saying nothing about potentially adding a Z4, at least not in the immediate future. So for now, if you the order the most powerful roadster offered by BMW, it's 'only' got 250kW (340PS) pushing it along. That comes from a turbocharged straight six which also produces 500Nm of torque. All of this is fed through a ZF eight-ratio torque converter automatic transmission. The two cheaper alternatives both use a 2.0-litre engine, outputs being either 145kW (197PS) and 320Nm or 190kW (258PS) and 400Nm.
Before we take a deep dive into how good a car it is, let's look at what's going on in the sales charts. Would you believe that this car is outselling the recently and, shall we say, strikingly restyled 7 Series? Germany is still a good market for big limos from the home team brands, plus the facelifted 7er has resulted in a big sales boost, so the Z4's achievement is all the more noteworthy. Will this change Audi's mind about cancelling the TT replacement? Probably not but that company will be studying buyer behaviour in this segment very closely indeed throughout 2020 and 2021 if the Z4 keeps on selling well.
Year to date, Z4 deliveries hit 3,045 on 31 July in Germany while the 7er's equivalent number was 2,619. The Z4 is still building up a head of steam too, production having started as recently as February so the order backlog won't be insignificant. In July, the comparison shows 555 sales for the roadster and 384 for the '7. It's even doing better than the 8 Series (546 in July and 1,710 YtD). And would it be unkind to Honda Deutschland to point out CR-V sales? Sorry: it's listed by the KBA below the Z4 at 2,844 year to date. How about the Supra? It's too recent an arrival for its totals (4 and 17 YtD) to be meaningful.
Ah yes, the Supra. I haven't driven one of these yet but like the Z4, it's way smaller in the metal than it looks in pictures. If they were sedans, each would be a Compact. The BMW is just 4,324mm long and 1,304mm high but 1,864mm wide, giving it a strong stance on the road. This isn't the smallest model in the maker's range, that honour belonging to the F40 1 Series, the new hatchback being five millimetres shorter. The Supra, at 4,379mm, is relatively lengthy compared to these two.
Lift their bonnets or take a glance at either vehicle's interior and it's clear that BMW had a lot of influence in this supposed 50-50 project. All engines are from the German firm, and the interior looks a lot like that of the latest G20 and G21 3 Series. All of this is a very good thing. The architecture too was developed in Munich. It's an adapted version of 35up, also known as CLAR, a platform which was introduced in 2015 with the current 7 Series. There is the potential for all-wheel drive but BMW is unlikely to make that available as it would likely upset the handling purists.
Personally, I love how the Z4 looks and I was also quite a fan of the old car. The big difference between the E89 series model built between 2009 and 2016 was the folding metal roof. That meant a small boot and from certain angles, a slightly compromised appearance. There are no such issues with G29, plus the fabric roof whirs up and down in 10 seconds flat and there is no intrusion into your luggage capacity.
It's a shame there is no spare tyre or runflat tyres, just a 'mobility kit' stashed in a compartment. The battery lives in a bay below the floor. As well as there being pretty much no space for it in the engine bay, that location also helps a little with weight balance. Speaking of which, the M40i's official mass is just shy of 1,600kg which seems a lot for a car of this size.
Boot volume is 281 litres and there's a skis flap, on the other side of which is the door to a fairly commodious cubby box. This is centrally positioned behind the occupants, adjacent to a long, transverse shelf fenced off by a net (stash an umbrella there and/or water bottles), aft of the two seats. It's not too hard to reach around and grab things or plunge your hand into the little cave to stash sunglasses cases or anything else which won't fit into what are narrow door pockets. The glovebox isn't exactly generous but hey, no-one buys a car like this for its roominess. And in the Z4's favour, it has a lot more space for people and things than an MX-5.
There are a few things which aren't ideal about the car, and that includes the annoying habit of BMW Group vehicles' mirrors to unfold themselves when you have specifically hit the fold button. This happens as speed rises and seems to be around the 25mph mark. In narrow lanes, it can be the difference between losing a mirror or not. Another thing I'm not crazy about is BMW's digital instrumentation. Why can't we just have those beautifully clear dials and not the same virtual readouts as that which you'll see in the 3 Series? Hit Eco and the appearance changes to a light blue, and predictably, to red for Sport mode.
Ah yes, Sport mode. Even if you haven't pressed that button on the central console the straight six engine has the most beautiful timbre. Rejoice that BMW has remembered how important this is and brought back fruity exhaust notes. Sport brings in the extra delight of pops during the transmission's automatic rev-matching on downshifts and a somewhat rortier note all round. Roof down on a summer's day in rural England, this car is worth every penny of the not insubstantial cost.
Along with the noise it makes, you'd buy the M40i for the way it grips and refuses to lean in bends. There is just the tiniest hint of the back end wanting to obey the laws of physics if you stamp on the right pedal. Then in an instant, electronic guardian angels push the tyres hard into the road and the car rockets out of a junction with zero screeching or sliding. But you can feel the satisfying sensation of this being a properly torquey rear-wheel drive sports car in a way that an Audi RS TT, as alluring it is in so very many ways, cannot quite match. And the 718 Boxster? I would have to say that the BMW runs it very, very close.
With the 718 being well over seven years old, the Z4 must be taking sales from that car, even as Porsche attempts to give it fresh appeal via the newish, 220kW/300PS 2.0-litre Boxster T. Next year's third generation of that model series will have to be exceptional to be significantly better than the M40i.
The BMW Z4 M40i costs from GBP49,185, reaches 62mph from a standing start in a claimed 4.5 seconds, has CO2 emissions of 168g/km and WLTP consumption of 33.2mpg. It is manufactured in Austria by Magna Steyr on the same production line as the Toyota Supra.