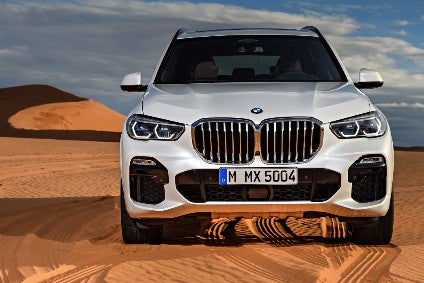 Sport Activity Vehicle is what BMW calls each of its X models. After a recent look at cars, this second feature in the future models series turns to current and next generation SAVs. The X7 will soon be added to the range, and there may be an X8 and an X9 too.
The second generation X1 is three years old this month and will be facelifted by mid-2019. As with several MINI models and the 2 Series MPVs, it has the front- and all-wheel drive UKL2 architecture as its basis. There is an additional variant, the X2, in the same way that the X5 and X6, as well as the X3 and X4, are related. This is a sportier crossover and challenger for the Audi Q2.
China's Brilliance BMW joint venture builds the X1 L. This long-wheelbase variant had its world premiere at the Beijing motor show in April 2016. Brilliance and BMW's Zinoro electric car brand makes a PHEV version of the long-wheelbase X1: the Zinoro 60H. That model will be discussed in the final report in this series.
The X1 is built in Germany (Regensburg), China (Shenyang), Brazil (Araquari) and the Netherlands (Born). German production commenced in August 2015.
There is a plug-in hybrid X1 but it is only available in China and with the LWB body. The X1 xDrive25Le iPerformance is powered by the combination of 1.5-litre turbocharged petrol engine and a motor. Together, they produce 231hp of power and 385Nm of torque. BMW says the EV range is up to 60km.
The car's so-called eAxle system is supplied from GKN's facility in Bruneck. Even though it is made in Italy, GKN says the application and development work for the technology was conducted by its operations in Shanghai.
The PHEV X1 replacement will be either released in four years' time or replaced by the electric iX1 and iX1 L.
The third generation X1 and X1 L are expected to appear in early 2022. They will use Frontantriebsarchitektur, a new platform derived from the existing UKL1 and UKL2. FAAR is BMW Group's next generation front- and all-wheel drive architecture.
There is speculation that the new SUV could be one of the models which BMW will manufacture at the Hungarian plant that it announced in July. This factory will be near Debrecen, about 200 km east of Budapest. Initial capacity will be 150,000 vehicles per annum.
The battery-electric X3 will be called iX3, while a PHEV variant should be badged X3 xDrive40e.
The FAAR-based second generation X2 isn't due for release until 2025, which should be around three years after today's model is facelifted.
The latest X3 was revealed at an event at BMW's Spartanburg plant in the USA in June 2017. Production started there four months later. The first versions were the xDrive20d, xDrive30d and M40i xDrive. The xDrive20i and xDrive30i were added in relevant countries from early 2018.
The G01 X3, which is large for its segment, is 4,716mm long. The rival Audi Q5 measures only 4,663mm from end to end.
There will also be an electric version of the X3, the iX3, along with a PHEV variant that should be badged X3 xDrive40e.
BBA, the Brilliance Automotive and BMW Group joint venture, has built the X3 at its Da Dong plant in the Chinese city of Shenyang since April. BMW's South African plant also makes the X3, production at Rosslyn having started in March. The other plants making this model make up vehicles from kits. Assembly in Chennai also commenced in March.
A facelift is due in 2021, with the fourth generation X3 likely to become available from 2024.
The second generation X4 was revealed to the public at the Geneva motor show in March. Compared to F26, the original X4, G02 is 81mm longer and 37mm wider but slightly lower, while the wheelbase gained 54mm. Weight distribution is claimed to be 50:50. The back seats split 40:20:40 and the boot capacity is 525 litres.
An eight-speed Steptronic automatic gearbox was standard for the first versions to go on sale, as was all-wheel drive. The global range, which the M40i and xDrive 30d joined earlier in August, comprises:
xDrive20i: 1,998cc four-cylinder petrol with twin-scroll turbocharger, 135kW/184hp and 290Nm
xDrive20d: 1,995cc four-cylinder diesel with variable geometry turbocharger, 140kW/190hp and 400Nm
xDrive25d: 1,995cc four-cylinder diesel with multi-stage turbochargers, 170kW/231hp and 500Nm
xDrive30i: 1,998cc four-cylinder petrol with twin-scroll turbocharger, 185kW/252hp and 350Nm
xDrive30d: 2,993cc in-line diesel straight six with variable geometry turbocharger, 195kW/265hp and 620Nm
M40i: 2,998cc in-line petrol straight six with twin-scroll turbocharger, 260kW/354hp and 500Nm
Next year, a successor for the xDrive40e should appear: the next generation X5 PHEV.
BMW should add electrified variants in 2019 or 2020. Then in 2022 there will be a range facelift, with the third generation X4 due out in 2025.
The fourth generation X5, revealed to the media in June, switches platforms and uses an evolution of 35up as introduced in 2015 by the 7 Series. Production will not only take place in the USA, but for the first time in the history of the model series, in China too.
Due to the X3 having become so large (bigger even than the first generation X5), G05 is longer then the previous X5 and available with up to seven seats. The tailgate is split, like that of a Range Rover.
Length has increased by 36 millimetres to 4,922mm, width by 66mm to 2,004mm and height by 19mm to 1,745mm. Meanwhile, the wheelbase was extended by 42mm to 2,975millimetres.
In the USA, where the X5 is built and traditionally the model's best market, the new model will be available from November in two forms:
xDrive40i, 250kW (340hp) 3.0-litre six-cylinder petrol with a single turbocharger
xDrive50i, 340kW (462hp) 4.4-litre eight-cylinder petrol with two turbochargers (not available in Europe)
In certain other countries, there will instead be or also be diesel variants:
xDrive30d, 195kW (265hp) 3.0-litre six-cylinders, single turbocharger
xDrive M50d, 294kW (400hp) 3.0-litre six-cylinders, four turbochargers
Each of the four engines has either a gasoline particulate filter or an SCR catalyst, and comes linked to an eight-speed Steptronic automatic transmission as standard.
Next year, a successor for the xDrive40e should appear: the next generation of the plug-in hybrid X5. There will also be an xDrive35d and/or xDrive40d powered by a biturbo diesel engine.
Spartanburg is currently having its annual capacity lifted by 50 per cent to 450,000 vehicles.
The second generation X6 was announced in June 2014 ahead of its world debut at the Paris motor show four months later. No further changes are expected for this 4,909mm long model.
The third generation X6 will use an evolution of the platform which debuted with 2015's BMW 7 Series. This means it should weigh far less than the second generation model. As well as US build, there should be additional assembly at Avtotor's Kaliningrad plant. Production is due to commence in 2019 or 2020 and should last until 2026 or 2027 with a facelift in 2023/2024.
The soon to be revealed X7 was confirmed as being a new project in March 2014. This was on the 20th anniversary of the opening of the Spartanburg plant in South Carolina. This big vehicle is being aimed at the Mercedes-Benz GLS-Class, Audi Q7/Q8, Lincoln Navigator, Cadillac Escalade, Range Rover Sport/Range Rover, Lexus LX and Infiniti QX80.
As well as the addition of the new SUV during the final quarter of 2018, Spartanburg is currently having its annual capacity lifted by 50 per cent to 450,000 vehicles. All will continue to be SUVs. Despite the expansion, the southern US site lacks stamping and powertrain plants. Engines are imported from Germany and Austria.
The figure of 450,000 is based on two shifts in a six-day week. BMW says production could theoretically rise to half a million by operating the plant on Sundays and adjusting existing shifts but that such a scenario would only ever be undertaken for short periods.
As well as four- and seven-seat versions, there should also be a long wheelbase X7 bodystyle, though this may not appear until 2019, 2020 or later. This vehicle might have its own model name too.
BMW is said to have begun work on one or two models to be positioned above the X7.
The first X7 variants, which are yet to be seen, will reportedly be called xDrive50d, xDrive40i and xDrive50i.
A preview of this big SUV had its world debut at the Frankfurt IAA in September 2017. This was the Concept X7 iPerformance. The prototype's dimensions placed it between the Range Rover and Mercedes GLS: 5,019mm long, 2,109mm wide and 1,801 mm high. The wheelbase of the concept was quoted as being 3,010 mm.
BMW is said to have begun work on one or two models to be positioned above the X7. It is not yet known if the X8 will be a longer version of the X7 or instead a coupe-style model in the way that the X6 relates to the X5. Whatever the case, it won't be added to the line at Spartanburg plant until 2020 at the earliest.
As for a potential X9, there is no officially acknowledged development project. However, BMW will inevitably be looking at possibly adding just such a vehicle if it can see a viable opportunity. A stretched X7 with its own bodywork could in theory tempt some buyers of the existing and next generation long-wheelbase Range Rover.
Recent reports for many other manufacturers' future models are grouped in the OEM product strategy summaries section of just-auto.com.
Future product program intelligence
More detail on the past, current and forthcoming models for BMW AG's car brands can be found in PLDB, the future vehicles database which is part of QUBE.