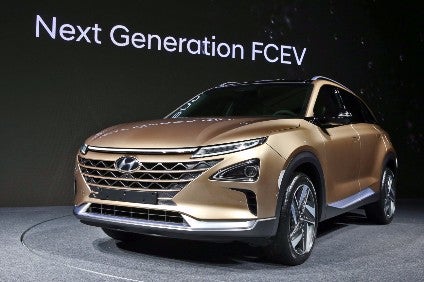 While the rest of the world seems fixed on driving up the use of electric and hybrid vehicles to help reduce emissions and energy consumption, the South Korean government is putting forward a transportation policy based on hydrogen power.
Last month the government said it will push through a long-term strategy of switching the country's fleet of trucks and construction machinery to run on hydrogen fuel-cell power by 2035. It also expects hydrogen-powered trains to be commercialised from 2025, with development and trial runs expected to be completed by 2022.
The plans were revealed last week as the government's latest response to rising pressure to address the growing problem of air pollution in the country, with fine dust singled out as a particularly serious threat to public health. With this new policy initiative, the government is targeting the main end-users of diesel fuel, a key source of fine dust.
Hydrogen fuel-cell vehicles are clean – they emit only water. But the fuel is currently extracted mostly from fossil fuels, mainly from compressed natural gas (CNG), which adds to its cost, while refuelling networks are also very expensive to build. Hydrogen is currently also used as a fuel for internal combustion engines, mainly in commercial vehicles, in the same was as CNG and liquid petroleum gas (LPG) – stored in on-board tanks and used in combination with petrol or diesel.
Hydrogen's main clean fuel competitor, the battery-powered electric vehicle, is also emissions-fee and refuelling networks are much cheaper to roll out. But more often than not they depend on electricity-generating industries that rely heavily on burning fossil fuels such as coal, which most countries also have to import.
Other countries in Asia and elsewhere have shown a cautious interest in hydrogen fuel cells, including Japan, China and even the UK. All offer incentives and subsidies to end-users, but are mindful of the economic drawbacks. Electric vehicles already have a huge cost advantage over hydrogen fuel-cell vehicles. More than two million plug-in hybrid and electric vehicles were sold globally last year, around 60% of which in China, while overall cumulative sales exceed 5 million units. The cost of battery packs, the single most expensive component of electric vehicles, is coming down rapidly.
The South Korean government sees hydrogen as a new engine for economic growth and central to the country's shift to a low-carbon based economy in the long term. It wants to develop a strong domestic market for these vehicles and to establish a strong supply-chain able to gain a first-starter competitive edge once global sales gain momentum, as it believes they will.
Overcoming the substantial competitive gap with electric vehicles will be a huge challenge, however. Industry statistics show just 2,000 hydrogen fuel-cell electric vehicles were in use in South Korea at the end of 2018. Not many more than this are in use in China, while in Japan volumes are still negligible.
Hydrogen fuel-cell vehicles at present cost four or five times more to produce than equivalent battery-powered electric vehicles, due mainly to a lack of economies of scale in the production of fuel-cells. Hyundai's Nexo hydrogen-powered compact SUV is priced from US$62,000 in South Korea, but the cost to consumers falls by half once generous government subsidies are included. In Japan the Toyota Mirai costs around US$70,000 without government subsidies. On the other hand similar battery-powered electric vehicles in China can cost between US$10,000-15,000.
Last year the South Korean government said it would provide grants worth KRW2.6 trillion (US$2.3bn) to support the development of a hydrogen fuel 'eco-system', initially to help fund hydrogen-powered public bus services and the roll out of a network of refueling stations. The next step is to push local services, including goods delivery and taxi companies, to switch to hydrogen.
Earlier this year the South Korea government raised its short-term targets for sector to around 80,000 hydrogen-powered fuel-cell vehicles on the country's roads by 2022. Along with Hyundai-Kia, it also promised significant funds will be made available to support the development a hydrogen powertrain supply chain.
Hyundai is one of the few global automakers to seriously embrace hydrogen as a key alternative fuel, along with Japan's Toyota Motor. The company has earmarked an investment of KRW8 trillion to have in place a production capacity of 500,000 hydrogen fuel-cell vehicles per year by 2030. Both Hyundai and Toyota this year also agreed to join a research group to develop common standards for refueling systems for hydrogen-powered commercial vehicles.
Many more initiatives like this will be needed to reduce the competitive gap with electric vehicles, including getting China on board.
See also: South Korea lifts target for hydrogen fuel-cell vehicles
Hyundai targets 500k FCEVs per year by 2030
Hyundai and China's BTIRDI join over Hydrogen Energy Fund
Hyundai plans fuel-cell truck for 2019