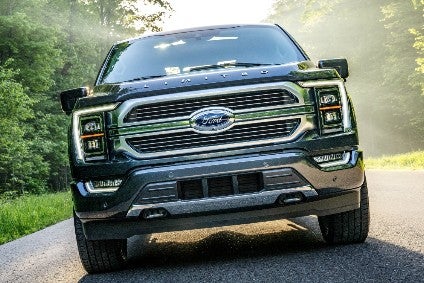 In this second installment of a three-part series, highlights of likely future Ford crossovers, SUVs and pick-ups are looked at. This follows the recent report on the brand's cars and electrified vehicles, with the final chapter soon to turn the spotlight on Lincoln.
Crossovers & SUVs
It's only a few months now until build of the Bronco, a ladder frame chassis SUV for North America, the Middle East and Africa, commences. Although based on the Endeavour/Everest (details in PLDB: see link below), it has unique body panels and is also offered in two-door form. Both roof panel and doors can be removed and stored in the cargo bay.
There are two EcoBoost turbocharged gasoline engines but outputs are yet to be confirmed. They are a 2.3-litre four-cylinder with a provisional 270 horsepower and 310 pound-feet of torque, or a 2.7-litre V6 with a projected 310 horsepower and 400 pound-feet. Transmissions are ten-speed automatic or seven-speed (6+crawler gear) manual. A Bronco Hybrid has been confirmed, and there continue to be rumours about a 400 hp Bronco Warthog, to be followed by a Bronco Raptor.
Ford will fit both two- and four-door Broncos with what it calls a Terrain Management System with G.O.A.T. (Goes Over Any Type of Terrain) Modes. The driver may select from seven modes: Normal, Eco, Sport, Slippery and Sand, with Baja, Mud/Ruts, and Rock Crawl for off-road driving.
After its introduction for the 2021 model year, there shouldn't be any styling update until 2025. Ford will probably be able to keep this vehicle in production until the end of decade. There might be a second facelift for the 2028 model year though if Stellantis launches a new Jeep Wrangler around that time.
On 24 April, Ford made a trademark filing for the Excursion name with the United States Patent and Trademark Office. This doesn't necessarily mean that the model is returning: the company could just be protecting its rights to the name.
The previous Excursion was discontinued in 2005 after just six years. A new one could potentially be reinvented as an EV ('E-Xcursion') or even with a PHEV powertrain to prevent the backlash which the prior generation faced. The architecture would likely be shared with the next generation F-Series Super Duty trucks. Theoretically, a huge electric SUV would complement the similarly sized but combustion-engined Expedition MAX.
Pick-ups
A C2 architecture unibody pick-up is said to be coming for the 2022 model year. Courier and Ranchero have both been suggested as the name but it is now said that Maverick has become the front runner. The front end will reportedly be similar to the Bronco Sport and indeed, these models could even share doors and other panels as well as 1.5-litre three-cylinder and 2.0-litre four-cylinder EcoBoost gasoline turbo engines.
Ford's best performing US dealers were given a preview of this model at a special event in Tucson in February. As to where it would be manufactured, Hermosillo should be the lead plant. That would make sense as the same factory produces the closely related Bronco Sport. Build might not be limited to Mexico either, with production in Brazil a possibility.
Ford is also planning to add a Bronco pick-up to its North American model range. Some believe this body-on-frame vehicle will be positioned above the next Ranger (see PLDB for that model). It is not clear why the company will supposedly take so long to bring this vehicle to market but several sources claim it won't be available until the 2025 model year. The logical place to build it would be at DTP (Dearborn Truck Plant), which is where the Bronco will soon be made.
The new F-150 had been due for a media-only preview in April but COVID-19 delayed that until the last week of June. Production at the lead plant near Ford's world headquarters started on 17 September. Build at Kansas City Assembly Plant (Claycomo) in Missouri is due to be added soon as the company builds up inventory ahead of the nation-wide launch in November.
Even though the new truck looks a lot like the old one, all panels are fresh. A revamped version of the thirteenth generation's aluminium architecture features. There are three cab styles, and in the USA, six model grades: XL, XLT, Lariat, King Ranch, Platinum and Limited (pictured). Thirteen wheel choices (17 to 22 inches) and eleven grille options are among the customisation possibilities.
Buyers may choose from these engines:
290 horsepower (216 kW/294 PS) & 265 lb ft (359 Nm) 3.3-litre Ti-VCT V6
325 horsepower (242 kW/330 PS) & 400 lb ft (542 Nm) 2.7-litre EcoBoost turbo V6
400 horsepower (306 kW/406 PS) & 410 lb ft (556 Nm) 5.0-litre V8
250 horsepower (186 kW/253 PS) & 440 lb ft (597 Nm) 3.0-litre Power Stroke diesel turbo V6
400 horsepower (306 kW/406 PS ) & 500 lb ft (678 Nm) 3.5-litre turbo V6
430 horsepower (321 kW/436 PS) & 570 lb ft (773 Nm) 3.5-litre Power Boost turbo V6
The most dramatic changes to the truck's appearance are at the front end. Where the old model had large horizontal slats extending into the headlight modules, the grille itself now has a wire-effect look and the DRL are differently shaped. The electric F-150 should have a body-coloured plastic panel for its grille as per the Mustang Mach-E.
Advance details of the F-150 Hybrid as well as of the Electric variant (including the latest intelligence on an in-bed range extender module) can be found in PLDB.
The larger F-Series Super Duty trucks stays more or less as is for the 2021 model year but a fresh generation could arrive as soon as the 2022 model year. The same applies to the next F-150 Raptor. The codes for these, along with expected launch timings for the future F-250, F-350, F-450 and F-550, can be found in PLDB.
All F-150s are due to be given a styling update for the 2025 model year. The code for the fifteenth generation F-150 due in late 2027 is said to be P736.