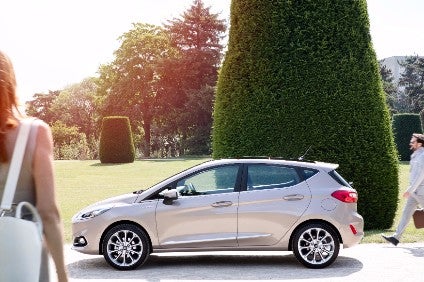 Nothing like kicking off with a bold claim – Ford reckons the redesigned Fiesta is "the most technologically advanced small car on sale in Europe".
With this first full redesign in about eight years the Ford B-segment baby, the UK's top seller for years, can be had with no fewer than 15 driver assistance technologies in total, including adaptive cruise control, adjustable speed limiter, blind spot information system, cross traffic alert, distance indication, driver alert, lane keeping aid, lane keeping alert and forward collision warning.
All of this is delivered with the aid of two cameras, three radars and 12 ultrasonic sensors (only four on the old model) which in combination are able to monitor 360 degrees around the vehicle, and scan the road ahead up to a distance of 130 metres.
It proved impossible to extract any information about suppliers at a media drive event in Spain but the automaker was more forthcoming with facts such as Fiesta being the first Ford with an enhanced version of Pre-Collision Assist with Pedestrian Detection that can detect people who are in or near the road ahead, or who may cross the vehicle's path, using light from the headlights at night. The system is designed to reduce the severity of some frontal collisions involving vehicles and pedestrians, or help drivers avoid some impacts altogether. A wider camera angle helps to better track pedestrian movements.
Also offered for the first time – on the Fiesta – is Active Park Assist with Perpendicular Parking which helps drivers find suitable spaces and park hands-free nose-to-tail and side-by side with other cars. Further enhanced for this new model, the technology for the first time can now apply the brakes if drivers do not respond to system guidance and proximity warnings while performing forward and reverse manoeuvres, and a collision with a parked car or obstacle to the front or rear is imminent. Park-Out Assist – which helps drivers exit a parallel parking space by operating the steering while the driver operates the accelerator and brake – also is available.
That's a common theme across the range of technologies – a lot have been seen before on bigger Fords, and those from rival automakers and we're now well over the 'gee whiz' phase. Park Out Assist is a good example – when automated parking first appeared in the Focus it'd get you in – to a parallel parkspace only – all right but, getting out, apart from by then old hat parking sensors, you were on your own, bub. And, if you didn't brake when the car said, well, crunch. Now, the system will park you horizontal or vertical, so to speak, do the braking if you don't, and get you out again.
"For some drivers our automated parking technologies deliver a 'future shock': they remain so advanced that customers using them for the very first time can be a little awe-struck," according to chief programme engineer Jon Buttress. "Brake interventions for Active Park Assist can prevent distracted drivers from having low speed parking bumps, and make parking in tight spaces even less stressful."
Another great example of continuous improvement is the latest Traffic Sign Recognition, claimed to be able to monitor multiple speed limits that apply to individual motorway lanes displayed on overhead gantries, and update the display if the driver changes lane. Again, road sign reading has been around awhile but, with smart motorways now common, it's little use if it can't monitor those speed camera-infested gantry signs that can change on you in a heartbeat.
An engineering insider told just-auto such things are harder than you might think to set up for a market like Europe because there is no continent-wide standard. Our gantry signs in UK have a red circle around the numbers; some countries in Europe do not (though road signs do). The 'tronics need to be taught a lot. Sadly, we went to a part of Spain with minimal motorway and no smart signs so I look forward to trying the system on UK roads in due course.
More improvement: Auto High Beam, claimed to now perform more effectively in situations where a central barrier divides opposing carriageways, and can detect oncoming trucks to avoid dazzling drivers positioned above the central divide. A new soft-ramping feature improves comfort for drivers at night with soft transitioning between high and low-beams.
As always seems to be the case with newly launched Ford lines, a fair chunk of the driver aids are not standard until you climb to third from bottom Titanium level to get the traffic sign and high beam items. Even on the top, new to Fiesta, Vignale version, only rear parking sensors and a rear view camera are standard. For the rest, Ford talks about 'democraticisation' which translates as reasonably priced option packs ranging in price from GBP200-GBP500.
SYNC 3 and B&O PLAY
Zetec level upwards get the latest SYNC 3 communications and entertainment system allowing voice control of audio, navigation and connected smartphones using simple, conversational voice commands such as "I need a coffee", "I need petrol" and "I need to park" and the system is compatible with Apple CarPlay and Android Auto as well as offering SYNC AppLink for voice activation of a range of smartphone apps.
The latest Fiesta joins the trend of installing a floating, tablet-inspired eight-inch colour touchscreen which can be operated with pinch and swipe gestures on top models while lesser variants with SYNC 3 have a 6.5-inch screen or a 4.2-inch colour screen with the MyFord Dock that enables users to store, mount and charge mobile devices such as phones and navigation systems. We tried only navigation which worked very well though it was possible to accidentally switch off voice commands somehow.
Two USB ports are standard and Ford still offers an integrated CD player as a GBP100 extra. Only base models lack DAB digital radio and, following another trend, higher quality audio is offered in the form of the first B&O Play system in a Ford model.
This means 10 speakers including a boot-mounted subwoofer (you can't have it if you order a spare wheel) and a central mid-range speaker on top of the instrument panel. Total amplifier power is 675 watts, and there's a digital signal processing amplifier that controls equalisation and audio mixing including selectable surround sound. It does sound great and costs between GBP300 and GBP600 with or without navigation.
Panoramic roof
Also following trends is the new availability of a full-length panoramic glass roof with an electrically operated front panel and twin, manually operated sunshades which is standard on Vignale and costs GBP600 on other models (and adds some additional seat adjustment). Oddly, like the B&O sound, this can't be had with a spare wheel.
A clever range wide option, costing GBP85, is door edge protectors that swing into place to guard against parkplace knocks – these are also offered for Focus and by some rivals – but are a useful addition to the citycar Fiesta nonetheless.
Full redesign
All of this has come as part of a full redesign inside and out in a car 71mm longer and 13mm wider. There are claims of more kneeroom in the back (which I found cramped even with the front seats set for my short legs). Overall interior quality is much improved though the appearance of some parts could be better and we heard the odd dash rattle in early build, German-spec test cars.
Apart from special launch B&O Play versions, Ford GB is offering seven trim levels to start. Key petrol engine is the three cylinder, one litre 'EcoBoost', the only one offered with a new torque converter, six-speed automatic transmission (replacing the troublesome, twin clutch, Ford-Getrag dual clutch unit) for which one insider reckoned take-up would be "less than one percent". This is manual territory in Europe and the 1.0 – offered in 100PS, 125PS and 140PS tunes, comes with a six-speed gearbox. There is also a non-turbo, I3 1.1 in 70PS and 85PS forms for entry level cars in place of the old 1.25 I4s with five speed manual. Diesel is a four pot 1.5TDCi in 85PS or 120PS tune with six speed manual. All the running gear has been revised and there is a firmer, but not too firm, sportier suspension setting for the pseudo-sporty ST-Line versions (pick of the bunch to drive).
Waiting in the wings are a new ST (expected to have a turbocharged 200PS version of the 1.5 I3 as just launched in Brazil) and a higher riding, Active 'crossover' version I reckon will be a hit with older buyers due to its higher hip point – easier access for ageing joints, y'see.
Model mix
Ford has sold over 4.5m Fiestas in the UK since 1976 and flogged around 1m of those alone since the last redesign in 2008. Last year's sales were 150,525 and, of those, only 70% were five-door – there is still a space in the blue oval's line for three-doors when some rivals are dropping the body style. As you'd expect, those 1.0 petrols dominate (60%), the other petrol engines account for 30% and diesel 10% (though the latest 1.5 is a cracker, petrol makes more sense to most buyers in this runabout category). Zetec dominates trim level choice (60%), high spec Titanium takes 20% and ST 6%. Much the same is expected of this latest generation. It's a well made, fun to drive 'supermini', well specified and priced to continue appealing to its core market.