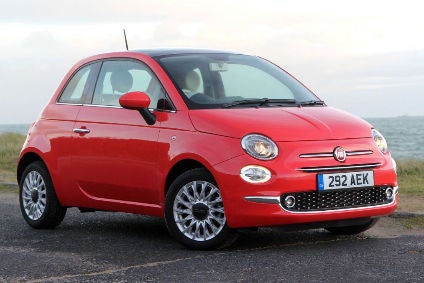 The latest 500 is a worthy update of what had already been a big seller, especially in European countries. Like Mini, this is an expanding franchise, as the 500e, 500X, 500L and 500 L Living/MPW prove. FCA has further plans to add even more derivatives, each of which should aid the ongoing cause of a major revival in the fortunes of the Fiat brand.
Nine years ago this month the 500 went on sale. Nine! It took FCA a long, long time to give this crucial model a facelift, with these changes only appearing in 2015.
Production is still split between Poland and Mexico, though there is external assembly of one major module, in that the roof of the cabrio is put together by Magna Car Top Systems. FCA builds multiple variants of the 500 series at Toluca: the 500, 500 Cabrio, 500e (plug-in/EV), 500 Abarth, 500C Abarth & 500 Turbo. The Mexican factory also makes the 500 for the Brazilian market (Mexico and Brazil have a free-trade agreement) as well as for China.
The Cinquecento was the launch model for Fiat Powertrain Technologies' small engine family. The first unit was an 85hp 875cc two-cylinder engine ('TwinAir'), launched in Europe in September 2010. Since then, a 105hp version has become available and of course there is also the 1,248cc four-cylinder diesel well known from so many FCA and Suzuki models.
It's a pity that the US side of FCA doesn't think the little in-line two-cylinder motor would work in North America, as it's a cracking engine. Instead, FCA equips the NAFTA-spec cars with normally aspirated and turbocharged 1.4-litre Fiat gasoline engines. These it manufactures in Dundee, Michigan.
The 500 built in Mexico differs quite a bit from the Polish-made original. As well as the larger engine, there is an optional automatic gearbox compared to the automated manual offered for Polish-built cars. The car itself was also extensively modified for US regulations: there are larger bumpers and different headlamps. North America's 2016 model year 500 and 500c were carried over but the 2017 model year range should have its own facelift.
In addition to the 0.9 TwinAir (85hp or 105hp) and '1.3' litre Multijet (the 1,248cc diesel), there is also a 1.2 litre LPG 69hp bi-fuel for certain markets. The two-cylinder engines' CO2 levels are 90g/km for the 85hp unit and 99 for the 105hp. 'Eco' configurations of the 1.3 Multijet 95hp and 1.2 litre 69hp limit emissions to 99 grams of CO2 per kilometre. Finally, for some markets, the engine line-up also features a TwinAir 0.9 65hp normally aspirated unit, plus of course the 1.4 litre petrol.
The revisions to the front end of the latest model bring it bang up to date and while the facelift at the rear is perhaps less successful, owners can at least show others that they have this year's car. There are fewer changes on the inside, so the eight-ball gear knob and shiny silver plastic door handles remain but they also still look great. Some things, such as the seat heat adjuster, are flimsy and not something you'd see in an equivalent Toyota or Honda model given those companies' cars' reputations for being so long lasting. The uConnect infotainment system I would award top marks to, though, as it is simplicity itself to use at the first attempt.
The Twin Air engine is also brilliant. It's not especially quiet but who cares when it sounds this good, even if it does have a lumpiness about it when idling after a cold start. There's a retro turbo boost read out which builds in an arc of lights on the outside of the fuel gauge to the right of the big circular speed reading. This is in a funky 1960s-style font. To the left of the speedo is a temperature readout and arcing it is the tacho, which has a redline commencing at 6,000rpm.
A couple of less than ideal things are electric window switches positioned either side of the gear lever so you need two hands to open all the glass upon entering a hot car, and your left hand will be off the wheel for a few more seconds than can be ideal should you want to lower or lift the passenger one whilst driving: there is no one-touch function. Another example of penny pinching by FCA is the lack of an auto position for the headlights stalk. Having said that, you can leave the lights on and not be assailed by a noisy buzzer or beeper, so in practice you just drive with full lights on at all times (or off, if you want). Lock the car and the lights are extinguished.
The rear windows are fixed and there are no vents in the B pillars so it can be a sweaty or chilly first few miles for anyone who has to sit back there. You won't find much legroom in the rear nor any nice squishy plastic there or elsewhere though the door trims do at least have some sections of soft synthetic material set into all the other hard grey plastic. No such luck for those in the rear seats as their elbows will meet the same stuff. The test car was saved by having some attractive lightly coloured seat coverings, with '500' stitched into the front ones.
The boot is a surprisingly good size and has a proper spare tyre beneath an easily lifted piece of carpet. Another great touch is a loop of thick nylon instead of the usual scooped out channel into which you need to put your fingers. So often this solution is less than ideal as the positioning isn't always at a logical angle for quick and easy closing on the first attempt. However, in this case, one light tug on the black strap is all that's needed.
Back to the two-cylinder engine. Pop the bonnet and you might wonder where the little motor is, such is its size. The battery looks huge by comparison, as does the TwinAir's pedestrian friendly compressible cover. Sure, it won't win any awards for low levels of NVH at idle but once the coolant is warmed and you get it a few revs it really starts to sing. That said, the TwinAir is neither as melodic nor as free running as the Volkswagen Group's new 1.0-litre three-cylinder TSI with which I was recently taken, but it's still a delight. And we should all celebrate the fact that what used to be called Fiat Powertrain was given the go-ahead to develop something as off beat as this, if you'll pardon that unintended pun.
People will mistakenly call this a city car but to me, any vehicle which is condemned to spend most of its life in low speed traffic should not have a manual transmission, as the car FCA UK supplied did. The gearshift isn't the slickest in its class but the ratios are beautifully placed apart and you won't arrive at your destination with ears buzzing after a motorway trip. The key to that is a tall sixth gear which means the little 500 hums along merrily at 70-80mph but you'll need to drop back to fourth for overtaking on any section of carriageway with an incline.
Another reason to doubt the 500's credentials as a vehicle for people who live in a crowded conurbation is the difficulty of judging where the front end finishes. The wiper helps you check where the rear ends and you also get a backing up beeper, which makes FCA seem especially cheap for not equipping the car with a front radar sensor. At least the turning circle is narrow.
Project 332: the next 500
We're still two years away from the release of the next generation 500 of modern times but already much of the basic information has leaked out. The current model had to be expensively re-engineered for US emissions and crash regulations and is thus quite different under the skin from Europe's car. FCA won't make that mistake again, and it is even believed that the car for the Americas will no longer be built there. The Tychy plant now operates on two shifts, while FCA US needs capacity at Toluca (Mexico) for other future models so one model for the whole world is likely to be made in Poland.
In addition to replacements for the three-door hatchback and cabriolet, there should also be a five-door variant. This will not only push FCA's baby into a new segment but it's where others are headed too – the Mini is too big and too expensive to be a rival but Groupe PSA is said to be planning a five-door bodyshell for the next DS 3 and as we know, Ford of Europe's Ka replacement will be the five-door Ka+. Will GM do the same with the follow-up to the Opel/Vauxhall Adam? It seems likely.
The additional 500 may be called 500+ or 500SW and unlike the 500, which will be based upon a revamp of the existing New Small architecture, the variant with extra doors should use SUSW ('Small Wide'). Remember the Fiat Punto? It's very much alive and sells surprisingly well in Italy despite its age. FCA's JV with Tata Motors also builds a version of it in India and it's these two related models which 500+ or 500SW is meant to succeed. It will likely appear ahead of the next 500 and should be available not only as a hatchback (project code: X6H) but also as a sedan (X6S) depending on the region. Production should be in Poland, India, China and possibly Mexico too.