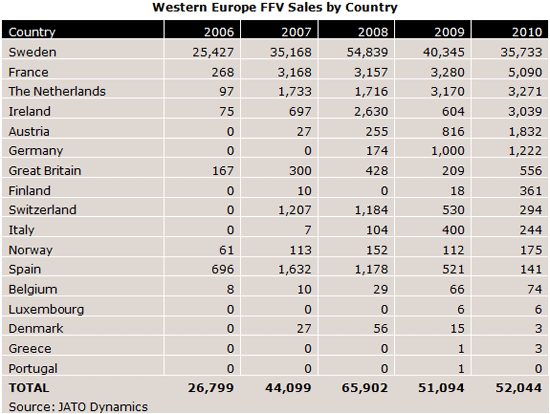 In the second part of our February Management Briefing, we look at current and future OEM activity with regards biofuels and FFVs in Europe.
Although they may not shout too loudly about it and although they are most definitely reluctant to align themselves too closely to them, most carmakers in Europe still have a considerable interest in the politically-sensitive area that is biofuels.
For starters, almost all European carmakers are present in the vast and booming South American market of Brazil, where the majority of new cars sold are flex-fuel and are run almost entirely on ethanol. But many carmakers are also making good money from biofuels here in Europe, thanks mostly to sales of their FFV models in Sweden, but also in a handful of other markets. As well as the brands you might expect to see in the Swedish FFV market (Volvo, Saab, Ford, Opel, Volkswagen, Renault, Peugeot, Citroen etc), there are some that you might not expect to see. These include Cadillac, Audi, Mitsubishi, Dacia, and Skoda.
According to automotive intelligence provider Jato Dynamics, 52,000 FFVs were sold in Europe in 2010, down from the market's peak of 66,000 in 2008. This means that FFVs are sold in tiny enough quantities to be insignificant on a regional level (they accounted for 0.4% of European new passenger car demand in 2010 and 0.5% in 2008 according to JATO) but large enough quantities for them to be important to certain manufacturers.
JATO's statistics show that the European FFV market is dominated by five brands – Renault, Volvo, Ford, Saab and Volkswagen. Interestingly, French carmaker Renault soared past its rivals to become Europe's biggest seller of flex-fuel cars in 2010. Previously, Volvo had held this title due to its dominance of its domestic market of Sweden. But as Sweden's share of European FFV sales has declined, and as the number of FFV models that Renault offers has mushroomed, Renault has been able to overtake Volvo in the number of FFVs sold across Europe. Furthermore, the flex-fuel variant of the Clio is flying high in Sweden right now, outselling models that have until now dominated Sweden's environmentally-friendly car charts, such as the Saab 9-3 BioPower and the Ford Focus Flexifuel.
Renault sold almost 4,500 Clio Flex Fuels in Sweden last year. It also sells flex-fuel variants of the Megane and Scenic in Sweden, as well as E85-compatible models of the Dacia Sandero and Logan. A spokesperson for Renault told Just-Auto.com that Renault also sells FFVs in a high number of other European countries, including Germany, Austria, Belgium, Spain, Finland, France, Ireland, Italy and Poland. Dacia, meanwhile, sells its FFVs in Austria and France, as well as Sweden.
Some further investigation into the European sales numbers highlights some more interesting trends and shows that not everything is as it seems though. For example, JATO statistics show that 556 FFVs were sold in the UK last year, despite the fact that Morrisons supermarket, which used to be the only retailer of the fuel, barely sold any high-blend biofuel at all during 2010 before it made the decision to stop selling E85 altogether at the end of the year. It turns out that the vast majority of UK FFV sales came from luxury carmaker Bentley, which markets all of its models as being flex-fuel. Whether these FFVs run on bioethanol E85 (which they clearly do not!), or indeed if Bentley customers even know they are buying a flex-fuel car when they make their purchase, is a different matter entirely.
The Future of FFVs in Europe
In line with the sales trend of the last two years, European FFV sales are likely to carry on dropping for the foreseeable future. This assumes that low-emission diesel cars continue to steal market share from FFVs in Sweden. If The Swedish Government were to once again throw its weight behind FFVs, or at least reassure consumers that it will not remove their sales incentives, then this situation may change. Elsewhere in Europe, Governments are generally too focussed on electrification to pay much attention to high-blend biofuels right now. Another factor that could change FFV take-up in Europe is the price of oil. If oil prices double this year or next, as some are threatening, then FFVs and E85 may suddenly become all the more attractive again.
The EU's renewable energy directive (RED) targets ensure that low-blend biofuels will continue to be sold across Europe, mostly in either 5% or 10% blends with petrol and diesel. Low-blend biofuels are never marketed as such though – i.e. the customer generally thinks they are buying standard petrol or diesel, as opposed to E5 or B10.
Even oil giant BP admits that biofuels have a place. BP's Energy Outlook to 2030 has just been released and states that biofuels and renewables will contribute a small but increasing share of energy supplies.
And for their part, most vehicle manufacturers remain open to the potential of biofuels. Their R&D into flex-fuel engines will continue anyway, as they strive to remain competitive in the all-important Brazilian market. But most of the major carmakers also include biofuel and flex-fuel capability in their future fuel diversification strategies. Ford, for example, admits that "Despite the current focus on electrification, Europe needs a broad portfolio of CO2 reduction solutions in the medium and long term, and biofuels are an important and cost-effective part of this portfolio." Although General Motors Europe will no longer make the auxiliary engine of the European version of the Chevrolet Volt – the Opel Ampera –flex-fuel, as it had initially planned to do, it too remains supportive of biofuels. A spokesperson for GM told just-auto that the company is about to launch a flex-fuel version of the Opel Insignia in those European markets where some Government support for biofuels still exist.
Carmakers are right not to have completely ditched biofuels in favour of electrification, recognising instead that flex-fuel engines do still have a role. But as we have seen in the case of Bentley, the act itself of selling flex-fuel engines means nothing if consumers don't realise what they are buying, or more to the point, if they can't access high-blend biofuels to put these engines to good use. But for this to happen, political and consumer opinion about biofuels will simply have to change for the better, and it hard to see currently what is going to bring about this change.
See also: February 2010 Management Briefing: Biofuels in Europe (Part 1)