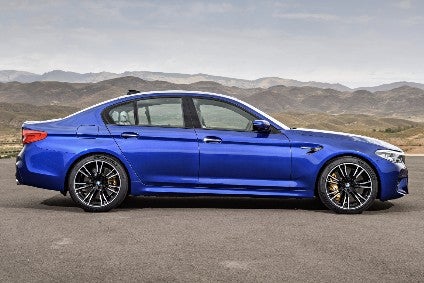 With 441kW or 600 horsepower on tap, the latest M5 is the most powerful car yet from BMW's M division. Taming its 750Nm of torque meant the chassis engineers decided to give this super-sedan four-wheel drive for the first time in the model's history.
From a 315PS six to a 600PS turbo V8
The original M5 had a straight-six engine and by today's standards, its 315PS seems almost feeble: there is a version of the Honda Civic which has more power. As the generations went on, the outputs rose, and so too did the number of cylinders. A V10 was slotted in to the E60 series model (2004-2010) but BMW decided that its replacement would lose two cylinders and gain turbocharging.
The latest F90 model, which comes only as a sedan, has a biturbo 4.4-litre V8 just as the previous model did. As you might expect, there's more power – an extra 40PS to be exact – and the car exceeds the performance levels of the 2012 to 2017 M5. The 600 horsepower level had in fact been seen briefly in the previous model, in the form of a special 30 Jahre Edition. At 700Nm, the torque output was 50Nm less than that of the latest car.
BMW showed us the new M5 at the 2017 Frankfurt IAA although there had been a sneak preview for the media a few weeks earlier at an event in Cologne. The firm's Dingolfing plant began production in January.
This isn't an arresting looking car. That's never been the M5's style. Still, there is no mistaking this for an ordinary 5 Series. That's guaranteed by the presence of four tailpipes, wider wheel wells, a lip spoiler on the bootlid and some pretty big wheels and super low profile tyres.
Hit the unlock button and there's a little bit of extra show as the blue, purple and orange stripes of the M symbol light up in each head restraint. It's a nice touch and shows that BMW understands what sorts of things buyers of its M cars expect.
The M5 is no monster; in fact it's quite a gentle car to drive at ordinary speeds. The steering has a lot more weight in it than most saloons of this size and if you press one of the red buttons on the steering wheel which can be manipulated for various chassis set up changes, a giant rev counter appears on the windscreen in the shape of a hockey stick, calibrated to 8,000rpm.
Zero to 100km/h in under 3.5 seconds
At the UK's motorway 70mph speed limit, the engine is turning over at only 1,800rpm. Even more extraordinary, drop down to 50mph and it will be spinning at just above idle speed. Such is the gearing from the ZF eight-speed transmission that you can even see 30mpg. The C02 average, by the way, is 241g/km.
Of course no-one buys a car such as this one and then doesn't use the blistering performance. Do that, and fuel consumption drops well below 20mpg. The M5 will shoot to 62mph in 3.4 seconds and top speed is capped at 155mph. Even though it's a long car, it isn't overly wide, so anyone lucky enough to live in proximity to relative open and empty roads can safely use quite a bit of the built-in abilities.
Four-wheel drive or two-wheel drive
There are a lot of choices when it comes to manipulating the handling dynamics. BMW has realised that owners could feel overwhelmed, which is why it has put those glossy red M1 and M2 buttons within the steering wheel. These make it quick to choose favourite modes. In this model, it isn't just Comfort, Sport and Sport+: you can also dial out four-wheel drive and make this a RWD car (which also means the stability control is switched off), or instead select 4WD Sport if you prefer that over the default of 4WD.
I was expecting the handling to turn feral in 2WD. Instead, such is the weight distribution, width of the tyres and the way BMW's engineers have set up the steering that it's just about perfection in terms of balance. You cannot criticise the ride either as there are no hard thumps on most surfaces, which is just as impressive an achievement.
Does it look £90,000 worth?
For a car with a list price of GBP89,705 before options, the M5 needs to look the part on the inside too. Even though it's tens of thousands of pounds more expensive than any other 5 Series, BMW has got the ambience just right. The leather on the thick-rim steering wheel and seat surfaces is noticeably softer than most cars, the digital gauges and HVAC controls look premium rather than glitzy, the carpet is extra thick and the doors all have a properly heavy thunk when closed.
Is there room for improvement anywhere in the M5? I wouldn't mind a little bit more in the way of growl from the V8. As it is, in all modes, you couldn't mistake it for JLR's supercharged 5.0-litre V8 which is louder and it might seem a terrible thing to say, but to my ears the Volkswagen Group's 4.0-litre diesel can sound more menacing. If you don't believe me, wait until a SQ7 TDI goes past you, even at low speeds. As many would rightly point out, though, the BMW needs no synthesisers to generate its spine-tingling music.
What else might BMW M be planning?
So far, there is no Touring body style. An estate has been part of the M5's history on and off so it might yet return later in this model's life. That, by the way, should extend until 2024, following a facelift in just over two years' time.
The company revealed an M5 Competition a month ago at the Paris motor show. Priced at GBP96,205, the additional money over the 'standard' M5 giving buyers an extra 25 horsepower (625 or 460kW) but with the same 750Nm of torque. Will that be the end of BMW's own tweaks? Likely not: a car with an extended boot spoiler has been circulating at the Nurburgring, which suggests that a CS variant is probably on the way. If this one ends up with 650PS, we'll soon be saying hello to an M5 which costs six figures.