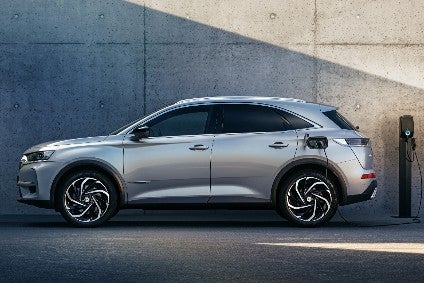 If a defining factor of a premium brand is the ability to command high pricing, then DS qualifies, albeit in a limited number of markets and with the exception of the two largest ones. At the top of the tree, until the 9 sedan is in dealerships, sits the 7 E-Tense. Is this PHEV as good as its German, Swedish, American, English and Chinese luxury marque rivals?
This Groupe PSA division is beginning to embed itself into the premium sector, at least in Europe. For various reasons, the JV with Changan Auto didn't work, although DS vehicles are still available in China and PSA very much wants the new 9, a large sedan, to help start a fresh image and sales push there. We'll also soon be receiving this car in LHD and RHD European markets, and that's a brave move. Will it succeed, when other big, high-priced French saloons and hatchbacks haven't?
This plug-in hybrid is heroically pricey at GBP56,000+
Whatever fate awaits the new DS9, there's no doubting that the plug-in hybrid version of the DS7 has begun to find its feet with those willing to take a chance on a challenger brand. The plug-in hybrid is heroically pricey at GBP56,000+ – yes really – but is it worth that amount of money?
Moggie massage
With the exception of a few curious omissions such as heating for the steering wheel (scoff but people rightly expect it for that sort of money), the car which I tried out for a week was replete with everything you could want. I've seen this before, in the original 7 before the E-Tense was on sale, but until you've tried the seat massagers – including 'cat paw' – you also didn't know all luxury cars need these. Yes, yes: warmed hands and pampered spine, is this a review of a car or a spa hotel? Remember, it's all about the luxury experience.
I've written previously about the artificiality of DS and the fact that the heritage of Citroën has been pilfered to create credibility. Perhaps that doesn't matter so much now, with the newer brand finding its feet and having a few years of history and some success.
The range now extends from the 3 Crossback, via the 7 Crossback to the 9, and all three have E-Tense variants. The electrified version of the smallest model is an EV whereas E-Tense means PHEV when applied to the 7 and new 9. The 4, 5 and 6 are gone but the crossover which Opel will make for DS in 2021 will likely revive the cinq badge, filling out the line-up to four models.
Plug-in hybrid power – 225 or 300 PS
There are in fact two plug-in hybrids in the 7 range. I tested the more powerful of the pair, which is further distinguished by having electric all-wheel drive, a stylised 4×4 badge on the tailgate being how to tell them apart. Whereas the top of the range 7 E-Tense has 300 PS, the more recently introduced front-wheel drive alternative's engine and motor put out a combined 225 PS. Announced in June, the less expensive PHEV is powered by a 180 horsepower and 300 Nm petrol engine plus a 110 horsepower and 320 Nm motor.
The range topping 7 Crossback E-Tense, which is the one I sampled, has 300 PS. This from a 1.6-litre petrol-electric plug-in hybrid and two motors. The engine's output is 200 PS (147 kW) and each motor puts out 109 PS (80 kW). The front produces 337 Nm of torque with the rear one adding 166 Nm. Will there also be an equivalent of the new DS9 E-Tense's 360 PS variant in the 7 Crossback? Perhaps next year but nothing has been said officially.
An eight-speed Aisin automatic gearbox is standard and it's as terrific as in other larger PSA models such as the Peugeot 508. The range from the 13.2 kWh battery pack (same for both FWD and AWD) is claimed to be 50 kilometres/31 miles (WLTP cycle, corresponding to 60 kilometres/37 miles in NEDC) up to a speed of 135 km/h or 83 mph.
An eVMP future?
Following the dissolution of Changan and PSA's Shenzhen-based CAPSA manufacturing JV, the DS 7 Crossback is now produced only at the Mulhouse plant in eastern France along with certain other EMP2 architecture models. Introduced three years ago with diesel and petrol engines, the 7 is therefore still perhaps six to twelve months away from a facelift and the life cycle should end in perhaps late 2024. Unless plans change under Stellantis, generation two will eVMP-based. Unlike EMP2, that future platform allows for full electrification.
SMMT data show 1,963 DS cars delivered during the year to the end of October
Production of the most powerful E-Tense started in August 2019 and this turned out to be timely with incentives in many countries now making PHEVs highly attractive. The same applies for the 3 Crossback E-Tense, with fully electric cars presently in the midst of a sales boom in France, which is far and away DS' number one market.
What of Britain, a place where the words expensive and French brand never seem to be associated with one another when it comes to cars? The SMMT's latest numbers show 1,963 DS Threes and Sevens delivered during the year to the end of October and 195 (-28%) in the most recent month itself.
Next for DS – production in Rüsselsheim
The first DS 3 found a lot of favour here and it did seem the right decision to replace the old Déesse Trois hatchback and cabriolet with a five-door crossover given market trends. It hasn't exactly been a year when we can compare like for like – maybe the as yet unseen 5 and 5 E-Tense will give DS the boost it could do with to make 2021 the year when DS starts to properly rise up the European sales charts.
Now. Should I mention China? It's not happy reading. Would you believe a mere 80 wholesale deliveries in September and just 350 for 1 Jan-30 Sep? That's mainly locally made examples of the 7, production of which was wound up but 9 production has just started. Until Stellantis says what it intends to do with its many brands, we don't know what will happen to Chinese manufacturing or indeed DS in China.
There might also be a question mark hanging over the brand in Europe, although compared to Abarth, Alfa Romeo, Chrysler, Dodge, Fiat, Lancia and Maserati plus Citroën and Peugeot in China, DS won't need a massive influx of funds to remedy years of zero or few fresh vehicles. In that context, the French premium brand could make increasing sense for Stellantis as its vehicles share so much with other PSA models anyway but can be retailed at higher prices. Fifty to perhaps a hundred thousand DS vehicles sold across Europe annually by perhaps 2022-2024 seems possible and more importantly, very profitable.
Bigger than Lancia, smaller than Jaguar
Let's go back to Europe, where in the nine months ending on 30 September, DS deliveries numbered 30,494 (-14.7%) which kept market share at 0.3%. So we're talking about a bit more volume than Lancia (29,421), a lot more than Alfa Romeo (24,493), a bit less than Jaguar (32,788) or Lexus (34,580) and double what smart did (14,280). Carlos Tavares is always at pains to point out that PSA wants profits, not some high sales number goal. That's clearly the correct strategy.
Triangular trim
Doing a lot of driving in the 7 E-Tense, I found myself becoming fond of it. The interior is like no other car, even if the triangles theme is close to having been overdone. The shape is everywhere once you start looking for it – even the speaker covers and window buttons plus for no reason in particular, two of them form a moving digital diamond which appears in the instrument panel announcing the application or release of the parking brake. The BRM-branded clock above the ignition button moves for real, tilting up from its hiding place when the car is started and folding itself back into the middle-top of the dashboard when switching off.
At 628 litres the boot is larger than it looks (the loading sill isn't that low and the fuel tank holds only 43 litres). There's a compartment below the floor to stash the cables and the battery pack is the reason why there's no spare tyre. Carpets are good quality too, which shows that PSA is paying attention to the things which form a strong first impression. Equally, doors are heavy-ish and the whole vehicle is whisper-quiet even when running on petrol-power.
The 7 Crossback E-Tense 4×4 is way more convincing a luxury SUV than I had suspected it might be
The 7 has some of the most generous storage spaces of any car on the market. The felt-lined door bins are massive, and the cubby box below the centre armrest is incredibly deep – other car makers please take note. DS' watch-strap leather upholstery is there for those who like that material and you'd be hard pressed (sorry) to find fault with the soft plastics which abound.
One last thing about the inside of the 7 E-Tense: at night, the upper parts of the doors are illuminated by red patterned displays. It's not at all distracting and I myself found it rather beautiful.
The plug-in hybrid system is as sophisticated as the best of them, and if I had to say one thing it would be that the 1.6-litre engine has a slight bit of turbo lag but only sometimes. But the thing is genuinely fast and also genuinely economical if you plug-in often.
Sum-up
As the top model in DS' SUV range, the 7 Crossback E-Tense 4×4 is way more convincing a luxury SUV than I had suspected it might be. Whether it's worth the asking price is something for buyers to decide. They do seem to be liking it though and that's a good sign for the brand's potential future expansion.
The DS 7 Crossback plug-in hybrid in AWD and 300PS and 520 Nm form costs from GBP56,075 before options. Top speed is 149 mph, 0-62 mph takes 5.9 seconds and CO2 emissions are 33-37g/km (WLTP).