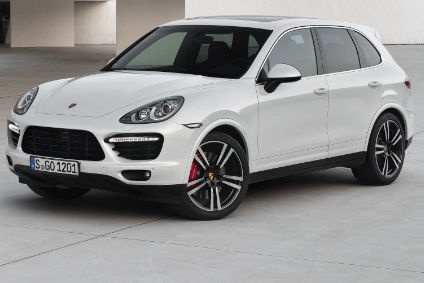 It's been in production for more than six years now so to keep the Cayenne range competitive against newer, lighter SUVs, Porsche's solution is to add power and torque. The latest Turbo S is the result.
Is the Cayenne the Volkswagen Group's highest margin model to be produced in the tens of thousands per annum? Surely it has to be. Prices range from just under GBP53,000 (USD68,606/EUR 60,995) and rise to a breathtaking GBP119,720 for the Turbo S.
The top of the range variant costs GBP15,000 more than the Turbo but if you're the kind of buyer who has to have the ultimate Porsche SUV then this probably won't matter to you. Both the Turbo and the more recently released higher output Turbo S are powered by a biturbo 4,806cc V8. Maximum speed is 283km/h compared to 279km/h, and zero to 62mph takes a claimed 4.1 seconds (4.5 for the Turbo).
Those top speeds are fascinating in that they reveal just how much extra oomph is needed to push a 2,310kg, 4,855mm long and 1,702mm high not-so-aerodynamic 4×4 through the air at crazy speeds. Even allowing for the additional 50kg which the S carries compared to the Turbo, it still needs 50PS or 37kW and 50Nm more to reach those extra four kilometres per hour: 520PS/382kW and 750Nm versus the S' 570PS/419kW and 800Nm of torque.
Whether or not you think the cost is worth it, what can't be denied is how insanely accelerative this top-spec Cayenne is. The pneumatic suspension is so well damped that there is no abrupt or alarming weight transfer if you floor the throttle pedal, plus you can probably guess just how good this engine sounds when stretched. At idle, the *burbling is not unlike a GM small block and when extended, the bassiness becomes much like the delicious gruffness of the old 5.4-litre Mercedes-AMG V8.
Like all other Cayennes, this one feels like a genuine luxury car, but with strong hints of the potential power and speed if you know where to look. That includes the speedo's markings to 190mph and the big tachometer with a 6,400rpm redline and turbo S in cursive font.
Alcantara seemingly everywhere you look or touch and the scent of leather are what greet you as you swing your bum into the driver's seat but now that we've seen images of the new Panamera's interior, the Cayenne's suddenly looks a bit old school. That's fine by me, non-intuitive and overly complex touchscreens having become a tiresome annoyance of so many cars.
Should you care to go off roading, aside from a G-Class or Range Rover, this is probably the most capable vehicle on the market for that too. The ride height can be lifted or lowered via a switch behind the transmission selector lever and there is another one beside it for Comfort, Sport or Sport Plus suspension settings, as well as a third control for OFF ROAD or ON ROAD.
I didn't risk scratching the press car's paint by taking it onto any forest trails, my knowledge of the 4×4 system's abilities having been gained from previous experience at Porsche GB's offroad course at Silverstone a year or so ago. Plus, you wouldn't want to risk a puncture from a sharp rock as there is no spare tyre, meaning the canister of goo and air compressor under the boot floor would be of no use.
What else isn't too love about the Cayenne Turbo S? Not much, really. For some reason, the car comes without a sunroof, which might upset some buyers, and the CO2 average is 276g/km. It could be worse: you do at least get standard start-stop and the eight-speed transmission tends to get itself into the higher ratios at even low speeds but of course 800Nm helps greatly with that.
The official consumption numbers are 17.8mpg for Urban, 31,7mpg for Extra Urban, and 24.6mpg for Combined. Owners could probably count on seeing anywhere between about 17 and 24mpg, though I did manage to push it below 10mpg charging up some steep hills. As that particular road also has some windy parts, it was nothing short of remarkable to notice there was next to no bodyroll from the S, and the air springs kept things very comfy for myself and passenger too. That, despite 21″ wheels. It's hard to think of conditions you could throw at this car which would unsettle it.
Third generation Cayenne
The next Cayenne should be released in 2018. It will use the same MLB Evo architecture as the Audi Q7, Bentley Bentayga, next VW Touareg and Lamborghini's future SUV. Weight loss should be around 300kg for most model variants thanks to extensive use of aluminium for body panels, castings and extruded sections, along with hot-shaped steel for ultra high strength parts. That ought to mean the standard Cayenne with a petrol V6 turbo engine slipping below the 2,000kg mark.
As part of the replacement range, there might also be a Cayenne Coupé – a more expensive, low-roof additional model. As yet unconfirmed, it would not be part of the launch line-up in 2018 but instead should follow within eighteen months if approved for production. What about a long-wheelbase, seven-seater to take on the forthcoming BMW X7? Rumours to that effect come and go but at the moment, such a model is seen as being too potentially heavy and not agile enough. Porsche dealers in the Middle East, China and the USA would surely sell quite a few should a 'Cayenne Langheck' ever eventuate.
*The test car was fitted with a GBP1,934.00 Sports Exhaust system plus various other options, which took the price to GBP123,227.00