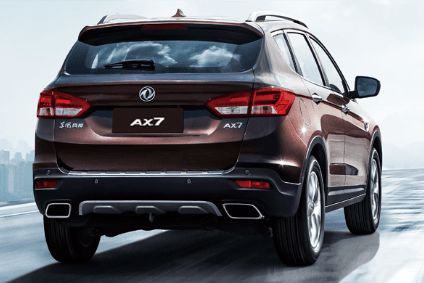 Even though full-year numbers aren't yet in, it's fair to say Dongfeng didn't have the best 2018. As at 30 November, Chinese market deliveries numbered 401,346, ranking it below Roewe, but even with a 49% drop for that month, it was at least a stronger performer than either Beijing Auto or Chery Auto.
As continues to be the case for so very many brands – not only China's state-owned makes – Dongfeng has seen its wholesales (deliveries to dealers) plunge as buyers shun SUVs and look instead towards C segment/Compact sedans and slightly larger MPVs. According to CAAM data, the Nissan Sylphy was the number one model in November, dealerships receiving 55,040 examples of the four-door car, a year-on-year gain of 32 per cent. As the vehicle is made by Dongfeng Nissan, this at least takes some of the sting out of Dongfeng's own-brand woes.
Over the eleven months, the total for Sylphy wholesales was 424,877 units. That wasn't quite enough to topple the market's number one model, the SAIC Volkswagen Lavida (463,341) but more than enough to take second place ahead of the Wuling Hongguang (416,865), Haval H6 (402,249) and Toyota Corolla (346,645). In addition to these makes, Buick, Baojun and Chevrolet were the other brands to feature a top-ten model in November. As for Dongfeng, its best performer over the eleven-month period was the Glory 580. Its total – 100,905 – was a worrying plunge of 71 per cent in November.
The 580 is one of several models which feature the Glory prefix. Launched in China during mid-2016, this was Dongfeng's first SUV. It is built by Dongfeng Xiaokang, a commercial vehicle division of Dongfeng Motor. Unusually, the 580 was facelifted after not even a year of production: a revised model premiered at April 2017's Auto Shanghai. Whatever the reason, it certainly helped to boost sales. There should be a second restyle in a year's time and then a replacement in 2023.
The Fengshen AX7 is another SUV although this one is older than the Glory 580, having first gone on sale in 2014. Based on the first generation Nissan Qashqai, this model is now showing its age and may be facelifted in 2019 although there are also those who have recently been suggesting that it could instead be discontinued in 2020.
The smaller AX4 was the third SUV or crossover to be added to Dongfeng Fengdu's Fengshen sub-brand. Easily the vehicle's most distinctive styling features are its enormous and protruding front fog lights and their faux chrome surrounds. This 4,195mm long B segment crossover is powered by a 1.4-litre turbocharged engine.
The global debut for the AX4 was at April 2017's Shanghai motor show. This was also the first vehicle for the Groupe PSA-Dongfeng CMP architecture. Production commenced in August 2017. The model has not sold well, with only 6,000-odd examples of the having been delivered to Chinese customers during the 11 months to the end of November 2018. For that reason, it could well be phased out by year-end.
The Fengguang (Glory) S560 is one of Dongfeng's newest SUVs. This 4.5m long model is available with the choice of 1.5-litre turbocharged and 1.8-litre normally aspirated four-cylinder engines. As it was released only this year, a facelift isn't due until late 2021. The successor should appear in 2024.
The Glory iX5, a large SUV, was revealed to the media in April last year, just ahead of its public premiere at AutoChina, the Beijing motor show. Sales commenced in October and and rose above 4,000 units in November. As with the 560, there is a choice between a 139hp and 187Nm 1.8-litre engine or a 150hp and 200Nm 1.5-litre turbo. One innovation is an infotainment system which is based on Baidu Apollo.
The Glory sub-brand isn't only for SUVs as the Fengguang 330/Fengguang 360 series attests. This 4,645mm long model is a minivan-crossover which can seat up to seven. Sales commenced in September 2014. The next generation model is expected in 2020.
The Fengxing SX6 is another seven-seat MPV/minivan. Based upon the Joyear X5, this 4.6m long model went on sale in China during July 2016. As at the final quarter of 2018, monthly sales had slipped below the 1,000 units mark so a facelift which had been due in 2020 will probably now be brought forward to this year. As for a successor, that should appear in 2022.
The second generation Joyear X5, also known as the Joyear SUV, premiered at the Guangzhou motor show in November 2016. Confusingly, it did not at first replace the first generation model but that car continued in production with a new name. The latest shape version of this C segment SUV sells moderately well. It is due for a facelift in 2020 and to be replaced in 2024.
The appetite for SUVs might not be what it was yet Dongfeng, like other OEMs, has had multiple such models under development for some time and is unlikely to cancel them only months before their due launch dates. One of these is the Jingyi X7. Measuring 4,760mm in length, the X7 will be positioned above the Jingyi X5. Production is scheduled to commence in April.
Another vehicle which is close to launch is the Dongfeng E300, a Renault-based electric sedan. The electric sedan will be assembled at Wuhan so as to comply with a Chinese government directive. This means that only a few thousand of these cars will be assembled each year from kits supplied by Renault Samsung's Busan plant.
The E300 will join another electric sedan. That car, the Aeolus E70, is a B segment model which was released for sale in July last year. The Dongfeng PSA joint venture also sells a version of the car called Fukang ES500. Facelifts for both are expected in late 2021 and replacements in 2025.
Finally, the Fengxing Jingye S50 is a C segment (Compact) sedan manufactured by Dongfeng Liuzhou, a subsidiary of Dongfeng Motor. It debuted at the Beijing motor show in April 2014 and has its origins in the previous generation Nissan Sylphy. The successor model should use the same platform as the latest Sylphy when launched in 2021. There is also an electric version of the S50. It has been available since early 2017 but sales volumes have been small. It too should be replaced in 2021.
Recent reports for many other manufacturers' future models are grouped in the OEM product strategy summaries section of just-auto.com.
Future product program intelligence
More detail on past, current and forthcoming models as well as additional Dongfeng vehicles which are not in the feature above – and models which are part of the Dongfeng Honda, Dongfeng Yueda Kia, Dongfeng Nissan, Dongfeng PSA and Dongfeng Renault joint ventures – can be found in PLDB, the future vehicles database which is part of QUBE.
The next manufacturer to be featured in the future models reports series will be Volkswagen Aktiengesellschaft.