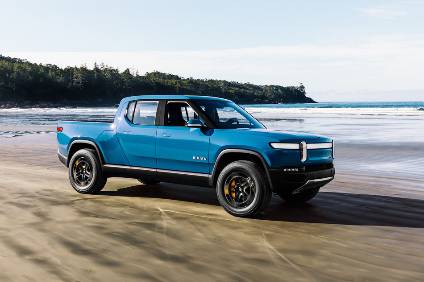 Later this month, Rivian will start delivering its R1T electric pickup truck to customers in North America. This will make it the first automaker to launch a product in this emerging segment, which is expected to see rapid growth over the next decade.
A brace of OEMs are racing to catch up – Ford will launch the F-150 Lightning in 2022, while GM's GMC Hummer EV pickup is still expected to arrive in Fall of this year. Even EV icon Tesla is preparing to launch its Cybertruck pickup, first shown in 2019, but the company has yet to confirm when that model will go into production.
Fuelling the hype in the California-based EV startup is the news that Rivian plans to go public via an IPO sometime around November. Bloomberg has reported that the company is seeking a valuation of $80 billion. That would put Rivian above the market cap of established automotive giants including Ford, General Motors and Honda.
Considering Rivian has yet to deliver any vehicles, and has only established one manufacturing facility in Normal, Illinois; while its rivals have decades of experience at a global scale with a vast network of manufacturing and supply facilities, that valuation clearly doesn't reflect the company's current earning ability. In fact, even if Rivian was to sell every single vehicle it makes through to the end of 2022, it still wouldn't be close to a level of income that might justify its valuation.
Instead, it is more likely to be the company's future earnings potential that has caught investors' attention. While Rivian is comparatively small now, it could grow very rapidly thanks to the expected popularity of the electric pickup segment, and its early mover advantage. Raising investor confidence will be the fact that it has taken an impressively conservative approach to its market introduction – opting to operate in 'stealth' mode until it had a mostly finalized product to demonstrate, and ensuring it had established production facilities before seeking more investment. This is in contrast to the bluster and bold statements that are common among tech startups, where overpromising and underdelivering is common.
For potential investors, there are question marks over whether Rivian's valuation is justified. A $2.65 billion funding round in January 2021 led by T.Rowe Price led insiders to propose a valuation of around $27.6 billion. It is not clear what has changed in the last few months to see Rivian nearly triple its expected valuation. This becomes even less plausible when one considers that Rivian's EV technology is not unique and it will soon be directly competing with the sales and manufacturing strength of established industry heavyweights including Ford and General Motors.
Its valuation is further clouded by the company's decision to delay the launch of the R1T, initially pushing it from 2020 to early 2021, then to mid-2021, and now to later this month. Rivian cited the impact of COVID-19 as a reason behind the delay, but the disruption wrought by the pandemic is still ongoing and could lead to supply problems further down the line. That's before weighing the impact of the current semiconductor shortage that has seen automakers around the world pause or slow production lines as they run low on supplies of vital chip-based electronic components. These same pressures will be felt by Rivian as it prepares to increase R1T production.
Standing in its favour, however, is the fact that Rivian has secured significant backing from established companies, most notably Amazon, which has led multiple investment rounds in the company, leading to a total cash raise of more than $10 billion as of July 2021. Amazon has signed an agreement with Rivian for the company to produce a dedicated electric delivery van to help Amazon reach its zero-emissions goal. Amazon's total vehicle order with Rivian stands at 100,000 units.
The sheer size of Rivian's proposed valuation must be viewed in the context of Tesla. Like Rivian, Tesla was once an EV startup battling for investor capital to get its product to market. Tesla went through years of 'production hell' to secure its dominant position in the EV market, and that has seen the company earn a market cap of more than $700 billion – making it worth more than most of its largest rivals combined. Even at Tesla's current production rate of around half-a-million vehicles per year, however, its revenue still doesn't match that valuation but, instead, reflects the dominant position investors expect the company to enjoy as combustion-powered cars are phased out in favour of electrified models. This 'hype' can similarly be held responsible for Rivian's decision to seek an $80 billion valuation when it goes public.
Despite the question marks over the validity of its valuation, Rivian is continuing to expand its business. Recent reports from the UK's Sky News revealed that Rivian had been in discussions with UK ministers over a potential plan to expand its production network. The site in question is a 600-acre facility near Bristol that could serve as Rivian's second manufacturing facility and its first outside North America. The proposed factory will be for vehicle assembly only and won't include battery cell manufacturing – although this could be added at a later date depending on demand.
Early pre-production examples of the R1T pickup were given to Motortrend recently for evaluation, with the magazine heaping praise on the new model for its performance, design and handling. It sits in an odd size category for North America – larger than a mid-size truck such as a Ford Ranger or Toyota Tacoma, but smaller than a 'full-size' pickup such as a Ford F150. Nevertheless, the R1T offers a sizeable five-seat cabin with luxurious appointments, while pickup buyers will also be pleased with the 800kg (1,760lb) payload and 4,990kg (11,000lb) towing capacity.
Under the R1T's floor, Rivian has fitted a 135kWh battery pack with cells supplied by Samsung SDI. These are thought to be cylindrical 2170-format very similar to those used in Tesla's Model 3 and Model Y battery packs. The 135kWh pack will give the R1T a range of more than 300 miles and all early models will come with quad-motor all-wheel drive. Later on, Rivian is expected to offer a larger 180kWh battery pack, increasing range to more than 400 miles. Depending on the success of these models, the company may then opt to introduce a more affordable model with a 105kWh pack and roughly 250-mile range – this could also drop the quad-motor layout to reduce the purchase price.