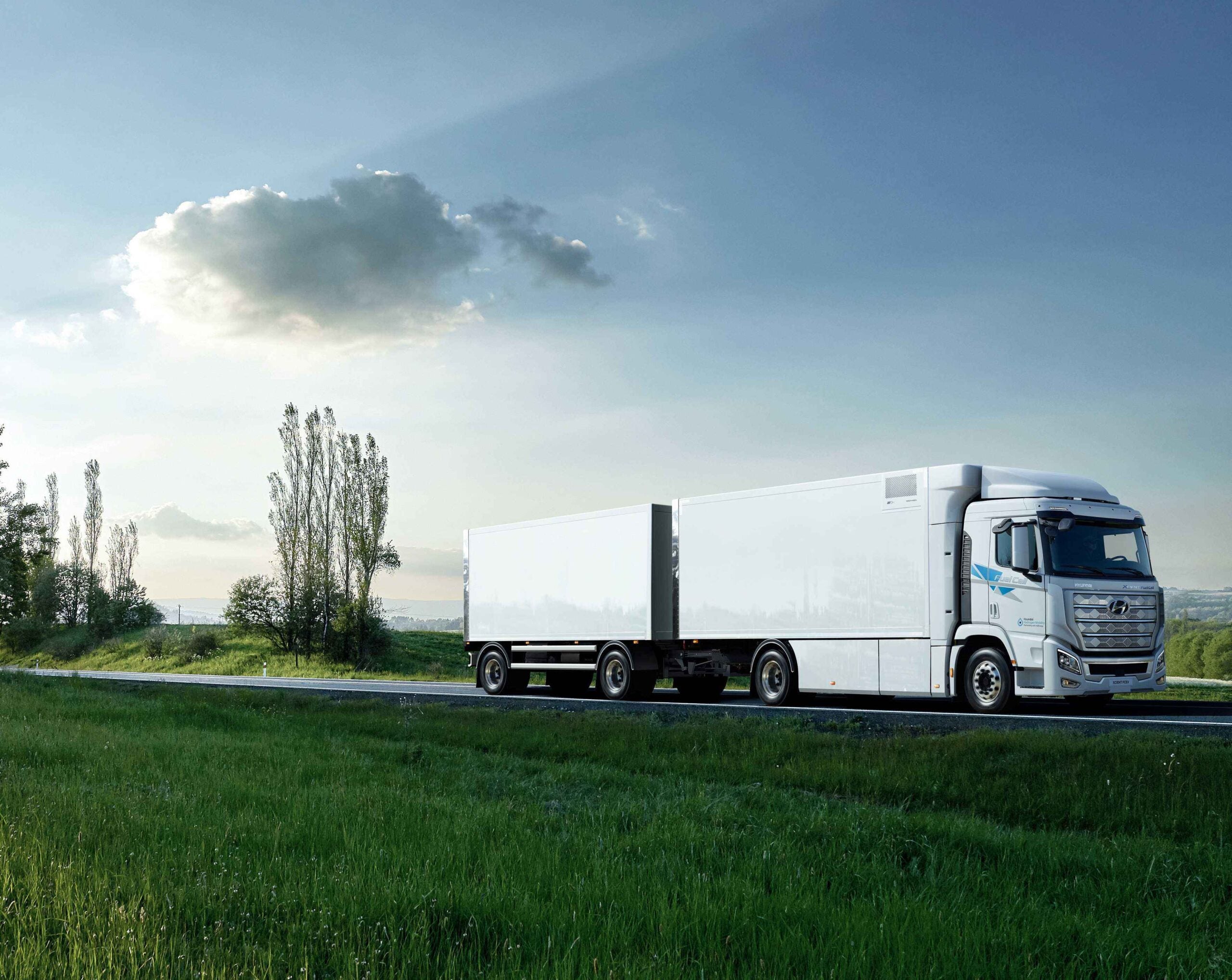 Governments across the world are eyeing a greener commercial vehicle sector. The UK's transport decarbonisation plan, for example, will see the sector reach net zero by 2050. The UK government has announced its intention to phase out the sale of new diesel and petrol heavy goods vehicles (HGVs) by 2040, subject to consultation – combined with the 2035 phase out date for polluting cars and vans (light commercial vehicles, or LCVs).
The consultation proposes a 2035 phase out date for vehicles weighing from 3.5 to 26 tonnes and 2040 for vehicles weighing more than 26 tonnes or earlier if a faster change seems feasible.
Commercial vehicles on the road are overwhelmingly diesel driven, but electric powertrains are making good headway in light duty applications. It is partly regulatory driven, but also signals market priorities and the benefits (range) of improved battery performance. As online retail grabs more share of the retail market, delivery demand from/to distribution points are seeing strong growth.
According to the World Economic Forum, demand for urban last-mile delivery, fuelled by e-commerce, is expected to grow by 78 percent by 2030, leading to a 36 percent increase in delivery vehicles in the world's top 100 cities. At the same time, this increase in demand is expected to cause delivery-related carbon emissions to rise by nearly one-third. The pressure is on to decarbonise the forecast required larger vehicle fleet.
As light commercial vehicle van fleets fall due for replacement, operators are increasingly considering electric vehicles rather than diesel ones. Firms such as Amazon have been quick to latch on to the positive sustainability statement that electric vans make.
Manufacturers are responding to market demands with electric light commercial products. For example, Ford in the US is launching its electric Transit van this year. Built in the US for the North American market (Ford builds the Transit at its Kansas City Assembly Plant), Ford says the electric Transit will be smart and connected, arming fleet owners with technology solutions like in-vehicle high-speed data architecture and cloud-based services to offer new ways to optimise fleet performance (for higher mpg and lower CO2). Electric vehicles are a key part of Ford's commitment meet the requirements of the Paris Accord and achieve carbon neutrality globally by 2050.
Ford says its US truck and van fleet sales have grown 33% since 2015 and the company expects continued growth of van sales in the US as e-commerce and "last mile" deliveries increase.
In an example of an automaker going beyond the traditional automotive business model, General Motors has created its BrightDrop urban delivery business. BrightDrop offers electric first-to-last-mile products and software services to fleets (initially serving the US and Canada). As part of the initiative, a new purpose-built electric delivery van will be available to market in 2022 in the US, but FedEx is slated to receive the first deliveries this year.  BrightDrop solutions are designed to help businesses lower costs, maximize productivity, improve employee safety, and freight security, and support overall sustainability efforts.
As far as heavy commercial vehicles go, the challenges in electric propulsion are bigger in terms of necessary battery size, weight and technical areas such as thermal management. That hasn't prevented the major heavy truck OEMs looking into electric solutions or technological fixes for greater fuel efficiency (Scania, for example, is trialling a solar panel clad trailer that can yield up to 10% gains in fuel economy).
A group of truck makers in Europe, including Volvo, Scania and Daimler, have said they will stop selling diesel-powered trucks by 2040, a decade earlier than previously planned.
Perhaps the most promising solution for heavy trucks is hydrogen. Hydrogen is viewed as a sure bet by the world's biggest truckmakers because batteries are too heavy for long-distance commercial vehicles. EU environment ministers want truck CO2 emissions cut by a third by 2030 from 2019 levels.
Tightening emissions regulations will make internal-combustion engines progressively more costly to run until they are ultimately outlawed over the next few decades. While the passenger vehicle market is already switching to battery electric vehicles as the technology becomes viable and reaches cost parity with combustion-powered vehicles, the heavy duty and industrial market has proven resilient to the technology. This is since such large batteries would be needed to power a heavy-duty truck, for example, that they would take up too much of its gross permitted vehicle weight, reducing its cargo capacity and, thus, making it less cost effective than diesel.
In addition, long recharge times would add a lot of time to deliveries, eating into profit margins.
Conversely, hydrogen fuel cells do not come with the significant weight penalty that batteries do and can be refuelled rapidly compared with the time needed to recharge a battery electric truck. This makes them a much more viable option for the heavy-duty truck and industrial markets, while also bringing direct exhaust emissions down to zero.
The H2Accelerate program, which also includes Austrian oil and gas firm OMV, German utilities giant Linde, Daimler, Volvo and Iveco, seeks to synchronise investments in early-stage hydrogen truck and fuelling infrastructure to enable the 2020s to become a "decade long scale-up." It envisions public money and policy support for initial projects scaling to thousands of trucks being manufactured and a European network of refuelling stations by the second half of this decade.
The trade body Hydrogen Europe expects 10,000 hydrogen trucks on Europe's roads by 2025 and 100,000 by 2030.
Companies are working together on some very costly technology. Daimler Truck and the Volvo Group have a fuel cell joint venture, Cellcentric. The ambition is to make the new joint venture a leading global manufacturer of fuel cells with a goal of climate-neutral and sustainable transport by 2050. Volvo Group has set the ambition to have at least 35% fully electric vehicles sales by 2030.
Engine components specialist Mahle has joined the Hydrogen Council, a worldwide initiative of energy, transport and industrial companies. The Nikola Motor Company has relied on Mahle's work in thermal management for the development of its fuel cell truck, Nikola Two since 2018. Mahle says it is working with the Hydrogen Council to lay the foundation for the worldwide introduction of hydrogen-based mobility.
Engine maker Cummins is also developing hydrogen fuelled internal combustion engines, partly financed through the UK's Advanced Propulsion Centre. It's yet another example of the many initiatives gathering momentum to decarbonise road freight transport.
One major player is Hyundai. Hyundai Motor Group has said it will popularise hydrogen by 2040 through the introduction of new technology and mobility products in transportation and other industrial sectors. It aims to electrify all new commercial vehicle models featuring fuel cell electric or battery electric powertrains as well as fuel cell systems by 2028. If it achieves that, it will make it the first global automaker to achieve such ambitions for commercial vehicle transportation.
Toyota-owned Hino Trucks has revealed a Class 8 (heavy-duty) hydrogen fuel cell electric truck in the US. The Hino XL8 prototype is powered by a hydrogen fuel cell electric drivetrain and was shown at the 2021 ACT Expo in Long Beach, California.
Hyundai also says it is bringing its fuel cell heavy trucks to California. Hyundai Motor has announced a plan to deploy hydrogen fuel cell electric heavy-duty trucks in California, for two publicly funded projects. The demo trucks are based on the automaker's Xcient fuel cell, claimed as the world's first mass-produced, heavy-duty truck powered by hydrogen. Launched last year in Switzerland, the hydrogen truck has now completed 1m km of driving. The US version has a maximum range of 500 miles (800km). Hyundai plans to develop its zero-emission commercial fleet business in the US and establish local company collaboration. It will start with 30 units of Class 8 fuel cell trucks from the second quarter of 2023. This will be the largest commercial use of such FCVs in the US.
In 2020, Hyundai said it would deliver 1,600 fuel cell trucks to Europe by 2025. The first 46 arrived in Switzerland last year. During that time, the fleet has reduced CO2 emissions by an estimated 630 tons, compared to diesel-powered vehicles. HHM, a joint venture between Hyundai and Swiss hydrogen company H2 Energy, has been renting out "green" hydrogen trucks to commercial clients in Switzerland.
Nikola and Iveco say they will produce a fuel cell electric vehicle by 2023, putting them two years ahead of Volvo and Daimler Truck.
Nikola Corporation has signed agreements with the Bosch Group for Class 7 and 8 fuel-cell electric vehicles (FCEV) which will enable Nikola to build the Bosch fuel-cell power modules at its Coolidge, Arizona factory. The agreements will allow adaptation of fuel cell power modules for the Nikola Tre and US Nikola Two fuel cell applications.
Under the agreements, Bosch will supply both fully assembled fuel cell power modules as well as major components to Nikola, including the fuel cell stack, for Nikola to assemble. The parties will work together for sourcing of remaining components for the assemblies. The fuel cell power modules are expected to launch in 2023 with the first application being the Class 8 regional haul Tre FCEV. Nikola anticipates the overall vehicle design will result in a range of up to approximately 500 miles. Nikola plans to further expand capacity for use in the Class 8 long haul Two FCEV with an anticipated range of up to approximately 900 miles.
A growing area of interest is refuelling infrastructure. Shell and Daimler Truck will roll out a hydrogen refuelling network between three renewable hydrogen production hubs in Rotterdam, the Netherlands, and Cologne and Hamburg in Germany from 2025, they say. The plan aims to build a 1,200 km hydrogen freight corridor by 2025 and deliver 150 hydrogen fuelling stations and around 5,000 Mercedes-Benz hydrogen fuel cell trucks by 2030. Meanwhile Stellantis sees an opportunity in lighter weight vehicles and has said it will begin deliveries in Europe of its first medium-sized vans powered by hydrogen fuel cells by the end of 2021.
Mention should also be made of electrification efforts in buses. Zero-emission powertrains in transit buses have gained momentum in Europe and China. The EU Clean Vehicle directive for EU countries will further boost electric bus adoption. The extension of subsidies in China till 2022 accelerated the growth of new energy buses in the second half of 2020. Additionally, Chinese electric bus OEMs are rapidly expanding globally, with the establishment of manufacturing and assembly plants, in addition to exports (BYD a particularly active participant). In Latin America, some countries are developing electro-mobility strategies promoting zero-emission buses in public transportation. Chinese OEMs have also established regional production bases to tap into LATAM. In the coach segment, diesel powertrain is dominant, though natural gas and fuel cells are attractive with the development of fuelling infrastructure.
Though plummeting demand pushed oil prices into the negative territory in 2020, oil prices are set to rise in 2021 and expedite the adoption of alternative powertrains. Traditional OEMs across various regions are expanding their product portfolios to include battery electric and fuel cell buses in the transit segment.
Across Europe, the number of electric buses is forecast to increase rapidly over the next five years. Poland currently has the second-largest fleet of zero-emission buses in Europe, at around 800. The Netherlands and Italy have the third and fourth largest, with around 600. However, the UK is still forecasted to take the lead, with a predicted 180% increase to 2,800 vehicles by 2024.
The switch from combustion-powered to hydrogen-powered trucks will take some time and it is likely that other solutions will have to be employed in the meantime to tackle pollution. Besides CO2, emissions that are directly harmful to human health are also identified as highly problematic and in policy makers' sights.
We could see more bans on combustion-trucks in city centres and requirements that their cargo is offloaded at a local distribution centre before being taken to its destination by a smaller, electrified last-mile delivery service. There are plenty of scenarios that could be employed on the journey to a cleaner and lower CO2 footprint from commercial vehicles in urban areas and on longer haul journeys.
There's clearly a lot going on in terms of efforts to decarbonise road freight and urban transit bus transportation. If economies are to hit future carbon neutral targets, there's also a very long way to go to clean up a sector that is still overwhelmingly dominated by diesel engine vehicles.
SEE ALSO: