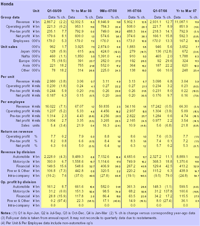 How's Honda doing? Like other vehicle manufacturers, Honda is feeling pressure in its markets. But it does at least enjoy the support of a young line-up of small and relatively fuel-efficient cars. This company update is extracted from Automotive World's Automotive Quarterly Review and includes data of sales by market and future product plans.
FINANCIAL NEWS
Honda reported an 8% net profit increase for its fiscal first quarter, despite the adverse conditions in the US and unfavourable exchange rates.
Operating profit dropped by just 0.2% due to a decrease in incentives for automobile business in North America, increased profit mostly from increased automobile unit sales, and cost reduction efforts, despite the negative effect of currency exchange rates, the impact of increased raw material costs, and increases in SG&A expenses.
The company has benefited from its line-up of small, fuel-efficient cars.
In Japan, revenue for domestic and exports sales amounted to ¥1,149.6bn, down 2.3%, due primarily to decreased revenue in motorcycle and automobile businesses in Japan. Operating income was ¥37.9bn, down 37.5% due primarily to the negative impact of the appreciation of the yen and decreased revenue, more than offsetting the positive impact of decreased warranty-related expenses.
In the NAFTA region, revenue decreased by 5.7% to ¥1,493.1bn due mainly to the negative impact of currency translation effects. Operating income decreased by 2.5% to ¥94.5bn, due primarily to currency effects, increased selling expenses related to allowance for losses on lease residual values and increased raw material costs, more than offsetting the positive impact of decreased sales incentives in the automobile business, change in sales price for the new model year and continuing cost reduction efforts.
In Europe, revenue fell 8.9% to ¥364.5bn due primarily to decreased revenue in the automobile business. Operating income increased by 9.5% to ¥11.2bn due primarily to continuing cost reduction efforts and the change in model mix, more than offsetting decreased revenue and increased selling expenses.
In Asia, revenue increased by 10.9% to ¥436.2bn due to increased revenue in all business segments, off setting the negative currency effects. Operating income increased by 30.7% to ¥48.3bn due mainly to the higher revenue, more than offsetting negative currency effects and increased selling expenses.
OUTLOOK
Over the year to March 2009, revenue is expected to rise by just 1.1% to ¥12,140bn. Operating profit is forecast to drop by 33.9% to ¥630bn (slightly worse than prior forecast) and net profit is forecast to drop by 18.3% to ¥490bn.
The principal cause of the expected decline is adverse currency movements. Selling and administrative expenses are also expected to rise significantly. These negative factors should be partly offset by increased sales in all regions except the Nafta area.
SALES AND MODEL PLANS
During the first eight months of calendar 2008, Honda's domestic sales rose by 4.9% to 424,779 units.
Its US sales were 1.7% higher at 1,083,957 units, boosted particularly by the Accord, CR-V, Fit and Civic hybrid.
In the EU and Efta markets Honda's sales over the first eight months fell by 11.1% to 188,136 units, with a 25.9% drop in August alone. During 2008/09 the company now expects to sell 620,000 units in Japan, a small increase over 2007/08.
It forecasts sales of 1.745m units in the Nafta region, down 5.7% from the 2007/08 result. In Europe the sales target for 2008/09 is 455,000 units, up 16.3% from 2007/08.
In Asia the 2008/09 sales target is 890,000 units, up 17.9% from 2007/08. The all-new Accord was introduced first in Thailand in November 2007 and has been introduced to the other countries in the region in 2008.
The total worldwide sales forecast of 4.08 million is 1.4% down from the prior forecast, but still 3.9% above the 2007/08 figure.


At the Paris motor show in October 2008,Honda's Insight Hybrid Concept Car made its world debut and the new Honda Jazz made its European debut. The freshened Civic Hybrid also made its world debut.

In the Nafta region, the new Acura TL debuts in autumn 2008.
PRODUCTION


Honda's global production rose 2.6% to 2.625 million units in the first eight months of 2008 as an 8.4% increase in overseas production to 1.828 million units was partly offset by an 8.4% decline in domestic output to 796,943 units.

In autumn 2008, Honda's total capacity in the Nafta region will be 1.62 million up after the new assembly plant in Indiana begins production.

In September, Honda of Canada Mfg., officially opened its newest investment, a US$154m engine plant at Alliston, Ontario. The new plant will produce 200,000 4-cylinder engines annually for Civic production. The Alliston-produced engines will be made from 100% recycled aluminium, much of which is sourced from southern Ontario. The aluminium is provided by an adjacent Honda-related company, Mapcan, that provides molten aluminium directly to the engine plant where engine heads and blocks are cast and assembled.
This company update is extracted from Automotive World's Automotive Quarterly Review