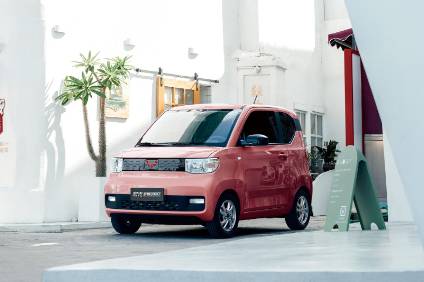 China's expanding electric vehicle (EV) market is becoming an increasingly significant engine of economic growth in the country. According to Beijing government statistics more than 55,000 new companies involved in the new energy vehicle (NEV) segment were established in the country in the first eleven months of 2020.
This significantly exceeded 2019's levels and brings the total number of NEV-related businesses operating in the country to 180,000. More than half of these are involved in the wholesale and retail of NEV-related goods and services, 16% in research and technical services, 10% in leasing and business services and the remainder presumably in manufacturing.
China is clearly gearing up for what is expected to be exponential growth in the NEV segment over the next decade. Currently the segment mostly comprises battery-powered electric vehicles, with plug-in hybrids making up less than 20% of the total. Hydrogen fuel-fell electric vehicles are expected to feature more prominent later in the decade.
NEV sales in China are estimated to have exceeded 1.3 million units in 2020, a more than 7% increase on 2019 and 3% more than the previous record high of 1.26 million units reported in 2018. Sales have rebounded strongly in recent months, with volumes more than doubling year-on-year since September following a sharp decline in the first half of 2020 due mainly the COVID-19 pandemic.
China is by far the largest market for electric vehicles globally and its prominence is expected to grow in the coming years. Ye Shengji, deputy secretary general of the China Association of Automobile Manufacturers (CAAM), has said he expects NEV sales to jump by almost 40% to 1.8 million units in 2021, with consumers becoming increasingly willing to buy electric vehicles as battery reliability and range continues to improve.
Current subsidies will remain in place until the end of 2022, including an exemption from the 10% sales tax and other measures introduced this year to help drive demand – with municipal governments across the country encouraged to eliminate limits on new number plates and state-owned enterprises urged to switch their fleets to zero emission vehicles.
Consumers are also benefiting from a wider range of EV models, specifications and prices, while rising volumes also means the cost of key components such as batteries is coming down.
Premium brands such as Tesla, XPeng and Nio have helped raise the overall image of the electric vehicle segment in China and still account for most of the sales, but smaller, low-cost EV models from local manufacturers have contributed very significantly to the recent growth.
Shanghai-GM-Wuling sold 33,100 units of its Hong Guang mini-EV in November, which became the country's best-selling EV model, and close to 86,000 units since the model went on sale in June. The 120km-range variant is priced at US$4,400, making it the cheapest EV on the market, while the 190km model costs US$5,600. The model is helping to fulfill rising post-pandemic demand for low-cost personal transportation, particularly among young urban professionals.
Other popular low-cost models include the Great Wall Ora R1, priced at US$8,650 and with a range 300km; SAIC's Baojun E-series priced at between US$9,200 (for the 160km model) and US$12,000 (for the 270km model); and the Chery eQ with prices starting at US$9,200 for the 200 km range model.
By contrast, Nio's ES8 prices start at US$65,000; while Tesla's Model 3, with a range of 470km, is priced from US$36,800 and remains the best-selling EV model in China year-to-date.
Local analysts expects NEV sales in China to rise to between 5-6 million vehicles by 2025, in line with the central government's target for NEV sales to account for 20% of total vehicle sales by 2025. The government late last year said it wants EVS to become the main segment of the passenger vehicle market by 2035, without providing actual sales targets.
Vehicle manufacturers will need to continue to expand the range of EV models to achieve these growth targets, while also continuing to bring costs down with rising volumes and a maturing component supply chain. The EV market is also expected to spearhead growth in 5G-based connected services, while aftermarket services such as battery replacement, recharging networks and recycling are also expected to develop rapidly.