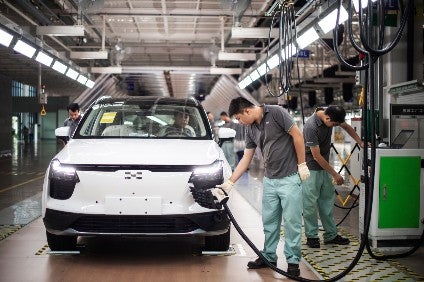 Since the government cut subsidies in June, China's new energy vehicle (NEV) market – comprising mainly electric and plug-in hybrid vehicles – has been in free-fall. After growing by almost 59% to 617,000 units in the first half of 2019, NEV sales in the country declined by over 27% to 326,000 units in the four months between July-October – according to data released by the China Association of Automobile Manufacturers (CAAM).
In October alone, sales were down by almost 46% at 75,000 units, bringing the year-to-date total to 943,000 units. This is still 9.5% higher than the 861,000 sales same period of last year, but the market looks unlikely to finish the year positively given the current downward momentum.
The overall Chinese vehicle market has already been in decline for well over a year, reflecting slowing economic growth in the country and the escalating trade war with the USA is increasing consumer and business uncertainty. The market has also been negatively impacted by policies put in place by a significant number of municipal governments to limit new vehicle registrations due to rising congestion and air pollution.
Furthermore, analysts believe that the Chinese vehicle market is maturing after two decades of break-neck expansion, with reduced scope for growth from here. The nature of the market is also beginning to change – with less emphasis on vehicle ownership.
The overall vehicle market declined by 2.8% to 28.1 million units in 2018, reflecting sharply weaker sales in the second half of the year. Deliveries declined by a further 10% to 20.7 million units in the first ten months of 2019.
NEV sales on the other hand jumped by 60% to 1.26 million units last year, more or less in line the growth trend in the first half of 2019. But the market changed after the government announced in March that it would make further NEV subsidies cuts in June, which prompted buyers to flock into dealerships before the inevitable price hikes took place.
In June subsidies were eliminated entirely for electric vehicles with ranges of less than 250km on a single charge, as the government looked to force the less technically advanced models out of the market. Subsidies for electric vehicles with a range of between 250-300km were lowered to CNY18,000 (US$2,560) from CNY34,000, while for electric vehicles with a range of 300-400km subsidies were also cut to CNY18,000 but from CNY45,000 – or by 60%.
These are significant cuts, resulting in significant price increases for consumers. Less than 10 years ago, buyers could enjoy subsidies of well over US$10,000 per vehicle.
CAAM revised down its full-year forecast for the overall vehicle market to 26.7 million units, which represents a decline of more than 5% on last year.  It also cut its NEV sales forecast to 1.5 million units from the 1.6 million sales it predicted earlier in the year. Both forecasts still look overly optimistic, and rely heavily on a sharp rebound in the final two months of the year.
The association clearly expected the NEV market to be more resilient after the subsidy cuts, with new models with more advanced technologies – including improved performance and faster recharging times – helping to attract buyers. This has proved not to be the case so far, however, partly due to the slow pace of new model launches.
The central government has come up with some measures to encourage more NEV sales, including demanding that local authorities eliminate any restrictions on new NEV registrations while also encouraging state-owned enterprises to switch purchases to NEVs.
The main emphasis is clearly on the vehicle manufacturers, both local and foreign joint ventures, to come up with products that will drive the market forward. No doubt, the industry was ill prepared for the minimum NEV quotas the central announced just a few years earlier, giving them limited time to put long-term strategies into action.
Significant new capacity is needed to meet the government's target for NEVs to account for 20% of overall passenger vehicle sales by 2025. In the meantime, those companies that do not meet the rising minimum sales quotas face financial penalties to compensate.
Vehicle manufacturers are beginning to step up their efforts to bring new electric vehicle models to market, however. Volkswagen group this month announced its joint ventures would invest EUR4bn in their local operations next year – 40% of which is designated to bringing new electric vehicles to market. The company said it aims to launch 30 new NEV models in the next five years and is targeting 1.5 million NEV sales in the country by 2025.
This year GM launched two new electric vehicle models in China, the Buick Velite and the Chevrolet Menlo, as part of a plan to launch 20 new electrified models in the country by 2023. Tesla has just completed an EV plant in Shanghai, with commercial production scheduled to start by the end of the year.
Leading domestic companies have also stepped up their efforts, including BYD Auto and BAIC Motor, while Volkswagen's partners FAW and SAIC also have EV programmes of their own. Greater competition and economies of scale will help bring prices down, and improvements in product technology – including faster battery recharging times, should help win over buyers in the next few years.