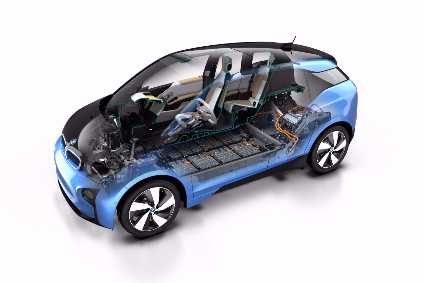 Until recently, the use of carbon fibre in vehicle manufacture has been confined to high-end, low-volume vehicles – a fashionable choice for the automotive elite. Yet times are changing. Continuing just-auto/QUBE's series of research snapshots, this is the second of two parts reviewing lightweighting developments using magnesium and carbon fibre.
F1 light years ahead
For some time, carbon fibre has been used in F1, aerospace and marine applications and has gradually been making its way into mainstream vehicle manufacture. Although the main applications for carbon fibre in mass produced cars to date include cosmetic enhancements, automakers are considering its use in suspension components and body panels, albeit in measured doses.
McLaren Automotive is using CFRP
Applications of carbon fibre reinforced plastic (CFRP) have been widely used in high-end racings cars. For example, McLaren has pioneered the use of carbon fibre in vehicle production for more than 30 years. The MP4/1 was the first car on the Formula OneTM grid to feature a carbon fibre chassis. Compared to the aluminium structures of the time, carbon fibre was lighter but stronger and therefore faster but safer. McLaren's more recent carbon fibre monocoque cars include the 675LT and 720S.
Earlier this year, McLaren Automotive divulged details of its new Composites Technology Centre close to the campus of the Advanced Manufacturing Research Centre (AMRC) at the University of Sheffield, UK. The new centre will develop and manufacture the Monocell and Monocage carbon fibre chassis for future models. The next generation Monocell will be built using advanced automated manufacturing techniques developed in conjunction with the AMRC. Construction of the new factory is underway. The first pre-production carbon fibre chassis is expected to be delivered in the second half of 2017, using trial manufacturing processes in the AMRC, before going into full production by 2020.
Other automakers also adopting CFRP
Other high-end automakers have made liberal use of CFRP parts in their cars in order to shed weight, including the likes of Daimler, BMW (i3 and i8) and Lamborghini (Aventador and Huracán).
Audi, Alfa Romeo and Toyota are also integrating CFRP in certain pockets of their cars. For example, the Toyota Prius PHV is claimed to be the world's first mass-produced car fitted with a CFRP tailgate, another weight reduction measure.
As demand for the material has risen, the appetite for custom and novel finishes has soared as we learned last week from talking to the MD of Project 12. The concept of 'mass customisation' is one that is increasingly on the agenda of OEMs. Recent investments in JLR's SVO department, Aston Martin's 'Q' and Ferrari's 'Tailor Made' are examples of how automakers are responding to the often more nimble tuning and customisers that have risen in prominence. Alongside performance engine enhancements and bespoke interiors, one material that has seen a rise in consumption is carbon fibre. From 'hot hatches' through to luxury limousines and SUVs, this composite material is no longer purely reserved for motorsport specials.  For luxury cars, it is almost a commodity.
Supported by their suppliers
Ford is also taking a closer look at CFRP, supported by Magna. The pair have developed a prototype carbon fibre composite subframe claimed to reduce mass by 34 percent compared to a stamped steel equivalent. By replacing 45 steel parts with two moulded and four metallic parts, the prototype achieved an 87 percent reduction in the number of parts. The mouldings are joined by adhesive bonding and structural rivets.
Joe Laux, Magna Exteriors director advanced engineering, tells just-auto why demand from OEMs for the lightweight material is now growing: "Carbon fibre use continues to grow very rapidly for a number of reasons (primarily strength versus weight ratio) in multiple industries. The first uses of carbon fibre were materials designed for the aerospace and racing industries. However, these initial offerings were not focused on cycle times because they were designed for low volume applications. For this reason there is a tremendous opportunity to develop materials focused on improved process time and that is where we place considerable focus. This, in combination with improved material costs, will grow the use of carbon fibre applications in the automotive industry."
For its part, Faurecia recently joined the cluster MAI Carbon of the Incorporated Society of Carbon Composites based in Augsburg, Germany in order to develop manufacturing processes capable of reaching automotive cycle times for mass production of composite parts. Composites certainly support automakers to shed weight. The group believe that using carbon composites provide weight savings of around 50 percent versus the equivalent part made from steel. Ten kilogrammes of weight savings reduce CO2 emissions by 1g/km. Weight reduction is also important to increase the autonomy of battery electric vehicles.
Manufacturers of carbon fibre are responding to the increasing demand for the material. For its part, Zoltek is to start a large-scale capacity expansion of carbon fibre production in its Mexico facility from this year. The move will effectively double Mexico's capacity to more than 10,000 tons of carbon fibre per year. This expansion project, together with existing carbon fibre capacity at the Hungary facility, will grow Zoltek's total global ability to more than 20,000 tons per year. "It is clear the utilisation of Zoltek's carbon fibre is on the rise across a variety of industries, in particular, for automotive and wind energy applications," said Yoshihiro Takeuchi, president and CEO of Zoltek.
Material of choice for concept cars
Carbon fibre has long since been a choice material for concept cars, providing a vision of design freedom and lightweighting. Some, like Hyundai, have received recognition for their innovative carbon-fibre frame designs. Others have taken a clean sheet approach, making extensive use of the material. For example, the Shell Project M car is the result of a technology partnership between Gordon Murray Design, Shell Lubricants and engine specialists Geo Technology. Over the past few years, the trio has co-engineered the car's body, engine and lubricants to minimise fuel use and CO2 emissions. It is hoped that by achieving a three-digit mpg number will inspire fresh thinking regarding personal mobility while minimising energy using existing technologies and materials. The space-age car recently showcased is a reengineered version of Gordon Murray's T25 city car, produced in 2010.
The most notable aspect about Project M's lightweight design is that it combines a low-cost recycled carbon fibre composite body with a steel tubular frame. This part of the car was thanks to Gordon Murray Design's iStream concept that enabled the team to build a car weighing in at 550kg, or about 250kg lighter than a Smart car and 80kg lighter than the original T25.  The low-energy iStream manufacturing process uses lightweight materials to cut assembly costs, and reduces the capital investment required to produce a car.
The former McLaren F1 designer, Gordon Murray told just-auto: "This project is based on the T25 – that was our first demonstrator for iStream. It was never meant to be for sale but just a physical entity to showcase what iStream was. And we thought that we would optimise that. Working with Geo Technologies and Shell, I had to push the designers much harder on weight saving and that has actually moved iStream on. We now have Yamaha and TVR using technologies from this car."
Gordon Murray Design is also involved in the Carbon Aluminium Automotive Hybrid Structures (CAAHS) project, a collaborative project that aims to further develop the next generation aluminium alloy materials and processes for application in automotive body structures.
At the other end of the vehicle spectrum, it appears that processes to manufacture carbon fibre have moved faster than those for recycling it. There are still challenges when it comes to end-of-life recycling of carbon fibre parts. Lukas Schröer, project manager of lightweight technologies at Lanxess High Performance Materials business unit, told just-auto: "The availability of recyclable material is still limited to small volumes. Therefore, the establishment of a cost-competitive and sustainable value chain for recycled carbon fibres is still unfeasible from our point of view."
On balance, although carbon fibre has been drawing industry attention as their lightness and strength can help the fuel efficiency of vehicles, the time-consuming work (and cost) required to produce car parts using the material remains a drawback. Despite some significant advances in developing such processes, there are still some challenges that need addressing.
and