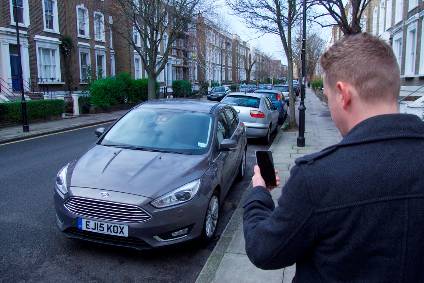 The writing has been on the wall for a few years now. The sudden realisation that learning to drive or owning a car was no longer the rite of passage it once was in the US made carmakers start to think about future business models.
As cities grow into megacities around the world, the advent of autonomous vehicles and connected transport systems will see the requirement, and even the desire, to own a car reduce.
Connectivity and new mobility are the latest buzzwords in the auto industry. Go back five years and those words were hardly mentioned. Now the race is on to win shares in the new mobility market.
A year and a half after launching as a curated residential service in New York City, General Motors' Maven has evolved into one of the fastest growing mobility brands in North America. Leveraging a seamless and dynamic mobility platform, it offers unique car sharing services geared toward both consumers and businesses. Maven has rolled out in 17 cities across the US and its members have covered more than 125m miles.
Maven has three products to address urban growth trends and the need for mobility as a service:
Maven City is a fully connected, seamless car-sharing programmee featuring cars loaded with technology and available for on-demand rental.
Maven Home provides the ultimate amenity — transportation as a service — for residential communities and commercial entities.
Maven Gig is an on-demand vehicle rental service that allows drivers in the sharing economy the freedom to switch between several brands, services and gigs.
Back in New York City, Maven is already moving on. More than 80 vehicles are available in Manhattan, from Columbia University to Battery Park, for hourly or daily reservations. Maven will continue to expand into the boroughs and throughout the city to provide cars around the corner from where New Yorkers live, work and play, all without a membership fee. For attractions just outside the city centre, New Yorkers now have available cars to fit every need when public transportation does not.
Maven has selected lifestyle-oriented cars with all the amenities required for travel in and around New York including sporty sedans or luxury SUVs, all loaded with technology, including 4G LTE Wi-Fi, Apple CarPlay and Android Auto. Maven 24/7 advisor support is available through OnStar for questions, roadside assistance and emergency response, providing peace of mind for the journey.
Maven eliminates the need to own a car in New York City. Residents no longer have to pay high insurance premiums and costly rates to park in garages when the street is not an option. Personally owned vehicles sit idle 95% of the time, and each shared car takes about 15 private cars off the road, helping to alleviate congestion.
GM's mobility platform is allowing for more rapid innovation at the car maker which has the intention of leading in the share of miles driven, whether through traditional vehicle ownership, car sharing or ride sharing. Maven is creating new business opportunities and helping to make crucial strides toward autonomous vehicle deployment.
In Europe, DriveNow car sharing is BMW's mobility concept, a joint venture with Sixt, using the BMW i and Mini that enables customers to drive at good rates and remain flexible. It is possible to hire cars from the particular business area, and end your drive there on any public car park free of charge. Fuel or charge, car park tickets, insurance and vehicle tax are also all included. DriveNow car sharing is available in Germany, Austria, Belgium, Italy, Sweden, Denmark, Finland and the UK.
Finland is the latest addition to DriveNow where operations began this month in Helsinki, initially with 150 BMW and Mini models in a business area covering 40 sq km.
DriveNow managing director Nico Gabriel said: "Launching operations in Helsinki as the 12th DriveNow city is a significant step for us. After Copenhagen and Stockholm, we are augmenting the Scandinavian market to include the capital city of Finland as a further important location".
DriveNow co-MD, Sebastian Hofelich added: "Helsinki is a modern city that has a great interest in European lifestyle and that exhibits a strong demand for individual mobility, yet for the most part relies on a classic transportation mix. Up to now there is no comparable car sharing concept. Our offer is therefore ideal for closing a gap in the range of mobility and also giving people an alternative to their own vehicle."
DriveNow assigns the usage rights for national operation in Finland to OP Financial Group, the biggest financial services provider in the country. After Copenhagen, Helsinki is the second city where DriveNow will be operated within the framework of a franchise model.
From the outset, the fleet will include a broad selection of BMW and Mini models – from the BMW X1 and 2 series to the Mini three- and five-door models through to the fully electric BMW i3. Customers in Finland will also have the possibility, from the start, to drive to Helsinki-Vantaa Airport or, vice versa and rent the vehicles there.
Both the fleet and business area in the Finnish capital will be expanded in future in line with demand.
Daimler said an increasing number of travellers are using its free-floating car-sharing programme car2go.
In the first quarter of 2017, the number of cross-border rentals increased by 80% to 33,000 journeys. This figure includes both business travel as well as tourist visits in European car2go locations.
The sharing of vehicles in Germany by customers from other European locations is popular. The number increased in the first quarter by 79% to 19,500 journeys. In addition, German customers are increasingly using the car2go service in European cities in Italy, Spain, the Netherlands and Austria. Here, the number increased by 80% to 13,500 journeys.
The segment of transnational rentals is growing dynamically and getting a bigger part of the total number of car2go journeys. In 2016, car2go increased its rentals by 40% to 22m. The international market leader has over 2.4m customers worldwide in 26 locations, with over 1.3m of the customers in the 14 European locations.
Through simple roaming, all European customers can use the car2go services in other European countries. Customers simply have to agree to the local terms and conditions and are ready to drive off straight away.
Ford sees new business opportunities in leasing – and not in the traditional one customer per car format. It is experimenting with car sharing and plans to start providing group leases for its vehicles.
It will offer leases on vehicles to self organised groups of three to six people. The 24 month group leases will be available initially in the US at three dealerships in Austin, Texas.
The pilot programme called Ford Credit Link was announced, alongside several other initiatives, at the 2017 Detroit show and is aimed at finding new revenue sources for the company. It is also part of the company's smart mobility plan to build cars with additional internet connectivity, experiment with different forms of transportation as well as with big data analytics.
The shared leasing pilot aims to attract customers who don't need a vehicle on a full time basis, but still want some kind of ownership – a middle ground between car ownership and car sharing.
Lease groups will be able to reserve drive time, check vehicle status, keep up with maintenance, communicate with each other, view their account, and make payments through a vehicle plug in device and app, Ford said.
David McClelland, Ford Credit executive vice president of marketing and sales, said: "People already are sharing everything – from books to homes. We're seeing the potential for a shift from a single consumer paying for a single vehicle to several people sharing costs and benefits."