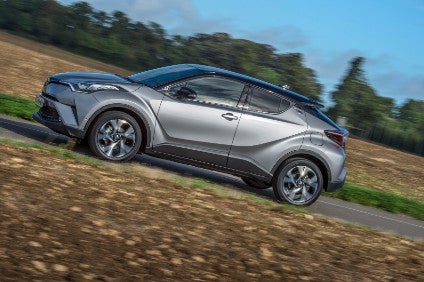 The new C-HR compact crossover, now being rolled out in markets world-wide, is the second model to be built on the Toyota New Global Architecture (TNGA) platform after the fourth generation Prius, now being rolled out in PHEV form following its earlier debut as a conventional hybrid.
"Toyota's commitment to make 'ever-better cars' is being successfully translated into new models that genuinely deliver on a fun-to-drive promise and both the latest Prius and the first [media] test drives of the new C-HR have seen the cars praised for delivering excellent driving dynamics for vehicles in their sector," the automaker said.
"The example of C-HR is an object lesson in how Toyota is using TNGA to redefine its approach to vehicle development and manufacturing," the automaker said. "People love crossovers for their convenience, spaciousness and practicality but, until now, they've never been top of any wish-list for driver appeal. The C-HR consigns dynamic compromise to history as a car that shows that you really can square driving enjoyment and strikingly stylish design with usefulness."
The C-HR sits on the TNGA C-platform with designed-in flexibility allowing for tailor-made changes to be made to suit the demands of underpinning a crossover model, including an optimised suspension layout. Its adaptability is demonstrated by wheelbase and track changes for the C-HR – 2,640 vs 2,700mm; treads wider by 20mm front and 10mm rear. These changes reflect both the different packaging and handling requirements for the crossover.
The target for the development team was to engineer a vehicle that offered the same dynamics as a very competent hatchback, ideally tuned to suit the fast and fluid style of European drivers. Response, linearity and consistency were engineers' watchwords: response for immediate vehicle reaction to any driver input; linearity for a gradual and proportionate build-up of vehicle reaction, in line with driver input; and consistency of response, regardless of speed or situation.
"By securing these qualities, C-HR can inspire confidence and deliver genuine fun-to-drive performance," Toyota said.
A key benefit of the TNGA C-platform is a low centre of gravity and, for the C-HR this key quality is lower than for any of its competitors. Direct benefits are gained in balanced handling, a more engaging drive and much less body roll than is often experienced with tall crossover models.
A stronger sense of connection between driver and car is generated with a lower-set driving position, but with a raised hip-point to retain a commanding view of the road ahead, as favoured by crossover customers.
Under the bonnet, TNGA allows for a rearrangement of components lower down in the engine bay, together with a lower cowl and suspension towers, further helping bring down the car's centre of gravity. There is space, too, for the engine to be tilted slightly rearwards.
TNGA also liberates vehicle design, enabling a lowering of the CH-R roofline by 55mm and the bonnet by 90mm, giving the crossover its distinctive coupe-like upper body.
The inherent high rigidity of the TNGA platform – 65% more than Toyota's previous C-segment platform – provides a solid base for developing and tuning a suspension system that delivers excellent handling and ride comfort. By deploying a new subframe, engineers were able to use the Prius double wishbone rear suspension for the C-HR, with the addition of a new ball joint and shock absorber adjustments to gain crisper handling. The front suspension is an all-new MacPherson strut design, coupled with a large-diameter anti-roll bar that reduces body roll.
The development programme was not confined to theory and the workshop. Chief engineer Hiroyuki Koba and his team undertook extensive testing on all kinds of European roads to ensure the new model delivered on its dynamic promises, a programme that culminated in the car competing in near-road-going specification in the gruelling Nürburgring 24 Hours endurance race earlier this year.
"C-HR and Prius are pathfinders for the dynamic benefits of TNGA, qualities that will be further developed as new platforms and models are introduced to Toyota's global model range [in future]," the automaker added.