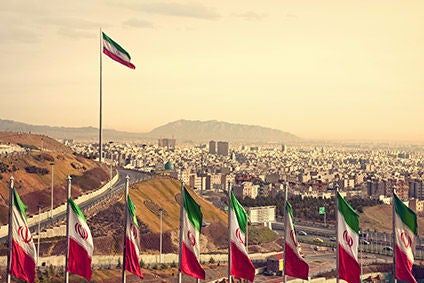 Through a review of seven years of Iranian light vehicle production data, just-auto provides an understanding of the automotive industry's current situation and identifies trends and opportunities in the sector that are now available. This is the second instalment, examining the outlook for natural gas vehicles in Iran, the strategies of Chinese OEMs in Iran and also market segmentation trends.
Natural gas vehicles in Iran
Iran's comparative lack of oil refining capacity – it ranks 10th in the world, despite being 4th for oil reserves behind Venezuela, Saudi Arabia and Canada – has led to it historically being a net importer of fuel at great cost to the country's economy. Compounding this issue were several other factors: the country ran some of the most generous petrol subsidies in the world until 2010; and an estimation that its vehicle fleet was behind only the US in fuel consumption per car. All this added up to a clearly unsustainable situation.
Therefore, the government embarked on a round of initiatives to address the problem. First, between 2008 and 2009, the government spent an estimated US$3 billion on developing infrastructure for natural gas vehicles. This development played to the fact that Iran stands second only to Russia in terms of natural gas reserves. Accordingly, natural gas filling stations increased from just 60 in 2006 to 2,000 by 2013 and the number of natural gas vehicles (NGVs) on the road increased to 3.7 million by 2014 (over 1 in 5) – aided by a policy to convert all public vehicles to run on gas – making Iran a world leader. Now it's estimated that natural gas takes a 23% share of transport fuel spend in the country.
Running parallel to the NGV push was a reduction in petrol subsidisation which began in 2010 and has seen three distinct phases. In the first phase the fiscal tightening was almost negated completely by monthly cash compensation payments to Iranian citizens. The latter phases have seemingly been more of a net benefit to the country's finances. Petrol subsidies were further cut in April 2014 and May 2015 leading to petrol prices increasing by 169% to IRR10,000 (US$0.43) per litre, with monthly compensation payments also phased out progressively.
Furthermore, the country's sixth five-year plan (running from 2016-2021) stipulates that car manufacturers must have 50% of their annual vehicle production turned over to NGVs. To further incentivise the end market, more tapering of petrol and diesel subsidies is planned with natural gas prices untouched.
While Iranian roads already have millions of NGVs vehicles on the roads, most of the fleet is derived from aftermarket conversions showing that the 50% share of production might be difficult to achieve. Indeed, data compiled by just-auto shows that CNG and dual-fuel production has waned in recent years.
CNG and bifuel vehicles as a percentage of light vehicle production peaked in the country in 1389 (2010-2011) at 29% just as the push to NGVs was being initiated. With penetration subsiding in recent years, it will take some planning by Iranian OEMs to reach the 50% target. In recent times the penetration of NGVs in Iranian production has been highest in the pickup segment – a segment dominated by the Bardo pickup (derived from the Hillman Hunter based Paykan) – with over 23% of pickups produced with the fuel format.
Opportunistic moves by Chinese OEMs
Sanctions saw established players, like PSA and Renault, all but abandon the market. In July 2013, an executive order by US President Obama against doing business with Iran's automobile sector struck the final blow to what had been an important source of income for the country. The executive order forced western companies from the market, made IKCO and SAIPA more self-reliant, but also presented an opportunity to countries not impacted by sanctions like China.
As a consequence, Chinese sourced products have progressed from having under 1% of production in 1388 to nearly 9% by 1393.
The Chinese raid has been led by Chery, which provides kits for assembly to Kerman's Modiran subsidiary at Bam with the various Chery products sold under the MVM (Modiran Vehicle Manufacturer) brand. There were over 42,000 Mwm branded Cherys manufactured in 1393. The next biggest Chinese player on the Iranian market is Lifan, which like Chery provides kits to Kerman Motors at Bam. It produced nearly 26,000 vehicles in 1393. Kerman is also involved in the assembly of the number three ranked Chinese brand making some 17,000 JAC kits at Bam in 1393.
Segmentation shift in production?
While the mounting Chinese position in the market may prove an obstacle to overcome for returning western manufacturers, it is also true that the introduction of Chinese assembly has altered the segmentation of the Iranian market to a degree. Traditionally, the market has been very bifurcated and dominated by B-segment sedans/hatchbacks and D-segment sedans. This split was as much a consequence of the products bestowed upon the Iranian makers by the likes of KIA, Renault and PSA as it was market preference.
Likewise, the Chinese OEMs have introduced more diverse offerings to the market with A-segment small cars, C-segment compacts and J-segment SUVs/crossovers seemingly the products of choice. This change in the market make-up is something that the product planners of the western OEMs will have to consider if they want to halt the inroads made by Chinese OEMs in the market. Indeed, PSA's choice of the C-segment 301 and J-segment 2008 for local production alongside the B-segment 208 seems prescient. Likewise, it is rumoured that Renault's planning the introduction of its Kwid compact crossover and the Dacia Duster if it can agree a new joint venture in Iran.
However, according to data published by the Financial Tribune in November 2015 the Iranian market is very price sensitive. Some 85% of vehicles sold are priced below IRR500 million (US$16,650) and 99% are below IRR2 billion (US$66,000) – which demonstrates that to unlock Iran's potential market volume that price will be just as important as product.
Part 1 (looks at overall market and structure of Iran's auto sector)