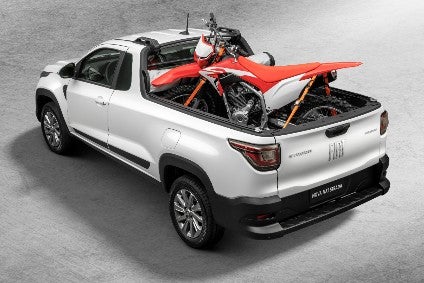 With Brazil having become Fiat's number one market even before COVID-19, the launch of a new Strada is even more newsworthy than it might otherwise have been. The small pick-up also arrives as registrations for March show the brand still in third place but closing on Volkswagen and Chevrolet.
While FCA pursued a policy of choosing not to replace Fiat models which had once been big sellers in the European market, the opposite strategy has been pursued in Brazil, with obvious results.
The outgoing Strada dates to 2009 but has had many facelifts to keep it selling, while the Fiat range has been continuously expanded with the addition of the Toro, a larger pick-up, and the Argo B segment hatchback, another success story. These three challenge one another most months to be the brand's top model with the Strada taking that honour in 2019.
Suddenly, Fiat has a chance of taking back the market leadership it surrendered in the 2010s.
Fiat ended last year with Brazilian market sales of 366,135 versus 285,888 in Italy. Year to date for 2020, its tally is 76,139, while Chevrolet is way out in front on 94,726, leading Volkswagen (86,308).
The big three are in a league of their own with a cluster of four brands – Ford, Hyundai, Toyota and Renault – battling it out one tier down in the low forty thousands.
Whereas Chevy sales dropped by 30% to 25,501 and those for Volkswagen fell by 13% to 25,200 in March, the Italian marque ended the month on 23,701, dipping by only 1%. Assuming the Strada becomes as big a hit as it's expected to be, Fiat suddenly has a chance of taking back the market leadership it surrendered in the 2010s.
The new pick-up is to be manufactured at FCA's giant Betim plant in Minas Gerais once the company re-opens production facilities that were idled in March.
The Strada shares an architecture with the Fiat 500X and Jeep Renegade, seats up to five occupants and will be available in two-door and four-door forms. The base 1.4-litre engine produces 65 kW (88 PS) and 123 Nm (91 lb-ft), while a 1.3 FireFly turbo has outputs of 81 kW (110 PS) and 139 Nm (103 lb-ft).
In March, Fiat's market share in Italy fell to 9.9%, the first time it has gone below double figures. Volkswagen was on 8.2%.
With Fiat so badly battered at home, FCA can at least take some comfort from the fact that a reversal of policy – i.e. investing in new models – has worked in its biggest market and looks as though it will also lead to even greater success there in the second half of 2020.
Should the company instead decide to keep things as they are by delaying replacements for key models such as the aged Panda and continue to abandon major segments (B: Punto is long gone, C: Tipo has no scheduled successor, will there be a new non-EV 500?), then Volkswagen could become Italy's number one brand. In March, Fiat's share of the market dropped to 9.9%, the first time it had gone below two figures, with VW taking 8.2% thanks to the T-Roc, T-Cross and Polo.
Fiat is likely to recover lost share later in 2020 as March was an extreme month in Italy, and April will be even worse. Nonetheless, the trend has been towards an undeniable and continuous fall for Fiat, the brand ending last year at a record low of 14.9% (-12%). VW rose to 9.2% (+9%).